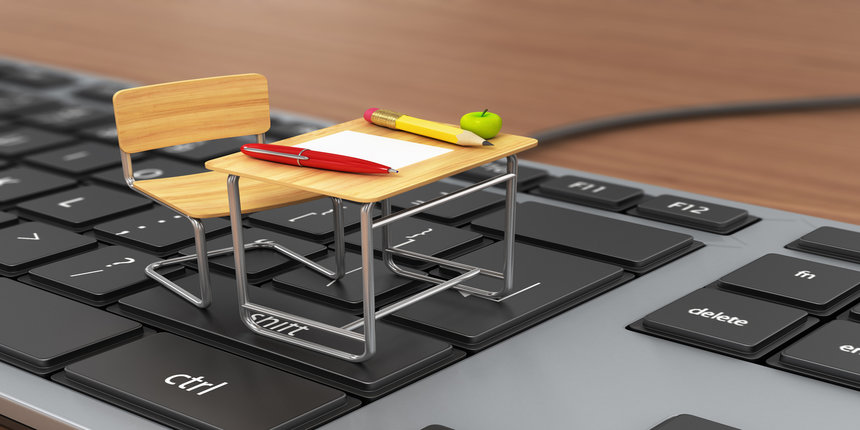 CMAT 2019 – NTA has released the CMAT 2019 result on February 6, 2019. It has also released the CMAT merit list 2019, along with the final answer key of CMAT 2019. The priliminary answer key along with the candidates' response sheet of CMAT exam was released on February 1, 2019. Candidates were able to view and print the same until February 3, 2019 (upto 11 AM). The CMAT (Common Management Admission Test) 2019 was successfully conducted by the National Testing Agency (NTA) on January 28, 2019, in two slots. According to the test takers, the exam was quite easy as compared to CAT, XAT, IIFT exams. Most of them solved around 70- 86 per cent questions within 2.5 hours. It seems scoring 80+ percentile will not be difficult. The second shift began at 2:30 PM and continued until 5:30 PM. However, as per reports, 191 candidates of Kashmir region who are allocated centres in Jammu appeared for CMAT 2019 on January 29 (9:30 am-12:30 PM), due to inclement weather.
Latest: CMAT Result 2019 available now
MBA/PGDM Admissions Open 2019
IFIM Business School
NTA had released the CMAT 2019 admit card on January 7, 2019, as per schedule. The late date of application form of CMAT 2019 was extended. CMAT 2019 aspirants could submit the form until December 7, 2018 (11:50 pm) and pay the application fee and upload photograph and signature till December 8. CMAT is a national level entrance test conducted for admission to MBA and PGDM programmes. This entrance exam was previously administered by AICTE and from 2019 onwards, it will be officially administered by NTA. CMAT 2019 will allow B-schools to shortlist applicants that best suit their requirements. The national level MBA entrance exam is a computer-based test of three hours.

Aspirants must be an Indian citizen and a holder of the graduate degree of minimum three years from any recognised Indian Institute to be eligible for CMAT exam. around 60,000 candidates appeared for CMAT 2019 exam. Careers360, in this article, has projected all the relevant information pertaining to CMAT 2019 including its important dates, eligibility criteria, application form, admit card, result, cutoff, and selection procedure.
CMAT Pathfinder
Know your call chances for Admissions
Use Now
To check the CMAT Final Answer Key 2019, click here
Error 503 Backend fetch failed
Backend fetch failed
Guru Meditation:
XID: 27153001
---
Varnish cache server
NTA has released the statistics of the CMAT 2019 exam pertaining to number of registered candidates followed by the appeared number of test takers. Check the table given below- 
Category

Male

Female

Total




Registered

Appeared

Registered

Appeared

Registered

Appeared

General

24768

20872

22736

19181

47504

40053

SC

1846

1442

1312

1061

3158

2503

ST

537

419

475

378

1012

797

OBC

7434

6433

5474

4730

12908

11163

Total

34585

29166

29997

25350

64582

54389

+ 127 PwD candidates. So the total number of candidates appeared in CMAT 2019 was  54,516
National Testing Agency (NTA) is the new conducting body of CMAT. Notably, CMAT is the only MBA entrance examination which is conducted by NTA. The Agency conducts several other entrances, but in other domains, which were earlier conducted by CBSE and AICTE. NTA was approved by the Union Cabinet in 2017 as an Autonomous and self-sustained testing organization to conduct entrance exams. The conducting body also releases a few mock tests for practice for students to get a hang of the test environment.
Important Links: 
Features of NTA-
 All entrances conducted by NTA are held in computer-based mode, except NEET.     
NTA uses a highly secured IT software and encryption to ensure timely and error-free delivery of tests. By doing this, NTA will ensure no leakages and other malpractices related to the exam.
All tests would be developed in a scientific manner with all aspects prepared jointly by the subject matter experts and psychometricians.
CMAT 2019 Overview
| | |
| --- | --- |
| Exam Name | Common Management Admission Test |
| Commonly Known As | CMAT |
| Exam Category | National Level PG entrance examination |
| Conducting Body | National Testing Agency (NTA) |
| Examination Mode | Computer-Based Test |
| Total duration of the Exam | 180 minutes |
| Frequency of Test | Once in a Year |
| Purpose of Test | For postgraduation admissions to 500 B-Schools approximately |
| Score Validity | One Year |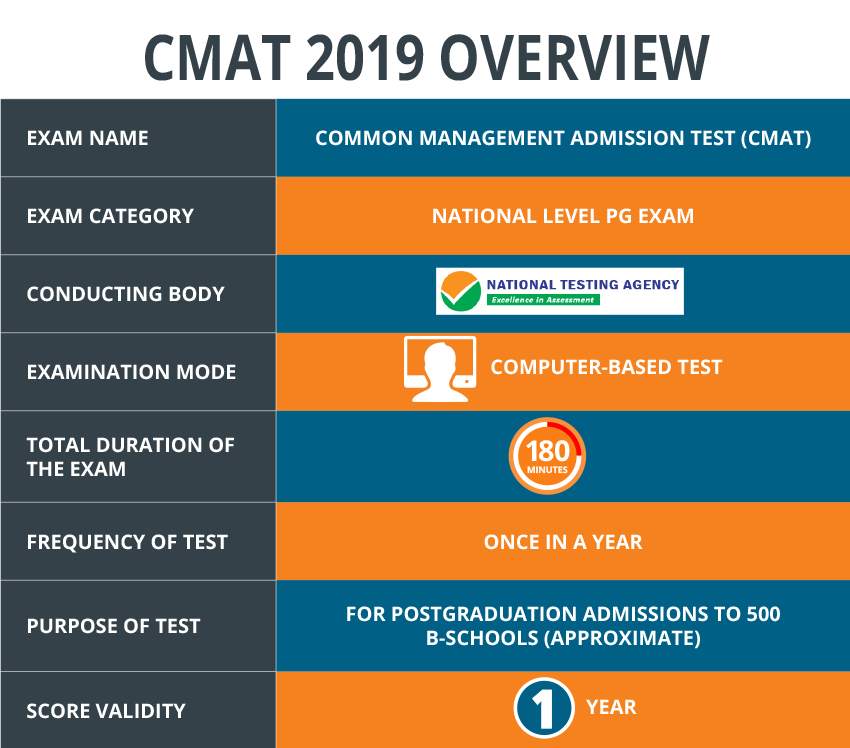 NTA- the new conducting body has released the date of CMAT 2019 exam as well as the opening and closing dates of the application form. Prospective test takers can find the exam dates from the table provided below-
CMAT Important Dates 2019
Event        
            

Date

        
            

CMAT Application Start date (released)

        
            

November 1, 2018

        
            

CMAT Application End Date (extended)

        
            

December 7, 2018

        
            

Last date to upload photograph, signature, and pay the application fee

        
            

December 8, 2018 (11:50 pm)

        
            

Release of CMAT Admit Card

        
            

January 7, 2019

        
            

CMAT 2019

        
January 28, 2019 (Monday)- Two slots           

First shift - 9:30 am to 12:30 pm (concluded)

Second shift - 2:30 pm to 5:30 pm (concluded)        

CMAT 2019 Answer Key
February 1, 2019 (Released)
Last date to view Question Paper and Candidate's Response Sheet 
February 3, 2019 (Concluded)
            

Declaration of CMAT Result - released

       
            

February 6, 2019

        
            

Print of CMAT Score Cards

        
            

On or before February 8, 2019

        
The result of CMAT 2019 has been announced on February 6, 2019. The CMAT 2019 result is available to test takers via online mode only. The CMAT 2019 result or scorecard download link has also been sent to the registered email address by the officials. It will be on the basis of the CMAT 2019 merit list that the candidates will be shortlisted and called in for further admission process.
National Testing Agency is expected to release the merit list of CMAT 2019 after the result. The CMAT 2019 merit list will include candidate's name, rank secured by him/her, the sectional and overall marks obtained in the national level exam. The merit list of CMAT 2019 will be made available in a PDF format. However, the CMAT 2019 merit number will be mentioned in the result which candidates can check the same by logging in using the CMAT Roll Number and Date of Birth of the respective examinees. 
The cutoff of CMAT 2019 is the minimum scores candidates are required to obtain in order to fetch admission into the participating institutes across India. The CMAT 2019 cutoff score will be released by the respective participating institutes after the official declaration of CMAT result 2019. The previous year's CMAT cutoff (2018) will help candidates understand the tentative cutoff scores of CMAT 2019. Aspirants can check the CMAT cutoff (previous year's cutoff) - 
Previous Year CMAT Cutoff
CMAT 2019 scores will be accepted by all the participating institutes of the entrance exam for admission into the MBA and PGDM programmes across the country. According to the conducting body- NTA, CMAT score will be accepted over 500 B-schools established across India. Listed below are some of the top CMAT 2019 participating institutes-
CMAT Participating Institutes
Post declaration of the CMAT 2019 merit list by the conducting body NTA, candidates will be required to apply to the participating institutes of CMAT. Then the preferred participating Institute/s will further proceed with the selection procedure of CMAT which will comprise of three main selection rounds, namely,
Group Discussion (GD)

Written Ability Test (WAT)

Personal Interview (PI) 
In the Group Discussion, candidates will be divided into groups of 8-10 and will be given a topic of discussion. In a span of 5 to 10 minutes, they will be asked to discuss it as a group and they will be evaluated on criteria such as -
Conversation Skills
Participation Level
Confidence Level
 Initiation Skill
Negotiation Skills
Managerial Skills
Closure Skills
Candidates might also be asked to attend a Personal Interview (depending on what the selection procedure of the college is like) as a final round of selection. A panel of experts/faculty members will assess the candidate on the basis of their academic background, hobbies, interests, work experience, etc.
CMAT Counselling
Selected candidates will have to proceed towards the counselling process which requires them to register on the official website and give their preference for college and course. The steps involved in CMAT Counselling are:
Online registration by the candidate
Choice filling and locking
 Verification of documents
  Allocation of seats
 Reporting to college
As per the eligibility criteria of CMAT 2019, as stated by NTA, applicants must meet the following parameters to be able to become eligible for the test.
The candidates must obtain a graduate degree of minimum three years from any recognised Indian Institute.

General category applicants must obtain a minimum of 50 per cent at the graduation level, while SC/ST category must secure 45 per cent.

Applicant must be a citizen of India

There is no age limit for appearing in CMAT 2019

Final year graduates awaiting their results can also apply for CMAT 2019.
The CMAT 2019 application form was released on November 1, 2018, and was available until December 7, 2018. The application form of CMAT 2019 is available in online mode only. Candidates also needed to upload the scanned image of their photograph & signature in jpg/jpeg format. The last date to do the same was December 8, 2018. In the CMAT application form 2019, candidates have to fill in details of their personal, professional and academic credentials.
Watch video on How to fill CMAT application form
Steps of CMAT 2019 Application Procedure
The CMAT application form 2019 can be filled in three simple steps-
CMAT Online Registration

Fill up the application form

Payment of CMAT application fee
During the process of application form filling, test aspirants needed to select exam date and as many as three test cities in the order of preference. Candidates will be allotted test dates and exam centres on first come first serve basis. The allotment will also depend on the availability of test slots in the choice of exam cities selected during the CMAT 2019 application process. 
CMAT Application Fee
| | |
| --- | --- |
| Category | Application fee |
| General, NC-OBC, SC, ST, PWD | Rs. 1400 (Male candidates) |
| Female/Transgender | Rs. 700 |
CMAT Application Fee Payment Mode: The application fee can be paid via three modes:
Cash deposit at SBI Bank

Debit/ Credit Card

Net-banking
Kindly note- Application Fee cannot be paid through Bank Demand Draft or Cheque. It can be paid through online or Cash at any of the SBI branches. For making the cash payment, one needs to generate Challan through the official portal and visit the nearest SBI bank on the next day of challan generation to pay the required cash. The last date to submit the application fee of CMAT 2019 is December 8, 2018 (11:50 pm)
CMAT 2019 is scheduled to be conducted online (computer-based test) and the total duration of the test would be 180 minutes. According to the exam pattern of CMAT 2019, candidates will encounter four sections such as Logical Reasoning, Quantitative Techniques & Data Interpretation, Language Comprehension and General Awareness.
CMAT 2019 Exam Pattern
S No.

Sections

Number of questions

Total marks

1

Logical Reasoning

25

100

2

Language Comprehension

25

100

3

Quantitative Techniques & Data Interpretation

25

100

4

General Awareness

25

100

Total

100

400
Marking Scheme - As per the marking scheme of CMAT 2019, for each correct answer, four (4) marks would be awarded and for each wrong answer, one (1) mark will be deducted.
As of now, NTA did not prescribe any fixed syllabus of CMAT 2019. The CMAT 2019 syllabus comprises of Reasoning, Reading Comprehension and Basic Mathematics (mostly arithmetic from standard 1 to 10). CMAT syllabus 2019 will be segregated into various topics ranging from Logical Reasoning, General Awareness, Language Comprehension and Quantitative Techniques & Data Interpretation. 
CMAT Syllabus
Quantitative Techniques & Data Interpretation

Logical Reasoning

General Language 

Comprehension Awareness

Tabulation,

Pie Chart,

Bar Chart,

Line Graph,

Permutations & Combinations,

Simple Interest and Compound Interest,

In-equations,

Number Systems,

Time-Speed-Distance,

Work and Time,

Profit and Loss, etc.

Analytical Reasoning,

Cause and Effects,

Coding and Decoding,

Analogy Test,

Symbol Based Problems,

Statements Arguments,

Blood Relationship Tests,

Direction and Distance Test,

Inferences,

Matrix Arrangements,

Linear Arrangements, etc

Literature,

Current Affairs of National and International Economy,

History,

Trade Awareness,

Science in Everyday Life,

Politics,

Geography,

Culture,

Sports News, etc,

Sentence Correction,

English Grammar,

Paragraph Completion,

Sentence Improvement,

Reading Comprehension,

Synonyms and Antonyms,

One-word Substitution,

Jumbled Para, etc.
CMAT Preparation material
There are several books and resources available for CMAT Preparation. These will help candidates to get a thorough practice and also get their fundamentals cleared. 
The Pearson MAT super course with CD by Pearson
Study package for MAT by Arun Sharma
MAT solved papers by Disha experts
Barron's guide for MAT by Eugene D. Jaffe
MAT Entrance guide by Deepak Aggarwal
The admit card of CMAT 2019 was available for only those applicants who had successfully registered for the entrance exam and paid the correct application fee from January 7, 2019, onwards. Candidates were allowed to download the admit cards latest before one day of the test date, i.e. January 28, 2019, by entering their login credentials. 
The following details would be mentioned on the CMAT 2019 admit card-
Candidate's photo

Name and Signature of the candidate

CMAT Roll number

CMAT Test Date,

CMAT Test Time,

Reporting time at the venue

Venue Name and Address

Brief instructions for the aspiring test takers
CMAT 2019 Mock Test
Following the previous trends of AICTE, NTA is likely to release the CMAT 2019 mock test for the aspirants which will help them gain insights on the exam pattern, structure and navigation system. It is a demo test offered to prospective test takers to acclimatise the technicalities of CMAT 2019. Once the mock test of CMAT 2019 is officially available, candidates can check the same in this article. 
To help the candidates who will be appearing for the exam, NTA has set up a network of Test Practice Centres (TPC) spread all over India. The candidates can practice and train themselves for the Computer Based Test (CBT). The experienced, qualified and professional Nodal officer and staff available at the TPC will help and motivate the candidates to clear their doubts and to make them familiar with the CBT mode of exam.
The national level management entrance exam is expected to be conducted across 73 cities Pan-India. Candidates are allowed to select up to 4 test centres as per their convenience while applying for the exam. The table below projects the cities where candidates can expect to take the CMAT 2019:
CMAT Exam Centres                                                                                                                                            
| | | | | | |
| --- | --- | --- | --- | --- | --- |
| Agartala | Bhubaneswar | Gulbarga | Kanpur | Nagpur | Srinagar |
| Ahmedabad | Bhuj | Gurgaon | Kochi | Nasik | Surat |
| Ahmednagar | Chandigarh | Guwahati | Kolhapur | Navi Mumbai | Trivandrum |
| Allahabad/Prayagraj | Chennai | Gwalior | Kolkata | Noida/Greater Noida | Udaipur |
| Mohali | Coimbatore | Ghaziabad | Faridabad | Nanded | Vadodara |
| Amravati | Dhule | Hyderabad | Kozhikode | Panaji | Varanasi |
| Amritsar | Davangere | Indore | Lucknow | Patna | Visakhapatnam |
| Aurangabad | Dehradun | Jabalpur | Ludhiana | Pune | Bhilai-Durg |
| Thane | Solapur | Solan | Kadi | Ponda | Vijayawada |
| Bangalore | Delhi | Jaipur | Mangalore | Rajkot | Anand |
| Bareilly | Dhanbad | Jammu | Meerut | Raipur | Belgaum  |
| Bhavnagar | Dharwad | Jamshedpur | Mumbai | Ranchi | Mangaluru |
| Bhopal | Durgapur | Jodhpur | Mysore | Shimla | Sambalpur |
| Guntur | Kurnool | Nellore | Rajahmundry | Tirupati  | Amritsar |
| Panchkula | Bhilai | Durg | Bhilai Nagar | Madgaon | Bhatinda |
| Bhavnagar | Gandhinagar | Mehsana | Hisar | Hamirpur | Ludhiana |
| Madurai | Tirunelveli | Warangal | | | |
NTA has released the answer key of CMAT 2019 on its official website on February 1, 2019. Candidates can check the CMAT 2019 answer key by entering their login credentials. The website will display the question paper, candidate's response and official answer key. The candidates can also file objections if they are not satisfied with the answer key within the stipulated date and time as mentioned by the conducting officials. The processing charge for filing an objection is Rs. 1000 per question. The same can be paid via debit card/credit card/net banking.
The question paper, the candidate's response sheet and answer key will be available for viewing till February 3, 2019. Candidates can print the documents for future reference and for challenging the answer key.
CMAT Helpline
Candidates who are applying for the exam can directly contact the exam officials if they face any problem during the application process. Here are the contact details:
CMAT Contact Details
| | | |
| --- | --- | --- |
| Helpdesk  | http://cms.onlinesbi.com/CMS/ | 1800112211(24*7) 18004253800(24*7) |
| Sri Sita Ram Malik | [email protected] | +91 9990125888 |
| Customer Care | [email protected] | (011) 23407121/23407657/23407447/ 23407480 |
| Through CMS | UNHAPPY (add text) | 8008202020 |
Official Website: www.ntacmat.nic.in
CMAT 2019 FAQs (Frequently Asked Questions)   
Q. What is the name of the conducting body of CMAT 2019?
A. CMAT 2019 will be conducted by National Testing Agency, popular as NTA. Until the previous year (CMAT 2018), it was conducted by AICTE.
Q. How to apply for the CMAT 2019 exam? Online/ Offline or Both?
A. The CMAT 2019 application form is made available strictly in online mode. The online application procedure has commenced on November 1, 2018, and will be available until December 7, 2018. Applicants cannot opt for offline application as it is not available.
Q. What is the mode of CMAT 2019 exam?
A. The mode of the exam is online (computer-based).
Q. How is the computer-based online examination different from the paper-based examinations?
A. The computer-based online examination is more or less the same except that candidates get to read a question on a computer terminal and clicks on the correct answer, instead of reading on a paper booklet and using a pencil/pen to darken the ovals on an answer sheet.
Q. Can I take the test from any computer?
A. No. Candidates will need to take the test on a pre-assigned computer at the test venue.
Q. How many times CMAT is conducted in one year? 
A. From the academic year 2016-17 onwards, the CMAT exam has been conducted only once a year, The CMAT 2019 was conducted on 28th January 2019, in two slots.
Q. What are the mandatory documents required to fill the CMAT Application form 2019?
A. The documents to be kept handy during the CMAT registration /application 2019 process are as the following-
      Scanned Photograph
      Scanned Signature
      Debit/Credit Card/Netbanking account (For online payment)
      Certificates/mark sheets to enter the required details.
Q. Where and how do I pay my fees?
A. Candidates are appearing for the test in India are required to pay registration fee either by Online (Credit / Debit cards / Net banking) or through Bank e-Challan at SBI bank branch. The last date of submission of the registration/application fee is December 8, 2018.
Q. What is the fee for the test?
A. The fee for male candidates of General, NC-OBC, SC, ST and PWD candidates appearing for CMAT is Rs.1400 + Bank charges as applicable; whereas for Female /Transgender candidates' fee is Rs.700 + Bank charges as applicable.
Q. Who is eligible to take the test?
A. Candidates who are in the final year of the Bachelor's Degree (10+2+3) Programmes or who have already completed Graduation from a recognised institution/university can appear in the test.
Q. When will I get my Admit Card?
A. Candidates can PRINT their CMAT ADMIT CARD 2019 from the official website of NTA from January 7, 2019.
Q. How many sections are there in the CMAT test?
A. There will be four sections in the test. The sections are as the following-
Quantitative Techniques & Data Interpretation 
Logical Reasoning 
Language Comprehension and 
General Awareness
Q. What is the duration of the test?
A. The duration of the test will be 180 minutes.
Q. When will CMAT answer key 2019 be released?
A. NTA had released the answer key on February 1, 2019, along with the candidates' Response Sheet. This facility was available until February 3, 2019 (up to 11 AM).
Q. Is there any age restriction for appearing in CMAT?
A.  No, there is no age restriction for appearing in CMAT 2019.
Q. Can I change my preferred test city after I have submitted my form?
A. No. Data cannot be changed once the form is finally submitted.
Q. How many exam cities can be chosen during the application process?
A. Candidates can choose up to four exam cities during the application procedure.
Q.  I am a PWD candidate with low vision/blindness / cerebral palsy. What special accommodation will be provided to me on the test day?
A. Visually Impaired and Cerebral Palsy candidates will be allowed to bring a Scribe/ Reader as per scribe form mentioned on the CMAT website. Candidates will be given an opportunity to interact with the scribe a day before the examination. After meeting with the identified scribe, candidates will be required to submit an undertaking. One will be provided with a time extension of one hour for the computer-based test.
Error 503 Backend fetch failed
Backend fetch failed
Guru Meditation:
XID: 27153003
---
Varnish cache server
Questions related to CMAT