SNAP Preparation Guide 2023: SNAP exam preparation is not too difficult if you are preparing for other MBA entrance exams like CAT or XAT. The syllabus of the SNAP test is similar to these exams so you will not face many challenges during SNAP preparation. All you need to do is SNAP-specific questions and exercises. To prepare for SNAP 2023, candidates must have a specific preparation strategy. To get detailed insights on the SNAP preparation guide 2023, read the article by Careers360 below.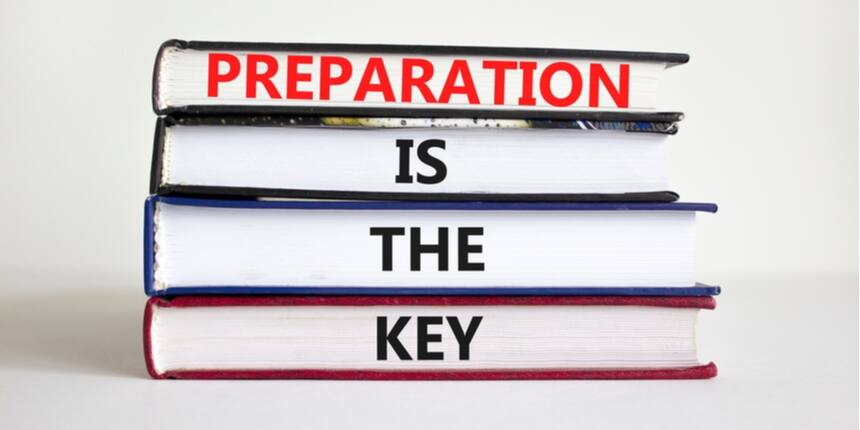 SNAP Preparation 2023: SNAP-specific Questions and Exercises, Sample Papers & Guide
SNAP Preparation Guide 2023
The SNAP exam is conducted annually over three days and candidates get three attempts. SNAP 2023 will be conducted in the month of December 2023. Compared to other MBA entrance exams, SNAP is more student-friendly. However, there is no less need to put effort into preparation than in other MBA entrance exams. SNAP exam is conducted by Symbiosis International (Deemed) University for admission to MBA programme in various SNAP 2023 participating institutes.
The preparation guide for SNAP includes how one should step up so that they are able to solve the questions with ease on the day of the exam. The general knowledge section has already been scrapped from SNAP and it has come as a relief to many aspirants. Students can sail through the exam by keeping in mind their strengths and weaknesses.
Preparation Guide to Crack SNAP 2023
Depending on your grip on the SNAP syllabus, the ideal duration for SNAP preparation is three to six months. If you are a fresh graduate from a science and technology background, you may need less time to prepare for the SNAP exam, but if you are from a non-technical background or have been working for a couple of years, you may need more time. In this article, we will share important tips and strategies in the preparation guide for SNAP 2023.
India's Top NIRF-Ranked Private B-Schools
SNAP exam over! You must aim for these Top NIRF ranked B-Schools. Check out courses, fee, placements and more.
Download EBook
Be well-versed with the SNAP exam pattern and syllabus
Before one venture into preparing for SNAP, it is important that the candidates understand what the SNAP exam pattern is like. This includes understanding the different types of questions that will be asked in SNAP 2023, what is the duration of the exam, the mode of exam, the total number of questions, the marking scheme, and more.
As part of the SNAP 2023 preparation guide, if the candidate is well-versed in the exam pattern, he or she will be able to draw a clear-cut plan. Moreover, knowing the syllabus of SNAP 2023 will enable the candidates to know what are the sections and topics from which the questions will be asked. This will assist the candidates to identify their strong and weak areas. They will know how much time they will have to devote to each topic and section.
SNAP 2023 Exam Pattern and Syllabus
| | | | |
| --- | --- | --- | --- |
| Sections | Questions | Marks | Important topics |
| Quantitative, data interpretation & data sufficiency | 20 | 20 | Data Interpretation based on text, graphs, and tables, Symbol Based problems, Syllogisms, Coding and decoding puzzles, Critical reasoning, Column graphs, and Bar graphs |
| Analytical & logical reasoning | 25 | 25 | Simple interest and Compound interest, Venn diagram, HCF & LCM, Geometric and Arithmetic progression, Ratios and Proportion, Trigonometry |
| General English | 15 | 15 | Jumbled paragraphs, Analogies, Contextual usage, Sentence correction, Idioms, and Syllogisms, Sentence completion |
| Total | 60 | 60 | - |
Establish your study agenda
For full-time employed professionals or students, procrastination can be an unending spiral as it may require them to complete their tasks immediately. It generally makes it difficult for them to schedule their study plan. Therefore, avoid procrastination to ace the examination.
If you are a working professional or student it is necessary to formulate a study plan to optimally use your day for the preparation of SNAP 2023. Divide your time the right way. Set hourly, daily weekly, and monthly goals. If you follow the SNAP preparation guide, then you must remember that your strategy should be a blend of achieving short and long-term goals.
Choose the right study material
While you prepare for SNAP 2023 it is important to have the right study material and books. There are numerous books in the market that you can refer to for different subjects. Some of the best books for SNAP preparation are:
For VARC:
'Verbal Ability and Reading Comprehension for the CAT' - by Nishit K Sinha

How to Prepare for Verbal Ability and Reading Comprehension for CAT' - by Arun Sharma & Meenakshi Upadhyay

'Word Power Made Easy – by Norman Lewis

'High School English Grammar & Composition – by Wren & Martin
For Quantitative, data interpretation & data sufficiency
'Quantitative Aptitude for the CAT' – by Nishit K.Sinha

'How to Prepare for Data Interpretation for CAT - by Arun Sharma

'How to prepare for Quantitative for the CAT' - by Arun Sharma
For Analytical & logical reasoning
'How to Prepare for Logical Reasoning for the CAT' - by Arun Sharma

'Logical Reasoning and Data Interpretation for the CAT' - by Nishit K Sinha
Top Colleges in India Offering MBA
SNAP 2023 Preparation Guide: Time Management
When SNAP is just around the corner focus on your accuracy. To determine one's understanding of verbal, quantitative, and logical reasoning sections, one must take a full-fledged mock test. Taking the SNAP mock test will help you assess your strong and weak areas.
Further, it will help you analyze the areas which you solved quickly and the ones with which you faced difficulty and were time-consuming. These points can be considered while making an efficient study plan.
Once you formulate the study plan, taking the mock test can be of the following advantage:
Will help you familiarize yourself with the exam environment and format of the exam.

It will help you analyze the time that should be taken to complete the question paper

Will help you utilize the 60 minutes to solve 60 questions.
Also, this is the time to revise and not take up any new topic as you might just end up pressing the panic button. Take up the flash notes that you prepared earlier and quickly revise them. These pointers will assist in recalling what you had studied in depth during the course of preparation.
Top MBA Entrance Exams
Take note of the negative marking factor
Students must know the marking scheme of SNAP 2023. As per the marking scheme:
For every correct answer, 1 mark will be awarded

For every wrong answer, 25% (0.25) of the total marks will be deducted

The paper will be of total 60 marks
As SNAP involves negative markings for both special and MCQs, students must not attempt any question that they are not sure of. If you find a question to be difficult and time-consuming, leave that question and move to the next question without wasting any time. Increase your speed and accuracy by practicing a number of questions from sample papers and mock tests.
SNAP Preparation Guide - Exam Day Guidelines
According to the SNAP preparation guide, there are certain instructions that the candidates must follow on the day of the exam. Let us check the Dos and the Don'ts for SNAP 2023:
Ensure that you report at the SNAP 2023 test centre at least one hour before the commencement of the exam

Make sure that you carry the SNAP 2023 admit card as entry will not be granted for those not carrying it

Any request for a change of SNAP test centre will not be entertained at any cost

Along with the SNAP admit card, it is essential to carry any one of the following valid photo identity proof such as-

Passport
Voter Id card
Aadhaar Card or E-Aadhaar card printout
PAN Card etc
Biometric data will be taken at the test centre, hence female candidates must not apply henna on their hands.