How to Prepare for CMAT 2021?
How to Prepare for CMAT 2021? -In order to secure good marks and get admission in good B-School, one of the most accepted entrance exams after CAT/XAT is CMAT. One of the challenging questions faced by candidates is how to prepare for CMAT 2021? All planning for preparation should be done keeping in mind the paper pattern of CMAT. Experts suggest that to secure a good position, six months of habituated preparation is fair enough. CMAT is considered to be a National level test through which admission in more than 800 B-Schools other than IIMs can be taken. CMAT 2021 is scheduled to be held on March 31, 2021. In this article of how to prepare for CMAT 2021, Careers360 will highlight the information related to exam dates, pattern of paper, major topics to be covered along with the strategies to be applied.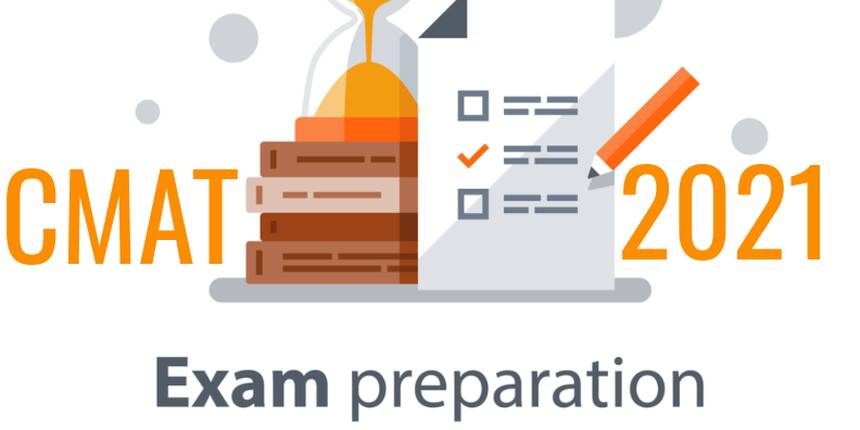 CMAT Exam Dates 2021
Details related to start and end of registration, issuance of admit card, exam date, result are provided under exam dates of CMAT 2021. Candidates can check the schedule related to CMAT 2021 exam below:
Exam Dates of CMAT 2021:
Events

Dates

Commencement of Registration

December 23, 2020

Last Date of CMAT 2021 Application Form

February 25, 2021
March 01, 2021

Availability of Admit Card

March 24, 2021

CMAT 2021

March 31, 2021

Declaration of CMAT Result 2021

To be announced
CMAT Exam Pattern 2021
To begin the preparation of any MBA entrance exam in India (in this case CMAT), candidates must go through the exam pattern of CMAT 2021 on a prior basis. Details pertaining to the mode of exam, conducting body, type and number of questions, marking scheme, duration etcetera is provided under CMAT 2021 exam pattern. The official CMAT syllabus will be notified soon. Till then for preparation purposes, candidates can check out the given pattern which is based on previous years' exam.
Exam Pattern of CMAT 2021
Particulars

Details

Duration

3 hours 30 minutes

Total questions

100 questions

Type of questions

Total marks

400

Marking Scheme

Four marks for correct answer will be awarded

For incorrect answer one mark will be deducted

No negative marking for unanswered questions

Number of Sections

Four -

General awareness

Language comprehension

Logical reasoning

Quantitative techniques and data interpretation

Innovation and Entrepreneurship

Sectional Time Limit

No
Major Topics To Be Covered: Section Wise
Since NTA will not provide any official syllabus of CMAT 2021, candidates can check the given below major topics and find their answer of how to prepare for CMAT 2021? These topics provided here are based on previous year question papers and expert analysis.
CMAT 2021 Major Topics
Sections

Topics

Quantitative Technique and Data Interpretation

Mensuration

Triangles

Permutation - Combination

Venn Diagram

Time-speed-distance

Time-work

Ratio-Proportion

Profit & Loss

Compound Interest

Averages

HCF

LCM

Logical Reasoning

Coding - decoding

Blood Relations

Number Grid

Directions

Analogy

Syllogism

Strong/Weak Argument

Language Comprehension

Spelling

Sentence completion

Meaning of phrase

Paragraph Jumbles

Synonyms/Antonyms

General Awareness

Economics

Current Affairs of National and International Economy

Trade Awareness

Daily trends and related news
Strategies to be Followed to on How to Prepare for CMAT 2021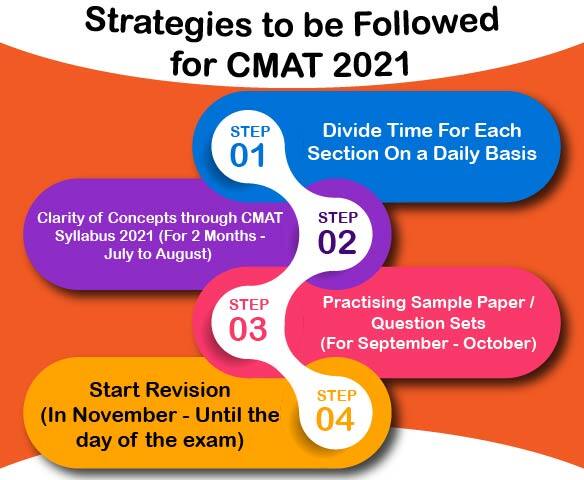 Divide Time For Each Section On a Daily Basis - Since a total of 100 questions are to be answered in three hours, hence candidates must know how to manage their time in such a way that answers are marked accurately.
Divide four sections in initial two months and make a plan of weekly basis

Keep one hour for each subject daily along with breaks of 10-15 minutes in between

Look for some of the best books for CMAT 2021 preparation. The Complete Reference Manual for CMAT (Arihant) is one of the popular and highly recommended books for CMAT

Join online study groups (paid or unpaid both can work out) to know tricks and tips of solving questions or get answers related to your queries, get expert / toppers guidance
Clarity of Concepts through CMAT Syllabus 2021 (For 2 Months) - Good amount of time can be / should be devoted to Quantitative Techniques & Data Interpretation section as preparing for this section is time consuming and requires good concept clarity. Make sure to keep two hours on a daily basis (From July to August) just for clearing your base. For the Logical Reasoning section, since it is a practice based section, 1 hour of daily practice is enough to score good. Whereas for the remaining two sections i.e. Language Comprehension and General Awareness consistent practice and updation is required. Try to solve 5-10 RC's on a daily basis and have a hold onto daily newspapers/journals for general awareness.
Practicing Sample Paper/ Question Sets- Once concept clarity is done, the next stage of preparation of CMAT 2021 begins. Yes, one of the best answers to question on how to prepare for CMAT 2021 would be to solve sample papers or question papers of CMAT. This is one of the best ways of extracting the information that candidates do not know and thus chances of improvement lie in the question / sample sets. Try to solve one question paper of CMAT or sample set on a daily basis. NTA will also provide the facility of CMAT 2021 mock test to make candidates understand the actual exam day scenario. By solving question sets within the time duration will also help in improving efficiency, speed and accuracy. Candidates will be able to gauge their performance and will be able to make changes in the preparation strategy if required.
Quick Link -
CMAT 2021 Preparation Tips and Trend Analysis
Start Revision (Until day of exam) - Now that all precautionary measures of detecting the areas of improvements have been taken by candidates. The next strategy on how to prepare for CMAT 2021 would be to start the revision. Do not worry about what all topics are left out, simply start your revision with what is already covered. On a daily basis practice two sections per day alternatively. For example - if on Monday you are doing section 1 and 3, then practice section 2 and 4 on tuesday and repeat this cycle for November. When moving to December start giving mocks and relax your mind.
Quick Links -
CMAT 2021 exam day guidelines and strategies to crack the test
CMAT 2021: Last Week Tips to Ace the Test
Frequently Asked Question (FAQs) - How to Prepare for CMAT 2021?
Question:Who will conduct CMAT 2021?
Answer:
CMAT 2021 will be conducted by the National Testing Agency.
Question:How and when will CMAT 2021 be conducted?
Question:How many B-Schools accept the CMAT scores?
Questions related to CMAT
Showing 2985 out of 2985 Questions