CAT 2015 Topper Interview: Early start and practice led Sanuj Mittal towards 100 percentile


Sanuj Mittal of Delhi Technological University is among the 17 toppers of CAT 2015 securing 100 percentile. The final year Electrical and Electronics Engineering student had planned to pursue MBA right after completing his Xth board exams and nurtured the aim during his college days. He believes that starting off with the preparation early had been the most advantageous step towards cracking CAT with a whopping 100 percentile.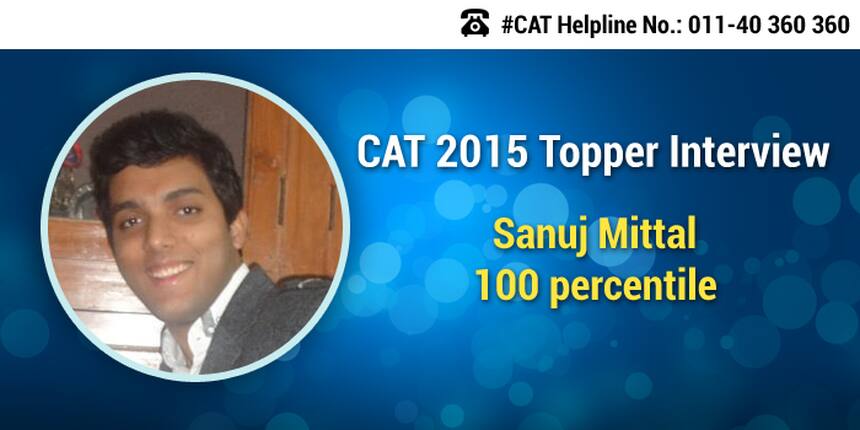 Recent Posts:
The Sachin Tendulkar fan who loves playing cricket and basketball also enjoys reading gripping thriller novels by Dan Brown. The topper with an interview call from his dream B-School, IIM Ahmedabad has already started preparing for the Written Ability Test, Personal Interview and Group Discussion rounds. In this interview with Careers360, Sanuj shares his success strategies, future plans, and advice for aspirants.
[How to ensure a positive outcome in your GD/PI. Click here and enroll to get Tips/Tricks and Smart Techniques to deal with situations smartly] 
Excerpts of the interview:
Careers360: Congrats on securing a perfect 100 percentile! Were you expecting it?
Sanuj: Thank you so much! Based on my performance I was expecting above 99 percentile but never expected a 100 percentile. After receiving the SMS, I did not believe it to be true. I was frantically trying to login to the CAT website and download my score-card but was not able to. Finally, when I did my happiness knew no bound! It was truly a dream come true moment for me.


Careers360: Please share your sectional percentiles with us.
Sanuj: My section wise percentiles are:
Verbal Ability and Reading Comprehension (VARC) – 99.16 percentile
Data Interpretation and Logical Reasoning (DI & LR) – 100 percentile
Quantitative Ability (QA) – 99.84 percentile
Careers360: Tell us something about your family and how did they support you during this journey to crack CAT?
Sanuj: My family is my ultimate source of inspiration and pillar of strength. My parents and elder sister have supported me in every aspect, be it preparation or anything else. My father is a banker and my mother is a teacher. My sister is also an engineer who is currently working for an MNC.


Careers360: Why and when did you decide about going for MBA?
Sanuj: I had decided to take up management education in the school itself, after completing 10th standard. During college, I thought about it seriously and started planning for CAT during the final year. Management studies offer you a vast exposure and open a lot of opportunities which is why I am interested to pursue an MBA.


Careers360: What was your approach towards CAT when you started the preparation?
Sanuj: I started my preparation in January 2015 by joining a coaching institute. I began my preparation by brushing up the concepts. After completing the theoretical aspect, I started taking mock tests. I took a lot of mock tests from various websites and got them analyzed by my mentors to get a better understanding on how to change my preparation strategy. Regular practice and mock tests were my strategies to crack the test.


Careers360: Which were your strong and weak sections in CAT?
Sanuj: My strengths were Quantitative Ability and Data Interpretation and Logical Reasoning sections. I was weak in the Verbal and Reading Comprehension section. I tackled this section with a lot of reading and practice.


Careers360: How did the new exam pattern of CAT 2015 impact your performance?
Sanuj: To be honest, the new exam pattern did not make any difference to me. The sections were time bound, which was not a problem for me. I would not prefer switching sections anyway and would allot certain duration while attempting a particular section. The on-screen calculator was of no use to me. Being an engineering student whose strength is QA, I preferred calculating on my own using short tricks rather than using the calculator. I felt it was wastage of time hence did not use it. As far as Non-MCQ type questions were concerned, that did appear to be confusing initially but ultimately it was manageable.
Careers360: How are you preparing for the next step of admission?
Sanuj: I have started the basic preparation for WAT/GD and PI rounds. I am reading newspapers and magazines regularly and gathering all relevant information and facts/figures of the current affairs. I have also started appearing for mock GD and PI sessions in my coaching institute and with my friends.


Careers360: Which B-School are you aiming to take admission in?
Sanuj: My preferred B-schools are IIM Ahmedabad, Bangalore, and Calcutta. I have been already shortlisted by IIM Ahmedabad with AWT-PI scheduled in March and waiting for calls from the other top IIMs. I am working hard towards converting the call.


Careers360: Have you thought about your specializations?
Sanuj: I have not decided about specializations yet, but I am interested in Finance, Operations or Marketing.


Careers360: Amidst the hectic preparation schedule, did you indulge yourself in any hobby or recreational activity?
Sanuj: I love watching sports. I am a fan of cricket and basketball. I also love reading thrillers, especially works of Dan Brown. I have been part of various clubs in my college which involved organizing events, festivals, and competitions. Apart from my CAT preparation, I did take out some time for my hobbies and interests.


Careers360: What is your message for the CAT 2016 aspirants?
Sanuj: Practice is the main mantra for cracking CAT. Start your preparation at least 2 to 3 months in advance. Do not delay till last moment as along with conceptual clarity you need ample practice as well.
Also Read
CAT 2016 Participating Institutes
CAT 2016: When and how to start preparations
How to prepare for CAT 2016 - 10 tips to crack CAT exam
CAT 2015 Results: 9000 candidates score zero or negative

Stay tuned to www.bschool.careers360.com for more CAT 2015 Topper Interviews.
Questions related to CAT
Showing 9043 out of 9043 Questions