Why MBA? - Top Reasons to Do an MBA Degree
Why MBA? - Master of Business Administration, more commonly known as MBA, is a postgraduate course that any graduate from any discipline can pursue. It allows students from multiple backgrounds to gain knowledge of business, finance, marketing, operations and every other aspect regarding the growth of businesses.
Latest Updates for CAT
1 day ago:

IIM Bangalore is CAT 2022 exam today. Check CAT exam live updates here.

1 day ago:

CAT 2022 exam tomorrow; know do's and don'ts to avoid any mistake for exam day. Click here.

4 days ago:

IIM Bangalore will conduct CAT 2022 this Sunday i.e. November 27- Check details here.
Stay up-to date with CAT News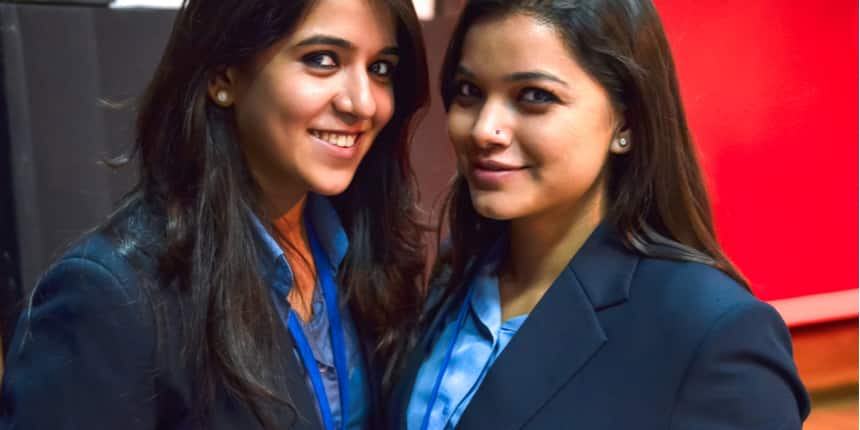 Why MBA?- Top reasons to do an MBA degree
A degree such as this allows students to increase one's network while improving the salary prospects and allows for an easy transition into various fields.
Why study MBA? It is a fashion to think of doing an MBA without understanding what exactly it entails or how does it really help one's career. Having a clarity on what constitutes an MBA would help one to take a right decision regarding one's career.
MBA Admission Open Now:
Why MBA? Value and Long-Term Benefits
A typical Master's program will ensure that a student learns to practically apply the in-depth knowledge, particularly in the subject chosen and provide opportunities within that sector. But with an MBA degree, one may not need to do so. The employers of the job you apply to will see mainly 5 things:
Strategic thinking

Creative Problem Solving

Teamwork

Analytical thinking

Communication Skills
Why pursue an MBA? By pursuing an MBA degree, you show employers that you have what it takes to excel. It shows that you can handle situations in a better way than regular employees. Simply put, you gain knowledge and experience through corporate internships, case studies and projects thus, at times, making you the ideal candidate for higher positions directly as well.

MBA entrance exams that you can apply for
MBA Programs and Curriculum
As written above, an MBA can be pursued by any graduate with or without work-ex. Typically, the following programs are available for candidates planning to pursue an MBA
Two Year Full Time MBA (Residential or Non-Residential)

One Year Full Time Executive MBA

IIMs (ABC), ISB, XLRI, GLIM and many others provide this program

Part Time MBA (Three years)

FMS, JBIMS are the prominent ones

eMBA (Online)

With Covid19 pandemic, many Institutes, Universities are providing Online MBA
In a broad sense, the curriculum and course are largely similar in every university or college. What sets the B Schools/Universities apart, are the external opportunities, peers, and alumni circle.
Popular MBA specializations include
Business Communication

Data Analytics

Leadership
The why MBA question also depends on the interest of the student. Taking up specializations in comes in the second year of the MBA course when the students is better equipped to take a decision on this.
Each college offers its timeline of core subjects and specialization based on the type of MBA. Therefore, as heavy and complicated as the curriculum may seem, the students have the liberty to choose the speed of studying, thus, ensuring wholesome learning and implementation power in individuals.
Browse Top MBA Colleges Accepting CAT Score: Location-Wise
MBA – why it is important
Questions that many may have ar, 'Why should I pursue MBA?'; 'How is my field going to affect my salary?'; 'How is an MBA going to help in my career?' All these queries, and more, can not only be answered theoretically but also seen practically in the contemporary corporate world.
An engineer, a commerce graduate, a doctor, an artist, or even a sociologist have numerous options and career prospects in their respective fields. All study options and career choices have a path created for them. A student can reach great heights in their respective chosen options. But with an MBA, she or he can be much more. Why should one restrict themselves to one career option when there is an open door for multiple?
Reasons to pursue MBA
There are many. To start with, an MBA is a gateway for exponential career growth. An increased salary, and or even a total shift in career options. For example, if a writer with an MBA degree wants to change his/her career to an analyst, it is very much possible. Or if a doctor, with an MBA, wants to open a hospital, it will be much easier to get investors because the experience and knowledge of the degree will allow the doctor to tackle critical business and medical situations evenly. The transition of a career with an MBA is as smooth as a lubricated clock.
Why MBA after engineering or why after B.Sc are questions that are simple but important. The answer to this is that every dream career someday is expected to lead to a management role. An MBA equips the students with the requisite management skills that helps them juggle their professional demands with ease.
Why MBA? Some Reasons
In the ever-changing business world, one has to have the business acumen to quickly adapt to the ever-changing business roles and tools required to be on top. Marketing, for example, has always existed. However, today, with internet and a rapidly growing online business structure, knowledge of Digital Marketing is a requisite to be successful. An MBA prepares a student to adapt to this change in technology or change in tools and quickly adapt to the dynamics of business.
Also, since an MBA is domain agnostic, it helps candidates to be ready for any changes in the way the business is done. An MBA ensures that the main skills are taught in a very subtle manner.
Some of the soft skills required to be successful in any business role are given below.
Contemporary soft skills:
The 7 Soft skills which every employer look for nowadays are
Leadership

Teamwork

Communication skills

Problem Solving Skills

Work Ethics

Flexibility and Adaptability

Interpersonal skills
Why MBA – Other Advantages
1. Develop or increase entrepreneurial abilities: Be it a hospital, a new business idea, or even upgrading an existing business, an MBA always comes in handy. It will allow one to not only build the brand quickly, but also build it with credibility.
2. Stepping into the global experience: Confinement to one sector may become boring for some. For example, if a cookie factory worker has only one job of mixing ingredients, she or he may get bored very quickly. But, if he/ she become aware of the various upskills open, a lot can be achieved. Such as new ways to mix ingredients, or experimenting with flavors. They can also gain the latest technology knowledge, new recipe ideas, and also create innovative ways to have fun at work.
Similarly, arming oneself with an MBA would ensure complete awareness of all the latest developments and improvements in every field in the chosen job sector. They can also stay up to date with the latest advances they can implement. Exposure to the real world is as high as the competition too. With an MBA, one can become a VIP of fresh information.
3. Long Term Investment on Self:
Many students and or individuals pursue a career for the sake of gaining knowledge and of course, good salary prospects. In that process, they may forget to look after their long-term career needs. An MBA will take care of that aspect. Investing in an MBA education will help secure a lifetime of opportunities. With a good start, it will become comparatively easy in the future to earn higher sums of salary later in the career of one's choice. In case of a family business or self-made one, an MBA would be the correct support to provide the right impetus to success.
As to the question of why MBA, if you have an aspiration that needs a push, or want a gateway for freedom, and or even a practical experience, MBA is the right decision for you. You may not even need a reason to do an MBA, as long as you understand that having the degree will allow you as much flexibility and freedom in your professional and personal line of work!
MBA Salary in India
| | |
| --- | --- |
| Name of the Institution | MBA starting salary (per annum)* |
| | Rs 21.1 Lakh |
| | Rs 19.17 Lakh |
| | Rs. 20.1 Lakh |
| | Rs 22.1 Lakh |
| | Rs 18.91 Lakh |
| | Rs 18.27 Lakh |
Other Top MBA Entrance Exams
Questions related to CAT
Showing 10916 out of 10916 Questions