CAT 2017 Topper Interview: Do not skip mock tests for the fear of scoring low, says Hitesh Lohani of FMS Delhi
CAT 2017 Topper Interview -  "One thing I was doing consistently which most of the aspirants don't do only to regret later- is giving mock tests." This mantra is what set Hitesh Lohani apart from other CAT takers on test day. Read this CAT 2017 topper interview to know how he aced CAT with 99.91 percentile and secured admission in FMS Delhi.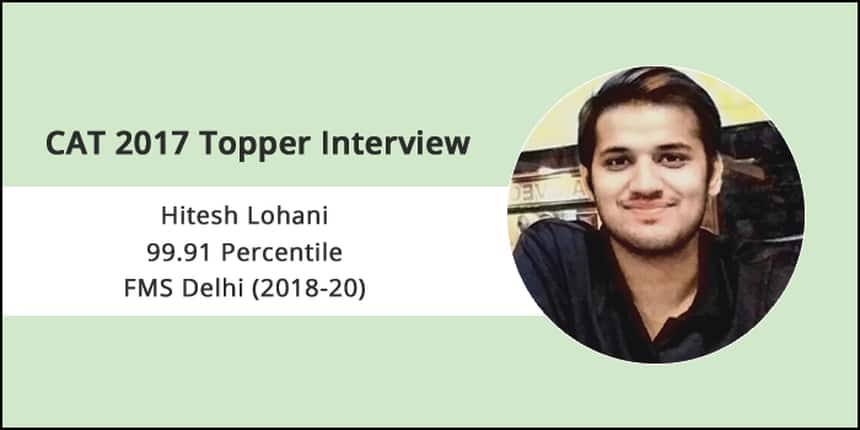 Besides CAT 2017, Hitesh also scored impressively in various other competitive management exams. He devised a comprehensive phase-wise strategy for self study as he had already had a taste of coaching during his attempt at CAT 2016. He utilised some of the best books and study material for CAT which he has also recommended in this interview for CAT 2018 aspirants. Above all, he lays immense emphasis on the the importance of CAT mock tests as they are crucial in improving speed, accuracy and getting habituated to make use of the three hours during the exam. Due to his well-thought strategy and unwavering focus, Hitesh had copper-bottomed guarantee to score atleast 99 percentile in each section when he came out of the exam hall. 
For Hitesh, the best way to keep calm and confident was to interact with his fellow CAT aspirants and discuss queries and preparation tips. Without further ado, let us read the CAT 2017 topper interview of Hitesh Lohani and know the best preparation strategies to score a high percentile in the exam.
Excerpts from the interview:
Careers360: What was your CAT 2017 overall and sectional percentile? Apart from CAT, which other entrances you appeared for and what were your percentiles?
Hitesh: My overall percentile in CAT 2017 was 99.91. My sectional percentiles are as follows:
VARC-99.10
DILR-99.76
QA-99.42
I also appeared for IIFT 2017 where I scored 99.46. I appeared for XAT 2018 and scored 99.707. In MAH CET 2018 I secured 99.97.
Careers360: What was your preparation strategy?
Hitesh: My section-wise preparation strategy was as follows:
VARC: In VARC, my main focus was RC portion since it has 24/34 questions. The best source for preparing RC for me was GMAT official guide. The passages and the type of questions asked in the Official guide are very similar to the ones asked in CAT. After completing Official Guide, I switched to Manhattan Prep.

Quant: For quants, I first went over the T.I.M.E. modules which I found very good for basic preparation. Then I solved LOD-2 of the Arun Sharma quant book. After that I focused solely on sectional tests as it was a better way to improve accuracy.

DILR: For DILR, I initially referred to standard books but found them useless. Best source for DILR for me were mock tests especially ones by Career Launcher. Their difficulty and pattern were very much similar to the ones asked in CAT.
Careers360: How did you prepare – Self-study or Coaching?
Hitesh: I joined a coaching for CAT 2016 and for CAT 2017 I was doing self-study. Having done both, I believe both are good in their own ways and which is better depends from person to person. If a person has very weak basics and/or is not from a mathematics background or doesn't have much idea where to start from, then coaching would be the way to go. Taking coaching would not only clear your basics, but also provide a structure to your preparation. But for repeaters or those who are comfortable with aptitude papers, practise is the key for them to improve accuracy and self study would do.
Careers360: When did you start preparing for CAT? Please share in detail your month-wise preparation strategy.
Hitesh: I started my preparation from June. I had divided my preparation into three phases.
In the first phase from June to July, I had planned to completely revise the whole theory portion of all the three sections. I gave the three mocks per week during this phase. In the second phase from August to October, my main focus was to target my weak areas and solve as many questions from them as possible. I solved previous year mocks and sectional tests to improve my weak areas.
During the last phase from October to November, I gave as many mock tests as I could. My weekly target was to give at least six mocks with complete analysis. In the last week before CAT, I stopped giving mocks altogether and just focussed on revising basic formulas. One day before CAT, I glanced once through my revision note book and for the rest of the day and focused on getting a good sleep since I was allotted the morning slot.
Careers360: What was the one thing that you did consistently during your preparation?
Hitesh: One thing I was doing consistently which most of the aspirants don't do only to regret later- is giving mock tests. Most aspirants have this fear of scoring low in mock tests and hence skip them.
What they fail to realize is that most learning happens through failure only. Giving regular mock tests is the most important aspect of preparation because CAT is more of an attitude test than an aptitude test. It depends on how you maintain your calm in those three hours of D-day. Regularly giving mocks makes one ready to sit continuously for three hours without losing focus. Mocks should be given in proctored mode in the centres and not at home.
Careers360: What are the best study materials for CAT or other exams?
Hitesh: According to these are the best study material for section-wise preparation:
VARC- GMAT Official Guide and Manhattan Verbal. IMS RC100 is also good.

LRDI- Pearson guide by Nishit Sinha for basics. Online blogs like LRDI of the day series by learningroots.com is very good. Best way is to practise using mocks.

QA- T.I.M.E. material is the best to learn basics. For a little advanced difficulty, refer to LOD-2&3 of Arun Sharma.

2iim question bank is very good for advanced concepts.
Careers360: When did you start taking mock test and what was the frequency? How did you get it analysed and integrate it in your preparation?
Hitesh: I took the mocks during their window period only, i.e. as and when they were released. Mocks started around July and initially I used to give one mock per week but after September, I increased it to three to four mocks per week. I had a notebook where I would note down important questions and any new concepts that I learned in the particular mock. I would also make a note of the most common mistakes I was making in order to avoid them making them in the future.
Careers360: How one with non-English background should prepare him/herself for the exam as the mode of the exam is only English?
Hitesh: CAT doesn't test English speaking skills. It tests English comprehension skills so as such being from a non-English background can be made up for by putting in a little extra effort. I would recommend that one should start by reading news articles daily and may be read some novels. Although I believe merely solving a lot of reading comprehension would also do since in the end it all boil downs to your comprehension skills.
Careers360: What was your exam day strategy in terms of question selection, time management, accuracy and sectional attempts?
Hitesh: I had devised a strategy to follow during CAT based on my experience in mocks. For VARC, I had decided to solve all RCs in first 40 minutes and do VA in the next 20 minutes. For DILR I had decided to first just read and get an overview of each set and if I found a particular set very easy, only then I was to attempt it. My aim was to solve only 4-5 sets max but with full accuracy. For Quant, my strategy was to attempt only easy questions in the first go and mark the difficult ones for later. I did not really care for the cutoffs as I was pretty confident of scoring at least 99 percentile in each section even on my worst day.
Careers360: Preparing for CAT is a long and tiring process. How do you suggest one should keep his/her calm and confidence?
Hitesh: Best way to keep calm and confidence during this process is to interact with your fellow CAT aspirants and make friends with them. Share your preparation strategy and be a part of this incredible journey together. I had a Whatsapp group of people who were also preparing for CAT and together we used to discuss our queries, mocks, ups and downs, share jokes and it made my preparation memorable.
Careers360: What is your message for CAT 2018 aspirants?
Hitesh: One message I would like to give CAT 2018 aspirants is to neither get dismayed by poor performance in mocks nor get overconfident if performing well in mocks. Ultimately it is those three hours which are going to decide your college. As I said, CAT is more of an attitude test than an aptitude test. One who can maintain his calm during those three hours is sure to excel in it.
Questions related to CAT
Showing 9065 out of 9065 Questions