CAT 2016 Topper Interview- Evaluate your weak areas to prioritise preparation, says 99.74 percentiler Nikhil Prabhu
A strict preparation routine helped Nikhil Prabhu from Bangalore achieve an incredible 99.79 percentile in CAT 2016. The first thing that the topper, who is an accounts student from Presidency College, did was to evaluate his strengths and weaknesses and create a strategy around it, thus allotting 70 per cent of his preparation time to Quants and rest to Data Interpretation and Verbals.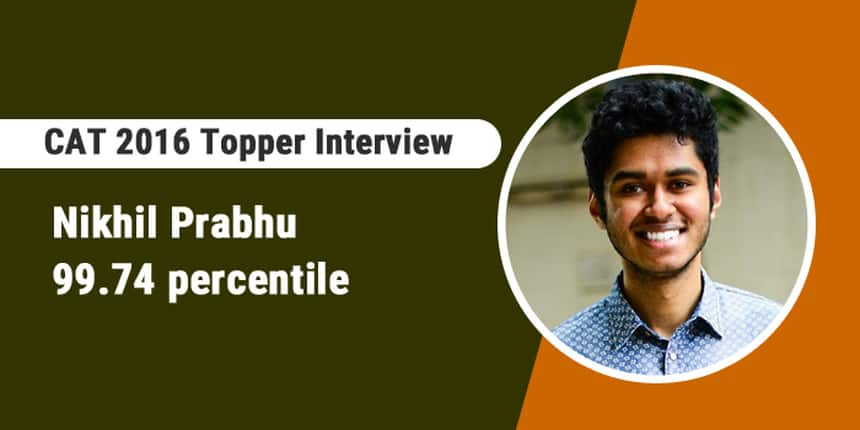 Nikhil is also self professed book lover, who spends his time collecting mythological books and thrillers. In this interview with Careers360, the topper shares his CAT preparation strategy and how prioritising his studies helped him crack one of the toughest management entrance tests in India.
Recent Posts:
Read here the full interview:
Careers360: Congratulations! How are you celebrating? Were you expecting this percentile?
Nikhil: Thank you so much. My parents are definitely happy. I was expecting something above 98, but this was a surprise to me.
Careers360: How was your exam? Which were the toughest and weakest sections according to you?
Nikhil: For me Quants was a bit on the difficult side. But I made sure I stuck to the time limit that I had set. I enjoyed working on the Verbals section.
Careers360: So, what are you currently pursuing?
Nikhil: I am doing my B.Com from Presidency College,  Bangalore. I am majoring in accountancy.
Careers360: How did you prepare for CAT? Did you opt for mock tests? How much time did you give for your preparation?
Nikhil: The first thing that I did was to evaluate my strengths and weaknesses. For me Quantitative Ability was the area I had to put much of my effort on. So, 70% of my preparation went towards Quants and the rest 30 per cent, I put into Data Interpretation and Verbals. I was confident about my language skills and needed to brush it up. Also, I kept myself updated the entire time with newspapers and books. That helped me a lot. Also, my fifth semester exam was also knocking at my door around the same time. So, I had to give time to that too. So, I made a plan wherein I devoted all my study leaves for CAT preparation.  Initially I was a bit stuck. But then, I made a study routine and followed it strictly and everything fell into place.
Careers360: Which is your preferred business school? Which specialisation are you interested in?
Nikhil: I am hoping to get through IIM Ahmedabad or Bangalore. I would prefer Bangalore, since it is in the city that I live in. I am interested in taking up Finance as my specialisation or management consulting.
Careers360: How is your preparation for the next rounds?
Nikhil: I am reading newspapers and watching discussions on TV. That keeps you updated as well as exposes you to different opinions.
Careers360: Is there specific reason why you want to pursue MBA?
Nikhil: I have an accounts background and have always been interested in pursuing something in the finance field. An MBA was in the plan even when I had taken upB.Com. I want to get into consulting. Maybe I will even consider starting something of my own someday. 
Careers360: Enough about studies! Tell us what else do you enjoy beyond studies?
Nikhil: There is a long list! But yes, I love watching American and British shows. Suits and Sherlock are some of my favourite shows. Besides that, I am a big time bookworm. I like reading books around mythological subjects. I count Ashwin Sanghi and Amish Tripathi among my favoutrite authors.
Also Read
CAT 2016: Know the Topper Profiles of 99-100 percentilers
CAT 2016 Result - 20 candidates secure 100 percentile, says Convenor Prof. Bandi
CAT 2016 Results: 56000 candidates score less than zero in DI-LR section, 37000 get negative score in VA section
Questions related to CAT
Showing 9108 out of 9108 Questions