CA vs MBA - Know the Differences
CA vs MBA - Looking at the competitiveness of today's environment, no one can ignore the importance of having a professional degree. On one hand, we have professional courses like CA, CS and on the other side of the coin, we have a postgraduate degree like MBA having its own benefit label. If candidates have specific interest in the finance domain, then choosing between pursuing CA and MBA can be a tough decision to make. Thus, it is imperative for candidates to see themselves in a state of dilemma. Today, in this article, Careers360 aims to give clear cut details on what CA and MBA is, course structure, scope, career path, CA salary in India and much more. Chartered accountancy commonly known as CA is a professional course having international recognition. Whereas MBA is a two years postgraduate degree that opens a gateway for candidates to an abundance of job opportunities. The final decision i.e. CA vs MBA, however, lies with the candidate and must be taken with due diligence.
Latest-Candidates can now download CAT 2020 admit card. Know about CAT Mock Test 2020.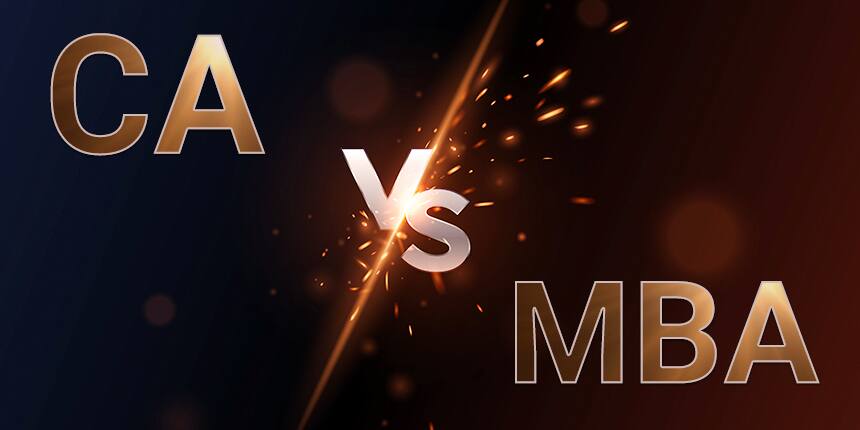 Might be interested in- Career Prospects After MBA in RM

Which is Better? CA vs MBA
Without a second thought, we can say that both CA vs MBA drives your career to a new zenith. Henceforth, it is likely to be confused as to which is more suitable and will help to achieve what a candidate desires for. The differences between CA vs MBA are given below:
Overview of CA vs MBA:
| | | |
| --- | --- | --- |
| Particulars | CA | MBA |
| Investment | Economical. The overall money invested in a CA certification is less as compared to an MBA degree. | Highly expensive if you are planning to do it from Top B-Schools like IIMs, XLRI etc., |
| Pass % | Out of 100, only 3-5% of candidates are able to qualify and get certified as CA. | 90-95% of candidates who opt for MBA course end up getting good jobs. |
| Career options | Few. For a qualified CA, ample options are not available to a CA | Wider options are available. |
| Exposure | 3 years Articleship | Few months internship ranging from 3-6 months |
| Difficulty Level | Extremely difficult to crack | 80% of candidates crack the exam and pass |
If one wants to pursue CA, then he/she has to think in advance. Whereas an MBA course can add additional values to the existing professions. Nowadays, even executive MBA courses for working professionals are also available.
Eligibility Criteria of CA vs MBA
Once you know what CA and MBA basically are! Next step for you to know is the CA vs MBA eligibility criteria. CA and MBA both occupy popular position under top professional courses. Below mentioned eligibility criteria can be checked by candidates if they are planning to either the take-up CA profession or pursue MBA course degree.
| | | |
| --- | --- | --- |
| Eligibility | Chartered Accountant (CA) | Master's in Business Administration (MBA) |
| Bachelor's Degree | Not Mandatory | Mandatory |
| Exam conducting body | | No Single Body (IIM Indore for CAT 2020) |
| Levels/Semesters | Three Levels i.e. CPT, IPCC, CA-Final | Four Semesters |
| Job Aspect | Chartered Accountant, Auditor, Finance Manager etc., | Manager, Team Leader, Human Resource Head, |
What is CA or Chartered Accountancy Course?
Chartered Accountancy is an international and professionally recognized course. In India, CA course is conducted by ICAI i.e. Institute of Chartered Accountants of India. A person who qualifies Chartered Accountancy course is known as CA. To be recognized as CA, candidates need to appear for CPT (Common Proficiency Test) after clearing 10+2. If any candidate does not wish to give the CPT level, then he or she can register themselves for IPCC on condition that they have a graduation degree. Keeping in mind the track record of passing candidates in CA course, it is always advisable to candidates to have at least a graduation degree.
Main Objective of CA Course - To provide exposure to the Financial and Accounting sector.
What is an MBA or Master in Business Administration?
Master's in Business Administration commonly called as an MBA is a postgraduate degree that is widely recognized all over the world. Candidates having an MBA degree are open to vast opportunities. Bachelor's degree from any background like Science/Humanities/Commerce etc., is acceptable to pursue an MBA course. To take admission in MBA courses, many National, State and University exams are conducted like CAT, MAT, XAT, CMAT, MAH CET, SNAP, GGSIPU etc., MBA course has multiple specializations whereas CA course focuses only on the financial aspect.
Main Objective of MBA Course - To provide exposure to different domains like Marketing, Human Resource, Finance, International Business etc.,
Duration of CA vs MBA:
| | | |
| --- | --- | --- |
| | CA Course | MBA Course |
| Duration of Exam | Four years (only if candidates clear in the first attempt) | Two-year degree programme |
Scope and Job Prospects after the CA Course
Although many professional and diploma courses have emerged in recent times, yet the importance of CA courses can not be overlooked. A well qualified CA is in demand in all industries. As a CA, an individual can work with the government/ public undertaking or private sector companies as well. If one does not wish to work under someone, then CA has the option to practice individually. Check out how to become a CA in India to know complete details.
Job Prospects After CA Course
Auditing firms, Taxation

Management Consultancy Services

Practising Individually

Corporate law
Scope and Job After MBA in India
Apart from the high MBA salary in India package, a person having MBA degree will have uplifted career opportunities. The importance of having an MBA degree can not be neglected. MBA can be a part-time MBA or full-time MBA or distance MBA course. Candidates having MBA degrees are demanded in every industry. If you wish to know more about what an MBA is all about, check all about MBA course.
Job After MBA in India
Marketing Manager / Consultant

Financial Advisor

Human Resource Manager

IT / Operations Manager

Analyst

Administrative Manager
Qualities of an MBA Graduate:
Time Management

Uplifted Work Values

Contemporary Vision
How to Enroll? CA vs MBA
Course

Particulars

CA

To enrol for CPT, HSC qualification will help candidates to enrol themselves for CA Course.

To enrol directly in IPCC, graduation is a must.

MBA
Skills Set Required for CA vs MBA
After becoming a CA, candidates must possess the following skillset-
The lucid approach of Accounting and Auditing

Excellent communication

Knowledge of socioeconomic conditions
An MBA graduate is expected to possess the following skillset-
Adept knowledge

Pressure handling

Strategic decision making

Leadership qualities
Salary Package: CA vs MBA
Money is what people crave for in today's competitive environment. No doubt about the fact that it is important for survival. Both CA and MBA have their own advantages in terms of money. A Qualified CA can get an average starting salary of 5-8 Lakhs for annum. However, the top financial companies like Deloitte, E & Y etc., may offer more than 20 lakhs to a well qualified Chartered Accountant professional. Whereas for MBA graduates, the average MBA salary in India which is offered in top B-Schools may range from 12-15 lakhs per annum.
CA Fee Structure
| | |
| --- | --- |
| CA Fee Breakup | Amount in Rupees (INR) |
| CPC Registration fee | 6,000 |
| Intermediate course registration fee (both groups) | 15,000 |
| Articled training registration fee | 1,000 |
| Final course registration fee | 22,000 |
| ITT training | 6,500 |
| Orientation | 7,000 |
| GMCS-I | 5,500 |
| GMCS-II | 5,500 |
| Total | 68,500 |
The choice is yours. Think before you make a choice!
Quick Links-
Questions related to CAT
Showing 9103 out of 9103 Questions