CA vs MBA - Know the Differences
CA vs MBA: Know the differences- Looking at the competitiveness of today's environment, no one can ignore the importance of having a professional degree. On one hand, we have professional courses like CA, CS and on the other side, we have a postgraduate degree like MBA having its own benefit label.
Stay up-to date with CAT News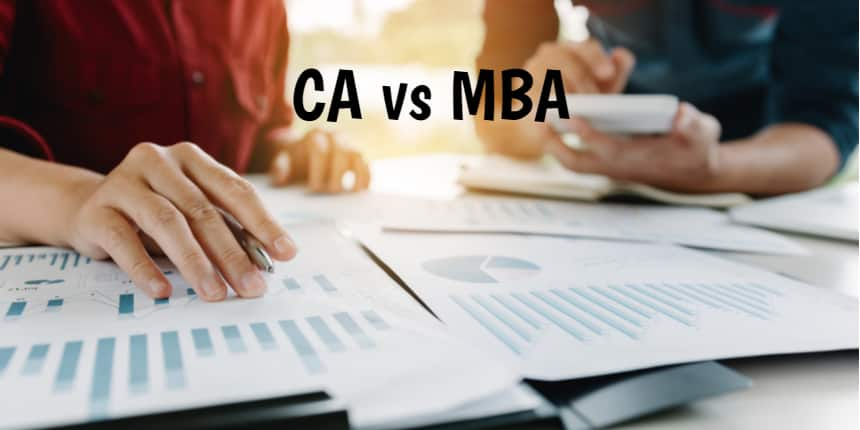 CA vs MBA - Know the Differences
There is a vast career scope in MBA in several areas of business along with effective knowledge in management, analysis, and business strategy. On the other hand, chartered accountancy deals with specialization in all fields of business and finance. If a candidate has a specific interest in the finance domain, then choosing between CA and MBA can be a tough decision to make. Careers360 brings you the clear details on CA vs MBA, course structure, scope after CA and scope after MBA, career path, salary comparison between the two courses and much more.
Ongoing MBA Admission 2021
CA vs MBA: Overview
Particulars

CA

MBA

Investment

Economical. The overall money invested in a CA certification is less as compared to an MBA degree.

Highly expensive if you are planning to do it from Top B-Schools like IIMs, XLRI etc.,

Pass %

Out of 100, only 3-5% of candidates are able to qualify and get certified as CA.

90-95% of candidates who opt for an MBA course end up getting good jobs.

Career options

Few options available. For a qualified CA, ample options are not available.

Wider options are available.

Exposure

3 years Articleship

Few months internship ranging from 3-6 months

Difficulty Level

Tough

Moderate to Difficult
(80% of candidates crack the exam and pass)
If one wants to pursue CA, then he/she has to think in advance. Whereas an MBA course can add additional value to the existing professions. Nowadays, even executive MBA courses for working professionals are also available.
Quick Link-
Career Prospects After MBA in RM
Difference between PGDM and MBA?
What is CA or Chartered Accountancy Course?
Chartered Accountancy is an international and professionally recognized course. In India, the CA course is conducted by ICAI i.e. Institute of Chartered Accountants of India. A person who qualifies Chartered Accountancy course is known as CA. To be recognized as CA, candidates need to appear for CPT (Common Proficiency Test) after clearing 10+2. If any candidate does not wish to give the CPT level, then he or she can register themselves for IPCC on the condition that they have a graduation degree. Keeping in mind the track record of passing candidates in the CA course, it is always advisable for candidates to have at least a graduation degree.
The main objective of the CA Course - To provide exposure to the Financial and Accounting sector.
Browse Top MBA Colleges Accepting CAT Score: Location-Wise
What is an MBA or Master in Business Administration?
Master's in Business Administration commonly called an MBA is a postgraduate degree that is widely recognized all over the world. Candidates having an MBA degree are open to vast opportunities. Bachelor's degree from any background like Science/ Humanities/ Commerce etc. is acceptable to pursue an MBA course. To take admission in MBA courses, many national, state, and university exams are conducted like CAT, MAT, XAT, CMAT, BMAT, ATMA, MAH CET, and many more.
The main objective of MBA Course - To provide exposure to different domains like Marketing, Human Resource, Finance, International Business etc.
Course Duration
| | | |
| --- | --- | --- |
| | CA Course | MBA Course |
| Duration of Exam | Four years (only if candidates clear in the first attempt) | Two-year degree programme |
CA vs MBA: Eligibility Criteria
Once you know what CA and MBA basically are! The next step for you to know is the CA and MBA eligibility criteria. CA and MBA both occupy popular positions under top professional courses. Below mentioned eligibility criteria can be checked by candidates if they are planning to either take up the CA profession or pursue an MBA course degree.
| | | |
| --- | --- | --- |
| Eligibility | Chartered Accountant (CA) | Master's in Business Administration (MBA) |
| Bachelor's Degree | Not Mandatory | Mandatory |
| Exam conducting body | | No Single Body (IIMs) |
| Levels/Semesters | Three Levels i.e. CPT, IPCC, CA-Final | Four Semesters |
| Job Aspect | Chartered Accountant, Auditor, Finance Manager etc., | Manager, Team Leader, Human Resource Head, etc. |
How to Enroll in CA and MBA?
Course

Particulars

CA

To enroll for CPT, HSC qualification will help candidates to enroll themselves for CA Course.

To enroll directly in IPCC, graduation is a must.

MBA

Top B-Schools provide admission candidates only on the basis of management tests like CAT, MAT, XAT, SNAP, BMAT, ATMA etc.,

While most B-Schools in India require Bachelor's degree to enroll candidates for the two-year MBA programme.
CA career scope and prospects
Although many professional and diploma courses have emerged in recent times, yet the importance of CA courses can not be overlooked. A well-qualified CA is in demand in all industries. As a CA, an individual can work with the government/ public undertaking or private sector companies as well. If one does not wish to work under someone, then CA has the option to practice individually.
The choice is yours– whether you are comfortable working in a small or mid-size private practice, auditing and consulting firms, the banking or the corporate sector. You may get a chance to work with the Big-4 or join any multinational organization (MNC). Almost every huge organization has an Accounts or Finance department and it's up to you to decide where to apply.
Related Article- How to become a CA in India
Top Colleges in India offering Management Courses
Job Prospects After CA Course
Auditing firms, Taxation

Management Consultancy Services

Practicing Individually

Corporate law
Scope of an MBA program
Apart from the lucrative MBA salary in India package, a person having an MBA degree will have uplifted career opportunities. The importance of having an MBA degree can not be neglected. MBA can be pursued as a part-time MBA, full-time, or as a distance MBA. Candidates having MBA degrees have a demand in every industry. If you wish to know more about what an MBA is all about.
The international exchange programs give you networking opportunities and a chance to spend time at an international campus, get insights into another culture and their business scenario. The electives are the various specializations offered by the school. Some of the schools offer a wide range of electives that you can choose from as per your interests. The internships give you an opportunity to try your hand at some new area you wish to familiarize yourself with. It would be a good idea to check the placement statistics including the recruiting companies of the various schools while you apply.
Read More- All about the MBA
Career Options After MBA in India
People might be interested in-
Skills Set Required- CA vs MBA
The skills required to become a chartered accountant are:
The lucid approach of Accounting and Auditing

Excellent communication

Knowledge of socioeconomic conditions
An MBA graduate is expected to possess the following skillset:
Adept knowledge

Pressure handling

Strategic decision making

Leadership qualities

Time Management

Uplifted Work Values

Contemporary Vision
CA Fee Structure and Salary
The breakup for CA fees and the total amount is as follows:
CA Fee Structure
| | |
| --- | --- |
| CA Fee Breakup | Amount in Rupees (INR) |
| CPC Registration fee | 6,000 |
| Intermediate course registration fee (both groups) | 15,000 |
| Articled training registration fee | 1,000 |
| Final course registration fee | 22,000 |
| ITT training | 6,500 |
| Orientation | 7,000 |
| GMCS-I | 5,500 |
| GMCS-II | 5,500 |
| Total | 68,500 |
Also Check: IIM Fees for MBA 2021
CA Salary
Some of the good companies offer an attractive starting salary for the right candidate. The average starting salary may range between 6,00,000 to 7,00,000 Rupees. Though bigger companies may pay a much higher compensation package, smaller firms would not be able to match this range.
Salary offered to MBA Graduates in India
| | | | |
| --- | --- | --- | --- |
| Job Profile/Role | Minimum Salary Per Annum | Average Salary Per Annum | Maximum Salary Per Annum |
| | Rs. 3,89,000 | Rs. 7,97,786 | Rs. 10,60,000 |
| | Rs. 4,76,000 | Rs. 9,44,493 | Rs. 11,70,000 |
| Human Resource Generalist | Rs. 1,59,000 | Rs. 2,94,138 | Rs. 6,78,000 |
| | Rs. 2,98,000 | Rs. 7,56,522 | Rs. 11,90,000 |
| | Rs. 2,59,000 | Rs. 6,01,423 | Rs. 11,40,000 |
| | Rs. 3,19,000 | Rs. 7,38,960 | Rs. 11,70,000 |
| Business Development Executive | Rs. 181,000 | Rs. 3,18,081 | Rs. 5,93,000 |
| | Rs. 5,01,000 | Rs. 12,38,000 | Rs. 20,00,000 |
| Assistant Human Resources Manager | Rs. 2,92,000 | Rs. 5,31,567 | Rs. 9,42,000 |
| | Rs. 2,03,000 | Rs. 4,24,954 | Rs. 9,59,000 |
| | Rs. 1,67,000 | Rs. 3,05,043 | Rs. 5,54,000 |
| Business Analyst (IT) | Rs. 3,02,000 | Rs. 5,96,465 | Rs. 11,00,000 |
| | Rs. 4,07,000 | Rs. 7,81,611 | Rs. 11,40,000 |
| Senior Sales Executive | Rs. 2,20,000 | Rs. 3,99,836 | Rs. 7,22,000 |
| Executive Assistant | Rs. 1,48,000 | Rs. 3,24,264 | Rs. 8,09,000 |
| | Rs. 2,23,000 | Rs. 4,38,313 | Rs. 8,47,000 |
| Regional Sales Manager | Rs. 5,57,000 | Rs. 11,83,000 | Rs. 20,00,000 |
| Finance Manager | Rs. 5,22,000 | Rs. 11,42,000 | Rs. 23,00,000 |
| | Rs. 3,39,000 | Rs. 7,00,000 | Rs. 15,00,000 |
| | Rs. 5,62,000 | Rs. 13,50,000 | Rs. 20,00,000 |
Note- It must be noted that the above-mentioned table only shows the approximate values. The salary may vary.
Which is better – an MBA degree or the CA certification?
It's purely based on your interest and the area you wish to work in. The scope of work for a CA is mainly in the field of finance and accounting area whereas MBAs have more diversity to choose from. There are CAs as well as MBAs who have climbed up the ladder and reached higher positions, though we may say that in certain areas like investment banking, financial consulting, or mergers, and acquisitions, an MBA would be preferred than a CA.
On the other hand, there are instances of CAs who have picked new skills while on the job and handled greater responsibilities than someone who has an MBA degree. There are also CA professionals who apply to international MBA programs to have a shot at a global career. So, we can sum up that a lot depends on the nature of your job, the related responsibilities, and the learning involved.
Questions related to CAT
Showing 9994 out of 9994 Questions