What after MBA in Marketing: Top Recruiters, Job Opportunities, Scope, Salaries
What after MBA in Marketing: Marketing is the art of selling or promoting products and services. It is a channel through which market trends and consumer needs are connected. MBA in marketing refers to the study of sales and marketing. From consumer needs, customer satisfaction, and product promotion, an MBA in marketing covers all the aspects. It also includes teaching brand management, retail management, digital marketing, consumer and sales management, sales and distribution management, and much more.
Stay up-to date with CAT News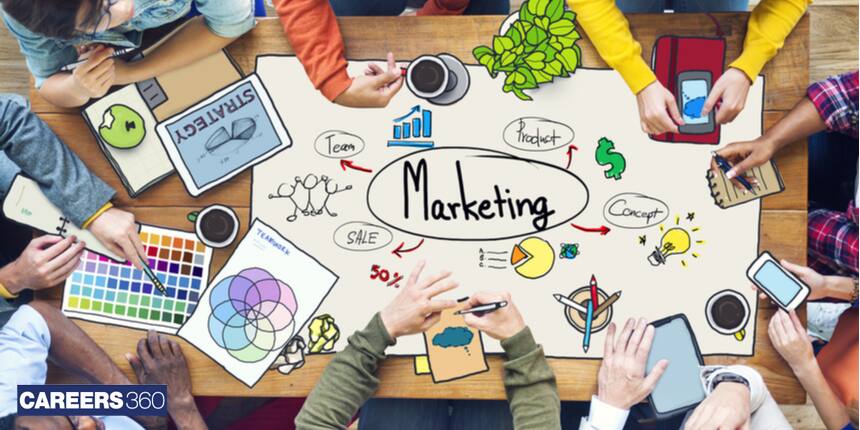 Other MBA Entrance Exams that you can apply for
What after MBA in Marketing
Every business school worth its salt has Marketing and Sales as one of the top Specialisations that is offered. Among the top B schools in the country which have excellent programs/ specializations in Marketing include IIM Ahmedabad, IIM Bangalore, IIM Calcutta, SP Jain Institute of Management and Research (SPJIMR), XLRI Jamshedpur, and Faculty of Management Studies (FMS) Delhi. The graduates from these top B schools have both technical and soft skills required for a career in marketing.
The average salaries of graduates from these institutes fall in the bracket of Rs 15 lacs to Rs 25 lacs! Apart from these tier 1 institutes, there are at least another top 50 colleges which offer the specialization in Marketing and the graduates get salaries upwards of Rs 10 lacs even from the 50th ranked MBA college!
Eligibility criteria and course structure
A vast field like marketing has opportunities and scopes which not only increase salary but also career growth as well. To get into the top universities, one must qualify under a few criteria.
The candidate must have a Bachelor's degree from a recognized institution

The candidate must have a 50% aggregate or total marks depending on the B school one is applying to

If a student falls under the SC/ ST/ OBC category, they are given some concession which varies in B schools. The candidate must check this status on the B school website before applying.
Candidates must ensure to apply for entrance exams before the deadline, which will be mentioned on the website of the exam conductors.
Also check;
The course structure of an MBA in Marketing ensures to wholesomely impart all there is to teach to a marketing student. A student must complete core subjects after which she is allowed to take up elective courses. This varies from B school to B school. Some of the common core subjects of MBA in Marketing are:-
Business Statistics

Digital Marketing

Marketing Management

Consumer and Brand Insight Strategy

Salesforce Management

Marketing Research

International Marketing

Management Information Systems

Retail Management

Service Marketing

Marketing in emerging countries

Business - to Business Marketing

Marketing Decision Models

Strategic Marketing

Rural Marketing

Market Planning
These courses train the graduates to learn the current market trends and relevant marketing knowledge theoretically and practically. Such a kind of exposure enables students to take up high-paying jobs at a higher level of the corporate hierarchy right after graduation.
Top Colleges in India offering MBA
Jobs after MBA in Marketing
The jobs that an MBA Marketing graduate can do fall under the categories. One could get into various industries and agencies such as advertising, banking, consultancy, tourism, and even entertainment. The job positions that one could hold are:-
Retail Marketer

Marketing Manager

Brand Manager

Sales Manager

Business Development Executive

Digital Marketer

Market Research Analyst

Public Relations Manager

Marketing Field Executive

Asset Manager

Media Manager

Product Manager
The salaries of these jobs are between Rs 10 lakhs to Rs 30 lakhs per annum. The graduates tend to also have positive career growth in their chosen marketing field.
A student has the ability to take up parallel job opportunities after an MBA in Marketing no matter what their undergraduate studies have been. The student can completely forgo their undergraduate studies and take up jobs in marketing while pursuing their dream career.
The top graduates are known to have landed jobs in top tier companies such as:-
Hindustan Unilever

Proctor and Gamble

Nestle

Google

Facebook

Amazon

Flipkart

Apple

Samsung

Johnson & Johnson

Byju's

Zomato

Swiggy

Xiaomi

Adidas

Nike and Many more
These graduates further take up higher marketing or management positions in their respective firms. The exposure that they receive during their work also increases their networking capacity, making them ideal marketing and management candidates internationally as well.
MBA in Marketing Graduates can even take up entrepreneurial opportunities and set up their own businesses. Since their forte is marketing, they can create business opportunities in marketing through their extensive network. They can even become private marketing consultants if they wish for their entrepreneurial experience.
In India, graduates can also take up jobs with the government. These graduates have thriving opportunities with the State Bank of India, Indian Pharmacopoeia Commission Recruitment, and even Solar Energy Corporation of India. The salaries start from Rs 7 lakhs and increase as time spent on work and experience of the graduate increases as well. The student can even end up landing top managerial jobs within the government jobs as well.
Also check;
Study after MBA in Marketing
Graduates also have high scope for continued education after the completion of their MBA. Some can even take up part-time studies while doing their jobs. However, students must look up the particular university or college website for this before applying for the courses. Some of the study options that MBA marketing graduates have are:-
Second MBA from an International Business School

Certified in Production and Inventory Management (CPIM)

Chartered Financial Analyst

Financial Risk Manager (FRM) Examination
One can even take up a Ph.D. course after MBA in Marketing and research on the topic that interests them the most.
Know more about;
Career after MBA in marketing
An MBA in Marketing gives scope for graduates to pursue careers in the direct lines of production or sales and marketing. This is the conventional career path. Some can even choose to forgo the most chosen path and take up unconventional career paths such as architecture management.
Graduates can even take up market research positions and marketing positions in the healthcare sector. All in all, a graduate can have promising careers in both conventional and unconventional jobs.
Browse Top MBA Colleges Accepting CAT Score: Location-Wise
Questions related to CAT
Showing 9972 out of 9972 Questions