Last Minute Preparation Tips for NMAT 2022 - Tips, Strategy & Guide
Last Minute Preparation Tips for NMAT by GMAC 2022 - NMIMS Management Aptitude Test (NMAT 2022) will be held tentatively from October 2022 to December 2022. Candidates should look for a last-minute preparation strategy as daily exams are conducted. Currently, students must have completed the NMAT syllabus and would be on or have completed the NMAT exam revision.

Before taking the NMAT 2022 exam, complete a few more rounds of revision, perform some more NMAT mock tests, and parse the basic and weak areas. To improve your chances of getting higher marks in NMAT 2022, Careers360 gives you some last-minute NMAT 2022 preparation tips.
Latest Updates for NMAT by GMAC
10 Nov 2022:

NMAT 2022: What is a good score and how to achieve it; Click here to know

04 Nov 2022:

NMAT exams are going on and will be conducted till December 19. Check NMAT dates here!

10 Oct 2022:

NMAT 2022 last date to apply is today. Fill out the NMAT by GMAC application form now.
Stay up-to date with NMAT by GMAC News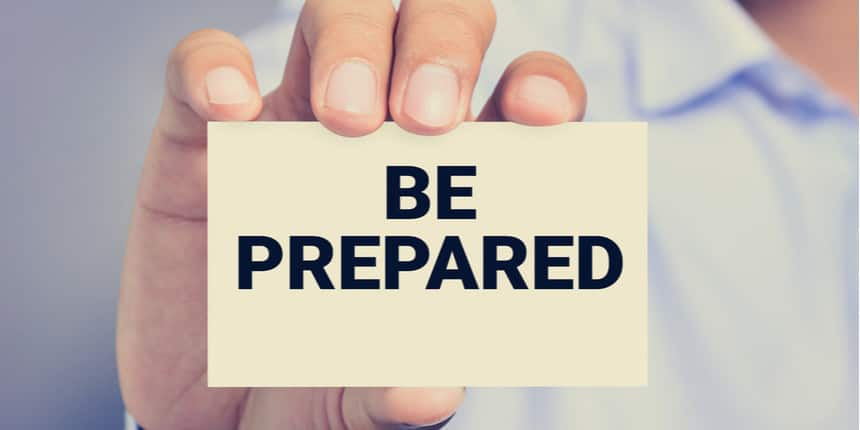 NMAT by GMAC Preparation Tips 2022
NMAT by GMAC is a national-level examination for the aspirants who wish to get admission to MBA. Many of the leading and most desired B-Schools of India validate the scores of NMAT for admission in MBA. As per the scores obtained by aspirants in NMAT by GMAC, They can get admission to top Universities facilitating MBA. In short, even a slight difference in the scores matters whether you get the best or not. So, your preparation must be done with the view to achieving maximum marks.
In summary, Preparation for NMAT or any exam requires two details to be fulfilled. First is Preparation of Exam, Second is to take care of the Miscellaneous. While the first one is something you are already aware of, the second one i.e. miscellaneous is taking care of the necessities other than your NMAT syllabus.
For example, Taking admit cards while leaving home, carrying all the necessary documents to the exam centre, reaching the exam centre on time. Under this article, we will help you to efficiently manage every aspect related to your examination to crack the examination with flying colours.
Top MBA Entrance Exams
Important Documents to Carry During NMAT 2022
Identity Proof is one of the essential documents to carry for the examination. Entry in many examinations is restricted without ID Proof. So, for a safer side carry at least two Identity Proofs to the examination centre. It has been observed that many candidates forget to take mandatory Identity Proof to the examination centre because of exam stress. So, below we have mentioned Essential documents which include:
Carry the Printout of the confirmation E-mail.
Print Out of NMAT Admit Card 2022.
Identity Proof One.
Identity Proof Two.
Important Last Minute Preparation Tips for NMAT 2022
Last-minute preparation has always been a contradictory situation because of its applicability. While some people consider last-minute exam preparation as hectic, others consider it the most efficient way to score better marks. However, the following steps which are mentioned are nothing but tips and tricks to solve the exams and score more.
Some of these tricks will help in time management while others will make you efficient while attempting the examination. Some of these tips are nothing but a checklist of your do's and don'ts to save your time and to be obedient in the examination centre. Last-minute preparation includes:
Revision: The first and foremost step is to revise all the points and bulletins you have highlighted so that in a shorter time period you can memorize more.

Take essential documents to enter the examination centre: it is always better to keep your essential documents in your bag a night before the examination so that you don't forget them in the examination hustle.

Reach the examination centre before time: Every preparation would go in vain if you are not on time for the examination. So, try to be punctual for the examination.

After entering in examination centre formalities: since most of the examinations are online-based examinations so there are a lot of formalities which you have to fulfill to sit in the examination hall, so try to reach early so that you have enough time to complete those formalities.

Ensure you don't have any personal belongings with you: Another thing you must keep in mind is that any personal belongings such as Mobile Phones, calculators, watches, books, etc. are not allowed in the examination hall. So, to be hassle-free these belongings must be stored in lockers available outside the premises.

Order wise Section attempting: Make sure is that you are attempting questions as per the order of section so that no answer would be left unsolved. It has been observed previously that the students while solving the paper get confused and that leads to fewer marks because they forget to complete the paper.

Time Management: So, as they say, "Time Management is the key". You must make sure that you are not stuck in a tricky question. You have to maintain time management for every answer so that you can attempt the complete paper.
Top Colleges in India offering MBA
Questions related to NMAT by GMAC
Showing 1008 out of 1008 Questions