CMAT 2016 Topper Interview: AIR 1 Jivtesh Singh says mock test is the key to success


Jivtesh Singh has scored an incredible score of 300 to secure the first rank in Common Management Admission Test conducted (CMAT) 2016. A Mechanical Engineer from Ludhiana, Jivtesh, who is also a dedicated fan of Manchester United striker Anthony Martial, credits his success to his practice, mock tests, and time management skills.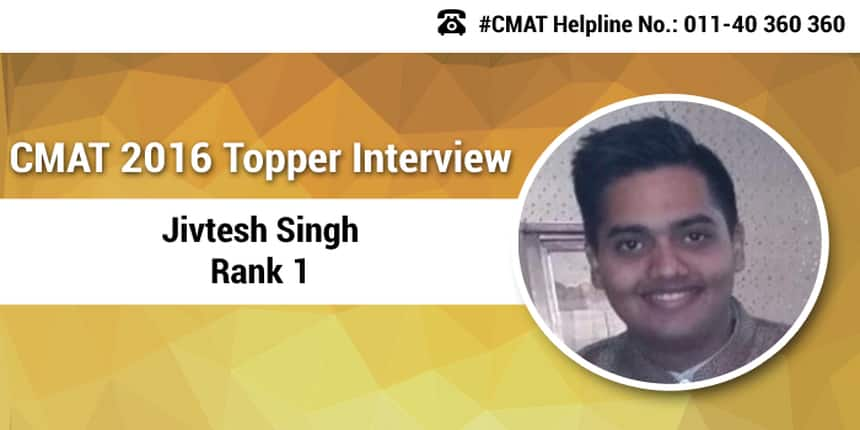 Recent Posts
In this exclusive interview with Careers360, Jivtesh talks about his success strategies and shares his success Mantras. He also elaborates on importance of taking mock tests and solving previous years' papers, which helped him not only top CMAT 2016 but also secure high scores in other major management entrance exams including CAT 2015, XAT 2016, SNAP 2015 and MAT 2015.


Describing himself as an easy-going person, Jivtesh says his decision to pursue management after engineering, stems from his belief that an MBA degree would give an extra edge to his career. The topper says he aims for admission either in an IIM or like institutions including XLRI Jamshedpur, JBIMS etc.


 How to ensure a positive outcome in your GD/PI. Click here and enroll to get Tips/Tricks and Smart Techniques to deal with situations smartly. 
Careers360: Congratulations on your CMAT Result! Share your feelings on being a Topper. 
Jivtesh: Thank You. It feels great to secure Rank 1. Actually, this result did not come as a surprise to me; I was expecting a good score. Everyone in the family and friends are proud of me today and I am flooded with their wishes.

Careers360: Tell us something about yourself, your education, and why MBA?
Jivtesh: I am from Ludhiana, a mechanical engineer and a crazy football Manchester United fan. I always wanted to pursue MBA, as I think after engineering a management degree would give me an edge in the future. It will help me understand the application of technology in a unique and better way. 

Careers360: Was this your first attempt for CMAT? How was the experience?
Jivtesh: Yes, this was my first CMAT exam and it went as per my expectation. As I had appeared in other national level tests and had been preparing for them as well, I knew I would do well.  The experience, however, was good and I enjoyed the test. I was relaxed the whole time and was trying to analyze each question before attempting. 

Careers360: What other exams you had appeared in? Please tell us about your scores.
Jivtesh: I took CAT and secured 96 percentile, SNAP- 94, MAT-98, and XAT, for which I hope I'll secure above 95. 

Careers360: How did you prepare for CMAT 2016?
Jivtesh: I followed almost a similar strategy for every exam - studied from online material and took a crash course from a coaching institute. This prepared me for all the exams and made me familiar with the pattern of each test. The most important thing while preparing for any test is to do maximum number of mock tests. Consistently practicing with mocks tests can help you get high scores. Even if you haven't studied or took any coaching, mock test alone can prepare you for exams. 

Careers360: How was CMAT preparation and test experience different from CAT?
Jivtesh: The pattern change in CAT 2015 was good and was beneficial for the students. According to me, pattern wise CAT and CMAT were similar. I prepared for CAT which indirectly resulted in my preparation for CMAT. However, the only section I had to prepare separately was general knowledge. I read GK books, kept myself abreast with the past 3 year's national and international issues.


Careers360: In your understanding, which was the easiest and the toughest section in CMAT 2016?
Jivtesh: DI was a bit on the difficult side, but, easier compared to CAT. So it was not that difficult to tackle this section. Rest of the sections like English and Quants were pretty easy. Basically my engineering background supported me in these sections. GK was the best part in CMAT 2016 for me, as I knew answers to all the questions. This section was easy for me.


Careers360: Since the results for most of the management entrance tests are announced, the next step of the admission process will start soon; the GD-PI-WAT rounds. How are you preparing for these rounds?
Jivtesh: I have started my preparation for the selection process. As of now, I am preparing for group discussion by learning how to take lead, stand for a certain notion etc. However, I am slightly disappointed that GD has been scrapped from most of the top IIMs and B-school admission processes, as it was my strong area. But I am confident about my performance in PI and WAT rounds.


Careers360: Which IIMs or B-schools are you aiming for?
Jivtesh: I am aiming for the old IIMs through CAT scores or JBIMS and SIMSREE through CMAT 2016 scores. Though I am eagerly waiting for my XAT scores and keeping my fingers crossed for securing admission in XLRI Jamshedpur.


Careers360: Any advice for future MBA entrance test takers?
Jivtesh: You need determination to crack any test. If you have faith in yourself, you are already a tipper. Make sure that you practice a lot and solve mock tests. Even if you don't study separately, but solve mocks every day, you still are a strong contender in the MBA race.


Also Read:
Top B-schools Accepting CMAT Scores
CMAT 2016 Participating Institutes
Other Feature Stories on B-School and MBA:
CAT GD-PI-WAT Topper Interview
Preparation Tips for GD-PI-WAT
Stay tuned to www.bschool.careers360.com for more news and updates
Questions related to CMAT
Showing 2861 out of 2861 Questions