CAT Topper Interview: How Sanyam Raheja cracked CAT 2016 in 50 days
A Merchant Navy officer and a photographer by passion, Sanyam Raheja didn't want to limit his growth prospect and leave any opportunities unexplored. He was confident of his managerial skills and decided to build a career in Operations or Supply Chain Management field. In approximately 50 days, Sanyam prepared for CAT 2016 and entered the league of 99 percentilers by securing a percentile of 99.35. In this interview with Careers360, Sanyam shares details about how he turned the challenge of cracking CAT within a short time into an inspiration for many.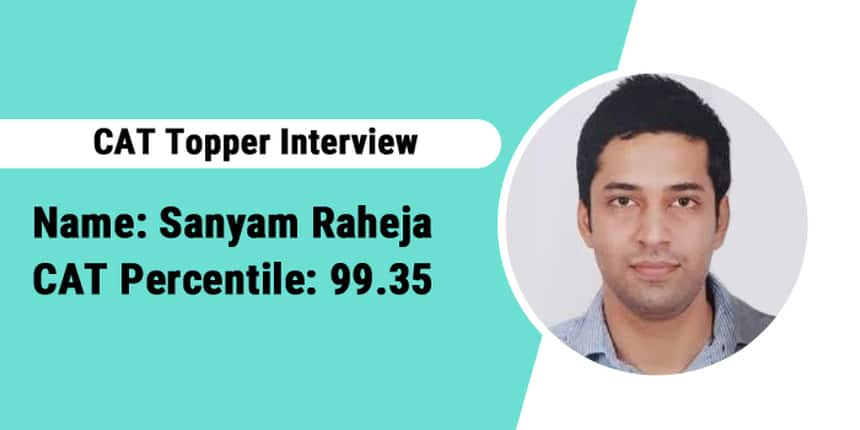 Sanyam brushed up the topics for each of the section of CAT. He spent about 17 days revising the Quant topics, and practised for DI and LR section by giving mocks. He took mock tests for over a month, analysed each of the mock and worked towards his less scoring or weak areas. As an advice to future test takers, Sanyam says,  "It doesn't matter what background you come from or where you stand in terms of preparation. If you want it you can get it."
Recent Posts:
Read interview excerpts below:
Careers360: Congratulations! How are you celebrating? Were you expecting this score?
Sanyam: Thank you. I would celebrate only after securing admission though I am pretty ecstatic because I was not at all expecting anything above 98 and a score of 99.35 came as a pleasant shock to me. I guess I underestimated myself but the handwork paid off. It always does
Careers360: What is your section wise percentile?
Sanyam: VA(95.75) DILR(99.44) QA(98.02)
Careers360: How was your exam taking experience? Which were the toughest and weakest sections according to you?
Sanyam: DILR was undoubtedly the toughest section this year. The sets were unexpected because there were no sets based on pie charts or line graphs. Although I couldn't solve most sets completely I tried to solve at least 2 out of the 4 questions from each set and didn't waste my time on those which required intensive calculations and the strategy worked brilliantly.
Careers360: How many days you had for CAT preparation and how you proceeded with it?
Sanyam: I had around 47 days to prepare for my CAT, as I am already working as an Officer in Merchant Navy.Since I've written CAT before in 2014 I just needed to brush up the topics though it wasn't a cake-walk because of the two-year gap. I spent about 17 days revising the Quant topics. Last one month was mostly about mocks. I gave a mock every alternate day and analysed it thoroughly. DILR and VA revision was covered during mocks only.
Careers360: What is your career aspiration? Where do you want to see yourself 5 years down the line?
Sanyam: I want to be in a senior managerial position in the logistics and supply chain department of a large corporation preferably in the maritime industry.
Careers360: What are the tips that you would like to give those who plan to take up CAT in the coming year?
Sanyam: CAT is not rocket science. It doesn't matter what background you come from or where you stand right now in terms of preparation. I have seen people moving from 70 to 99.9 percentile. If you're determined and hardworking you can easily crack it.
Also Read
CAT 2016: Know the Topper Profiles of 99-100 percentilers
CAT 2016 Result - 20 candidates secure 100 percentile, says Convenor Prof. Bandi
Stay tuned towww.bschool.careers360.com for more news and updates
Questions related to CAT
Showing 8931 out of 8931 Questions