CAT 2020 Topper Kaushal Shah 99.74 percentiler says, "Be honest to yourself and don't give up"
It is a delight to score a 99.74 percentile amidst challenging circumstances when the world is grappling with the worst pandemic. However, it was during this time that CAT 2020 Topper Kaushal Shah 99.74 percentiler turned the challenge into an opportunity as he geared himself to prepare for the CAT 2020 exam and came out in flying colours. Pursuing B.Tech in Mechanical Engineering Department at SVNIT (NIT Surat), CAT 2020 topper Kaushal Shah suggests to the future aspirants to analyse the CAT mocks carefully and adopt different test taking strategies. Read the full interview of CAT 2020 topper Kaushal Shah to know tricks of the trade to crack the CAT 2020 exam.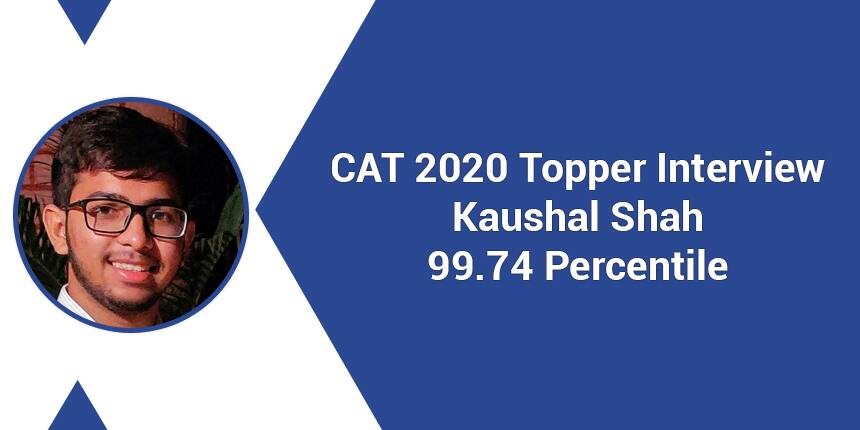 Careers360: Congratulations on securing over 99.74 percentile in CAT 2020! What was your reaction? Were you expecting this?
Kaushal Shah: Thank you. I was really overwhelmed with the result. I did expect 99+, but this was unexpected.
Careers360: What are your overall and sectional percentile and scaled scores?
Kaushal Shah: My overall CAT 2020 score was 99.74% and 120.7 Sectionals: 96.08/96.73/99.9 and 33.98/27.72/59
Careers360: Tell us something about your background.
Kaushal Shah: I am currently in my final year pursuing B.Tech in Mechanical Engineering Department at SVNIT (NIT Surat).
Careers360: How was your exam day experience?
Kaushal Shah: I was in 3rd slot. Reviews about slot 1 were already out. I didn't read about it as it would have affected my mindset. VARC and DILR didn't go well as expected but Quant did. Treat all 3 sections as 3 separate papers and do not let one section affect another.
Careers360: What was your preparation strategy for CAT?
Kaushal Shah: Complete your syllabus. Take tests regularly. Make a detailed list of your weak and strong areas. Work on weak areas initially. Set a goal in every mock of which area you want to improve upon. For example, don't consider Quant as a single entity, break it down into chapters or set of 4-5 topics and focus on those topics for next mock. And the most important thing, practice every day. EVERYDAY. Don't go for 6-8 hours straight, instead go for 4 hours but EVERYDAY. Consistent effort is the key here. Also, choose "A" mentor/ senior who can guide you and follow what they say . Try different test-taking strategies every 2-3 tests and stick to the most optimum one for the last 1 month and D-Day.
Careers360: What according to you were the toughest and easiest sections?
Kaushal Shah: I found DILR challenging. VARC was moderate and QA was easy.
Careers360: How did you tackle your strong and weak areas?
Kaushal Shah: For strong areas, practice it just enough to be thorough with it, just enough to maintain your flow with the topics. For weak areas, I used to choose 2-3 topics at a time, practiced chunks from each of these 3 topics for some days but everyday, instead of practicing each of them one at a time. Also, always keep an eye for the small mistakes you make, concepts you forget often within your strong areas and practice them till you get it correct but after improving your weak areas as there is greater scope of improvement there.
Careers360:What was your time management strategy with respect to preparation as well as exam day?
Kaushal Shah: Complete the syllabus thoroughly as soon as you can.Start taking mocks even if you have not done with the syllabus and analyze them thoroughly. List down areas on which you need to improve. As I said, practice everyday, improve upon something everyday and you are good to go.
Careers360: What was your take on the changed CAT 2020 exam pattern?
Kaushal Shah: It did create some chaos and panic initially, but so it did for everyone. So, don't waste your energy worrying about it as the pattern changed for everyone. I focused my energy on getting accustomed to the new pattern. But yes, the was negligible scope for mistakes and blunders during the test in new pattern as compared to the previous pattern.
Careers360: How helpful was your coaching institute for you? Is it possible to succeed through self-study?
Kaushal Shah: Coaching institute proved very much helpful. They often used to say "Technique hi galat hai tumhara" which really helped me to optimize my test-taking strategy. But, I can't emphasize much on Self-Study. Self-study is the key here. Put in your sincere efforts and study regularly. Do take breaks but plan them.
Careers360: What are the factors behind your success?
Kaushal Shah: To be honest there are innumerable factors here. But the most important ones: My family, my mentors and seniors who guided me throughout and of-course, myself.
Careers360: Have you started preparing for GD/PI/WAT?
Kaushal Shah: I have started preparing for the GD and PI at the very basic level.
Careers360: Which other MBA entrance exam have you appeared/appearing for?
Kausha Shah: CAT and XAT are the two exams for which I had appeared.
Careers360: What is your dream B-School? After that, what career do you want to pursue?
Kaushal Shah: IIM-C. I want to pursue a career in corporate finance.
Careers360: What were your relaxation and recreation methods you followed amidst preparation?
Kaushal Shah: To relax, I used to listen to music and often explore new genres and artists. I also used to go for drives and walks. Both of them helped me think and see things clearly. And above all, a couple of hours with friends and I was good to go for a week.
Careers360:Do you have any idol who you follow?
Kaushal Shah: For me it was not a single person. Sometimes I used to look up to great personalities of our era and sometimes around myself. Important thing here is, both of them kept me going.
Careers360: What is your message for next year's CAT takers?
Kaushal Shah: You have to put in effort in something today or tomorrow. Better put in your efforts when you still can. Be honest to yourself and don't give up. Things will turn around.
Questions related to CAT
Showing 9502 out of 9502 Questions