CAT 2020 Topper Ashish Sen 99.99 percentiler says, "Strengthen your concepts and rectify your mistakes"
A Mechanical Engineering graduate from IIT (BHU) Varanasi and one who refreshes himself by playing guitar is upbeat after scoring 99.99 percentile in the CAT 2020 exam.The young engineer from BHU and CAT 2020 topper Ashish Sen who scored 99.99 percentile enjoys watching Formula 1. Though CAT 2020 topper Ashish Sen was slightly flustered after he saw the change in the exam pattern, but quickly adapted to the change and gave his best on the day of CAT exam.While discussing about his preparation strategy CAT 2020 topper Ashish Sen highlighted the importance of the CAT mocks. Read the full article of CAT 2020 topper Ashish Sen to know how he cracked the exam.
Latest CAT Update: CAT 2020 result declared on January 2, 2021. Also check CAT cutoff 2020.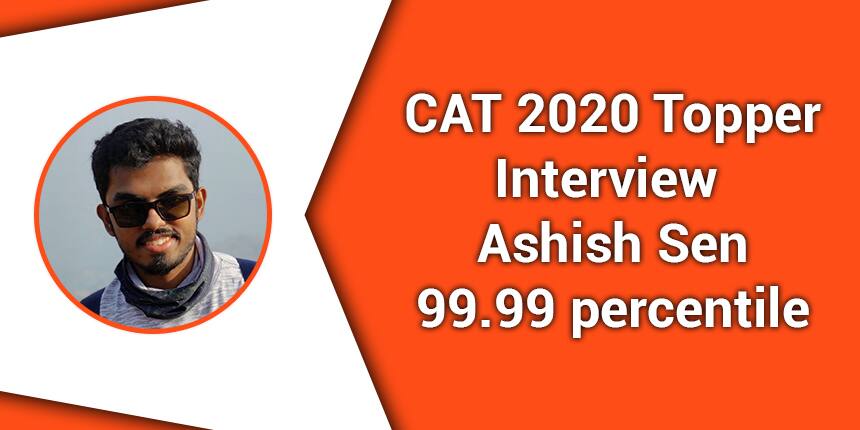 Careers360 - Congratulations on securing over 99.99 percentile in CAT 2020! What was your reaction? Were you expecting this?
Ashish Sen - Thank you! If someone had told me three months ago that I would be scoring 99.9+ in CAT 2020, I would have laughed it off. But my exam went well and after the answer key was released, I knew that I would get a high percentile, but 99.99 was not expected and I was really on cloud nine.
Careers360 - What are your overall and sectional percentile and scaled scores?
Ashish Sen- I scored an overall percentile of 99.99 (Scaled Score of 153.78) with sectional percentiles as 99.98, 99.95, and 99.46 in VARC, DILR and QA respectively.
Careers360 - Tell us something about your background.
Ashish Sen - I am a Mechanical Engineering graduate from IIT (BHU) Varanasi. I am currently working as an Analyst in Deloitte Consulting (Offices of the US).
Careers360 - How was your exam day experience?
Ashish Sen - Exam day was really smooth. I was allotted slot 2, so I got to know about the number of questions asked section-wise in slot 1 from some friends of mine. So, I had a rough idea of what to expect. The other procedures before the test were seamlessly executed by the team. Proper precautions were taken and social distancing was maintained at the CAT 2020 exam centre.
Careers360 - What was your preparation strategy for CAT?
Ashish Sen - My preparation strategy was different for all three sections. For QA: I first focused on strengthening my concepts in all the topics asked in CAT, for this I completed the entire module provided by TIME, after which I was pretty confident about my Quant. For DILR: I didn't have to work much on this section as I already had a knack for solving such problems.
All I did was practice CAT-level questions by sectional tests, previous year papers, etc. VARC: This was the section that troubled me a lot in mocks and I put a lot of effort into it. I used to read articles daily from sites such as aeon (aeon.co) and aldaily(aldaily.com). Along with that, I used to solve at least 3 RC Passages daily. Consistent practice improved my performance in this section considerably.
After a basic level of prep was reached in all sections, I started giving mock tests and then analyzed them to identify my strong and weak areas. I gave over 40 mock tests. I believe that giving mocks were the most important tool in my cat prep.
Careers360 - What according to you were the toughest and easiest sections?
Ashish Sen - Honestly, I'm not a good judge of tough or easy, But the VARC section seemed tricky to me. There were a lot of close options and anyone could end up being on the wrong side. I felt that the quant section was relatively on the easier side.
Careers360 - How did you tackle your strong and weak areas?
Ashish Sen - I identified my strong and weak areas using mock tests. I paid special attention to my weak areas and took topic wise tests to improve on them. I also learned from the video solution of the mock tests on the best approach to be taken in such cases.
Careers360 - What was your time management strategy with respect to preparation as well as exam day?
Ashish Sen - My major prep was during weekends, as I was working along with my prep but I had some daily tasks/exercises that I would do without fail like reading one article, solving some RC Passages, Solving one quant exercise, etc. Apart from that, a major chunk of my prep (mostly the mock tests and their analysis) were done on weekends. For the Exam, I just keep an eye out for the timer, so that I don't end up spending too much time on one question. Also, I had kept the last 12 mins of the VARC section solely for the VA questions irrespective of how far I had progressed on the RC part.
Careers360 - What was your take on the changed CAT 2020 exam pattern?
Ashish Sen - Initially I was frustrated with the change in the CAT exam pattern as I had given many 3 hr mock tests and my time management strategies were suited to that pattern, but then I took it up as a challenge, rejigged my strategies, and adapted to it. Also, the 2 hr test meant that I could do more mock tests, So that gave me more practice.
Careers360 - How helpful was your coaching institute for you? Is it possible to succeed through self-study?
Ashish Sen - I was not a classroom student of any coaching, I prepared through self-study, but I was a test series student of TIME, IMS, and CL (Again, these test series helped a lot!). So,
Careers360- What are the factors behind your success?
Ashish Sen- I would attribute this success to the support and the motivation from my parents.
Careers360 - Have you started preparing for GD/PI/WAT?
Ashish Sen - I have just started preparing for group discussion and personal interview, I haven't progressed much yet.
Careers360 - Which other MBA entrance exam have you appeared/appearing for?
Ashish Sen - I only appeared for CAT.
Careers360 - What is your dream B-School? After that, what career do you want to pursue?
Ashish Sen - My dream B-School is IIM Ahmedabad. Post that I would love to pursue a career in consulting, and hope to get an opportunity to work in one of the MBBs.
Careers360 - What are your hobbies?
Ashish Sen - I like reading fiction, I am learning to play guitar, apart from that I follow Formula1 and Cricket.
Careers360 - What were your relaxation and recreation methods you followed amidst preparation?
Ashish Sen - I used to watch F1 races or spend some time on my guitar to unwind myself. Apart from that, I would call up some of my friends or talk with my mom/dad whenever I wanted a break.
Careers360 - What is your message for next year's CAT takers?
Ashish Sen - Strive to develop a proper concept base for the QA section. Be thorough with all the topics that are generally asked and then keep on practicing. For VARC, start early and read good articles to improve your reading speed as well as to augment your inference power. Try to maintain consistency in your prep and you will be good to go.
Questions related to CAT
Showing 9483 out of 9483 Questions