CAT 2020 Topper Adit Sanjanwala 99.85 Percentiler says, "set high goals and get going"
Scoring a 99.85 percentile in the CAT exam is like a dream come true. This dream of scoring a high percentile was accomplished by CAT 2020 topper Adit Sanjanwala who scored 99.85 percentile. Adit is in the final year of engineering at NIT Surat and is pursuing B.tech in Electronics and Communication. He was confident of scoring well in the CAT exam but 99.85 percentile came as a pleasant surprise for this young graduate. CAT 2020 topper Adit Sanjanwala is of the opinion that one should remain calm during challenging situations and this is exactly what he did. He did not let the difficult questions affect his peace of mind. During the course of CAT 2020 preparation, Adit used to meditate, read and walk so as to remain calm and composed. Read the full interview of CAT 2020 topper Adit Sanjanwala to know more about the strategy that he adopted to crack the exam.
Latest: Know all about CAT 2020 toppers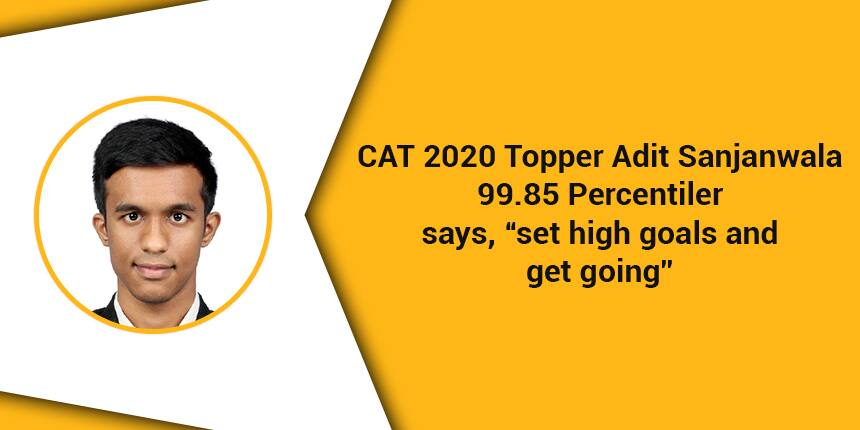 Careers360 - Congratulations on securing over 99.85 percentile in CAT 2020! What was your reaction? Were you expecting this?
Adit Sanjanwala - It felt great. I knew I would score somewhere above 99.5 but wasn't sure what would be the exact percentile.
Careers360 -What are your overall and sectional percentile and scaled scores?
Adit Sanjanwala - Section wise percentile: 97.25/98.66/99.9
Section wise score: 36.07/32.51/58.79
Overall score: 127.37, Overall percentile: 99.85
Careers360 - Tell us something about your background.
Adit Sanjanwala - I am currently in my final year of engineering at NIT Surat pursuing B.tech in Electronics and Communication.
Careers360 - How was your exam day experience?
Adit Sanjanwala - The paper did not go according to my expectations and I could attempt relatively lesser questions. Almost thought I ruined the paper.
Careers360 - What was your preparation strategy for CAT?
Adit Sanjanwala - All I did was completed the CAT syllabus on my own and then took CAT mocks. Giving mocks and improving from one mock to another kept me going.
Careers360 - What according to you were the toughest and easiest sections?
Adit Sanjanwala -Data Interpretation and logical reasoning I felt to be on a tougher side as compared to VARC, Quant was easy and VARC had some questions with difficult options to choose from.
Careers360 - How did you tackle your strong and weak areas?
Adit Sanjanwala - My weak area was VARC. I kept a calm mind throughout and just answered what I found most suitable which worked. My strong part was Quant, despite that, I practiced a lot of questions beforehand so that I didn't lose the flow of solving as this time, speed was an important factor as well.
Careers360 - What was your time management strategy with respect to preparation as well as exam day?
Adit Sanjanwala - As far as preparation is concerned, half of all the time I devoted in covering the CAT syllabus well. The rest was completely for solving mocks and analysing them. On the exam day, I decided to go with the flow and if I get stuck on a question for more than a stipulated time, I'd leave it and move forward.
Careers360 - What was your take on the changed CAT 2020 exam pattern?
Adit Sanjanwala - It created a bit of chaos which could be easily seen from marks vs percentile of this year as well. But as we know all changes are chaotic in the beginning. So I feel if this same pattern stays for the next year too, it would be big issue. Things will roll out smoothly.
Careers360 - How helpful was your coaching institute for you? Is it possible to succeed through self-study?
Adit Sanjanwala - I didn't join any coaching institute. And it is definitely possible to succeed by self study. If scoring 99.85 in the first attempt without coaching is possible for me, it's possible for anyone else too.
Careers360 - What are the factors behind your success?
Adit Sanjanwala - Being self motivated alone is sufficient, nothing else is needed.
Careers360 - Have you started preparing for GD/PI/WAT?
Adit Sanjanwala - Yes, I have started preparing for the group discussion and personal interview but just the very basic stuff
Careers360 - Which other MBA entrance exam have you appeared/appearing for?
Adit Sanjanwala - I have appeared for CAT and will also appear for the XAT exam
Careers360 - What is your dream B-School? After that, what career do you want to pursue?
Adit Sanjanwala - I want to make my way to IIM Calcutta. I want to make a career in the field of finance.
Careers360 - What were your relaxation and recreation methods you followed amidst preparation?
Adit Sanjanwala - In order to beat the stress I used to meditate, read, take walks and speak to friends also.
Careers360 - Do you have any idol who you follow?
Adit Sanjanwala - Elon Musk for work ethic, Narendra Modi for dedication
Careers360 - What is your message for next year's CAT takers?
Adit Sanjanwala - There's enough time to achieve any goal you set for yourself, so set high goals and get going!!!
Questions related to CAT
Showing 9483 out of 9483 Questions