CAT 2019 Topper Aayushi Garg stresses on "Ability to think on feet will help one to make way to IIMs"
CAT 2019 Topper Interview Aayushi Garg, 98.89 Percentile - Acing any competitive exam is not an issue for them who are diligent and have strong will towards their aim. It is a piece of pie for those who are clear about their basics from the very starting of their academic career. Aayushi Garg, CAT 2019 topper is also one of them who believes, if you are determined enough and if your vision is clear about your aim then you can succeed, no matter what the situation or circumstances are. By focusing on honesty, problem-solving, and ability to think on your feet, she did not only scored 98.89 percentile in CAT but also made it to the IIM Lucknow. She suggests that one needs to prepare diligently for any exam as any lacklustre approach might have an adverse impact on the final result. Read the full interview of CAT 2019 topper Aayushi with Careers360 to know all the aspects of her journey as she proceeds to pursue an MBA degree from IIM Lucknow.
Latest: Admit card of CAT 2020 can be downloaded now. IIM Indore released the same on October 29.
Stay up-to date with CAT News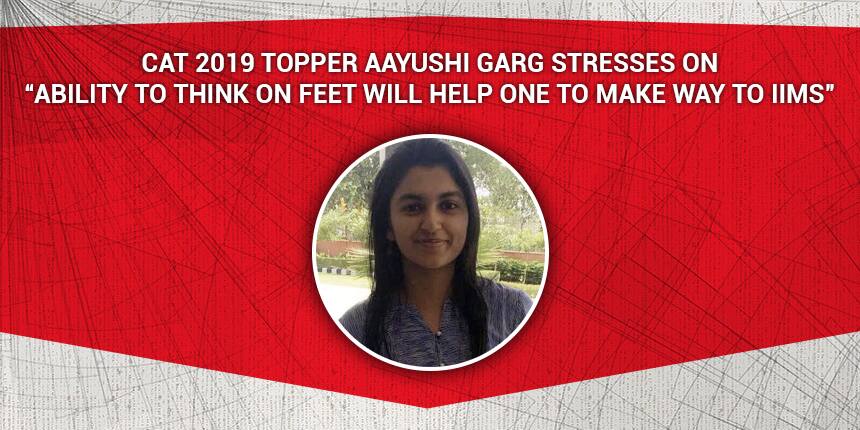 Careers360 - Congratulations on converting to your desired institute! How do you feel?
Aayushi Garg - I feel ecstatic and really grateful. All the hardwork has finally paid off. All the congratulatory messages have really humbled me. Now, I am just looking forward to the exciting next two years.
Careers360 - What is the selection procedure at IIM Lucknow?
Aayushi Garg - First, it releases a list of the candidates eligible for shortlisting. The list contains every candidate's composite score. The score is derived after giving 60% weightage to CAT score, 20% weight to academics, 10% to work experience and 10% to diversity factor.
Then, it provides the cutoff score required for the shortlist and the candidates who clear the cutoff score are shortlisted for further rounds of selection. All the shortlisted candidates then have to appear for WAT and PI rounds.
The final admission shortlist gives 30% weight to CAT score, 10% to academics, 5% to diversity, 5% to work experience, 10% to WAT, 40% to PI. However, due to the current situation, this year WAT was scrapped and the final shortlist is based on 90 marks instead of the usual 100.
Careers360 - Please elaborate on your overall experience of the selection procedure at IIM Lucknow?
Aayushi Garg - After I was shortlisted, I was religiously preparing for my interview at IIM Lucknow and other b-schools as well. My interview was supposed to be on 25th March but due to the lockdown, it was postponed and was finally held online on 28 April. WAT was scrapped. So it was only a personal interview. I was a bit sceptical about how the online interview would turn out but it was very smooth. The panelists were very friendly. My interview went on for about 15-20 minutes and the panelists quizzed me on a variety of questions. I was able to answer most of them.
Careers360 - Which other B-Schools' selection procedure did you appear for? How was your experience in other institutes vis a vis in the institute you have converted?
Aayushi Garg - I appeared for interviews of IIM Calcutta, Lucknow, Kozhikode, Indore, Shillong, CAP, SPJIMR, MDI, IIFT, XLRI(HR and BM). All the interviews were uniquely interesting. My IIM Calcutta Interview was different from others as it was a proper stress interview. I handled myself very well, smiled throughout and tried to answer calmly but I didn't make it there . Other interviews were relatively smooth. SPJIMR has a completely unique process of conducting group interviews while IIFT and XLRI conduct GDs along with WAT. IIM Shillong conducts case discussion which is similar to a GD.
Careers360 - What was your WAT topic and how did you structure it? Did you find it easy or you had a difficult time writing/ thinking about the topic?
Aayushi Garg - My IIM Calcutta WAT revolved around the steps that the government should take to decrease the unemployment rate. I wrote it well within the stipulated time. At CAP, it was something related to entrepreneurs vs corporates. At XLRI, MBA colleges should be called Business schools.
Careers360 - Did you get external help or join a coaching school to prepare for PI? When did you start your preparations for it?
Aayushi Garg - I joined coaching to give mock PIs. I gave around 5-6 mock interviews. I had started preparing for interviews right after the CAT scorecard was out as I was expecting interview calls. I started by reading interview experiences on Quora to get a flavour of what sort of questions are asked.
Careers360 - Do you think that PI requires some separate preparation apart from what you mentioned?
Aayushi Garg - PI mainly revolves around 5-6 aspects: academics, work experience, HR questions, current affairs, hobbies, miscellaneous (An example of misc. question I was asked-what is the one thing you would want to change in India).
The first step is to know yourself in and out so that you can be honest and can tackle unexpected questions thrown at you. Then, dive deep into the aforementioned aspects of the interview and you would be good to go.
Careers360 - Please share the PI topics which you were asked during the admission rounds?
Aayushi Garg - As I mentioned in the last question, it mostly revolved around those 5-6 topics.
Careers360 - Are there ways to handle a situation when one has no answer to a question during PI?
Aayushi Garg - The only best thing to do here is to honestly tell that you don't know the answer. Panelists can make out if you try to beat around the bush. However, if you are not completely sure but have something in mind, you can politely ask the panel if you can make an educated guess.
Careers360 - How must one approach a PI topic? Could you share some Dos and Don'ts for the same?
Aayushi Garg -
Do's:
Separate the preparation into academics, work ex, current affairs, hobbies, HR questions and miscellaneous questions.

For academics, focus on 4-5 subjects primarily and it is good to have an overview of the rest so that you aren't caught off guard.

For work ex, know everything ranging from your job profile, responsibilities, competitors etc.

For current affairs, one should stay updated with current happenings regularly.

Form opinions on current topics. Mere facts won't help.

Know your hobby in and out. For example, I love doing yoga and mentioned the same as one of my hobbies. I was actually asked about some of the asanas in my MDI interview.

For HR questions the only way out is to contemplate and know about yourself.

Tell me something about yourself' is one question which should be prepared really well because if asked in the interview,it can actually set the direction for your entire interview.
Don'ts:
Do not bluff if you don't know about a particular topic.

Do not leave current affairs for the last. Keep reading news and current affairs regularly.

Do not fake your hobby. There would definitely be something that you love doing in your free time. Example, listening to podcasts, gardening, and watching TV shows can also be considered a hobby.

Do not try to beat around the bush. Always try to give 'to the point' answers.
Quick links-
CAT 2019 Topper Vishal Kamboj Believes,"You don't score until you score" and Made His Way To IIM Kozhikode
CAT 2019 Topper Amit Gupta says "Don't lose your composure," makes his way to IIM Lucknow
Careers360 - Is there a particular kind of time management strategy that should be added to the candidate's skillset? Will it help in writing a complete structured Personal Interview?
Aayushi Garg - Time management really helps and a candidate should definitely develop this skill right from the CAT preparation stage. It also helps in completing written ability test within time after structuring it properly.
Careers360 - How did you feel when you faced the interviewers during the PI? Please share a few details like the size of your panel and your overall experience.
Aayushi Garg - Panellists mostly make you feel at ease, so the nervousness mostly goes away once the interview starts. Size of the panel ranges from 2 to 3 professors/alumni. The experience of every interview has been amazing. I had two of my interviews online- IIM Lucknow and IIM Indore and even that experience was good.
Careers360 - Which interview turned out to be the best one? Enlighten us about the finest one according to you.
Aayushi Garg - I thought that my best interview was IIM Calcutta as it was a stress interview and I stayed really calm with a smile on my face but I wasn't selected. Apart from that, I think my IIFT and CAP interviews were really good as I knew answers to almost all the questions posed.
Careers360 - What about the questions which you found difficult to answer? How did you reply to those?
Aayushi Garg - In one of the interviews, I was asked to compare 2-3 colleges which also included the college I was giving an interview for. That became a little tricky. However, I tried to compare them objectively using different factors.
Careers360 - So in those situations, was the panel easy or harsh on you? What should one do when s/he has no answer?
Aayushi Garg - No, the panel wasn't harsh. They always tried to help. As I mentioned earlier, if you don't know the answer, accept it.
Careers360 - What were the most fascinating questions you were asked? Please share your answers too.
Aayushi Garg - In my SPJIMR interview, I was asked what would you do if your boss asked you to distribute marriage cards for his daughter. I said that if the boss is a friend of mine and he is giving me this work outside of my job as a friend, then I'll definitely do it.
Careers360 - How different is an IIM interview from a non-IIM yet top B-School interview? Are there major differences? (If you have appeared for IIMs)
Aayushi Garg - There is not much of a difference between an IIM and a non-IIM when it comes to interviews except for SPJIMR which has group interviews.
Careers360 - How did you go about the preparations for PI? Did you search or look up some questions or practice mock PIs?
Aayushi Garg - I looked up past interview experiences on quora and experiences that people shared on social media groups this year. I also practiced 5-6 mock PIs with my coaching mentors.
Careers360 - And finally what are the aspects or qualities that the interview board looks for in a candidate?
Aayushi Garg - I think it would be honesty, problem solving, ability to think on your feet, communication and the way you respond to situations.
Questions related to CAT
Showing 9993 out of 9993 Questions