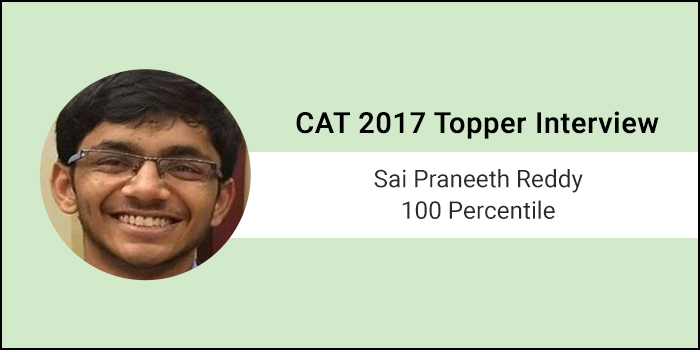 Topping the country's most competitive management entrance exam, Common Admission Test (CAT), is certainly not an easy task but that wasn't the concern of Sai Praneeth Reddy. He simply prepared for the exam with all his heart and mind and when the exam day arrived, he made sure that nothing goes wrong. Sai secured 100 percentile in CAT 2017. An IIT Madras student, Sai was sure about securing more than 99 percentile but he didn't expect a perfect 100 percentile. Sai believes that more than coaching, guidance is important to crack exams like CAT.
MBA/PGDM Admissions Open 2019
SOIL School of Business Design
A cricket lover, who also likes to play games in mobile, Sai aims to take admission in IIM Ahmedabad. In this interview with Careers360, Sai shares his entire CAT 2017 experience and tells us about his hobbies and more. Read the interview to know more about the 100 percentiler.
CAT Pathfinder
Know your call chances for Admissions
Use Now
Recent Posts:
Read the full interview here:
Careers360: Congratulations on your CAT result. How did you react when you first saw your result?
Sai: Thank you. I was pleasantly surprised as I expected 99.9 percentile but wasn't sure about 100. I and my family are very happy with the result.
Careers360: What was your overall and sectional score/percentile in CAT 2017?
Sai: My overall score was 232 (100 percentile). I secured around 64.46 in Verbal and Reading Comprehension (VARC), 73.87 in Data Interpretation & Logical Reasoning (DI & LR) and 94.01 in Quantitative Ability (QA).
Careers360: Were you sure that you'll be able to score 100 percentile?
Sai: When I was taking the exam, I wasn't sure that I'm writing all the correct answers. I had a doubt that they might go wrong. Although I expected 99.99 percentile I wasn't sure about 100 percentile. I'm really happy that I've achieved more than I thought.
Careers360: According to you, which sections were the easiest and the toughest?
Sai: The overall exam was tough. For me, DILR was the toughest section. My English was weak from the beginning but thank God that English part was quite easy this year. That was a big advantage for me. Otherwise, I couldn't have secured more than 99.5 percentile. 
Careers360: How did you prepare for the exam? Please share your preparation journey.
Sai: I started preparing last year itself. I joined the coaching classes last year but didn't study properly until January. The major part of my preparation started from January when I started taking mock tests. In the last one month before CAT, I just used go to coaching classes and write mock tests and made sure that I'm not writing anything wrong. 
Careers360: What time-management strategy did you follow during the test?
Sai: I didn't really follow any time management strategy. However, finishing RCs first was my priority. I started with DILR but I found that first few questions were really tough and time-taking. So, I skipped first four questions. Gradually, I realised that skipping questions won't lead me anywhere. Then I started from the last question and started solving followed by whatever I could answer first.
Careers360: Did you take coaching for preparation? If yes, how helpful it was?
Sai: If you ask me, I would say that coaching is very helpful. More than the coaching, it's the mentoring that matters the most and the coaching material that they provide is also very crucial. The faculty at the coaching keep analysing your score and mentor you to help you better with your preparation which is very important to crack an exam like CAT.
Careers360: Is it possible to succeed in CAT or other top management entrance exams with self-study? What do you think?
Sai: Yes, it is very much possible. However, guidance is needed. Just going to coaching doesn't make any difference. It's just a motivation that you're preparing for the exam and you've to study. Without proper guidance, achieving the top score might get tough. I believe that coaching is not a necessary factor for success in CAT but guidance is required at every stage.
Careers360: Which is your dream B-school and why?
Sai: IIM Ahmedabad of course! It's the best B-school in the country.
Careers360: Please tell us about your hobbies?
Sai: I like to play mobile games and love to play & watch Cricket. I also enjoy watching Hollywood action and space adventure movies.
Also Read