CAT 2017 Topper Interview: Focus on speed over concepts during CAT preparation, says 99.61 percentiler Avinash Iyer
Avinash Iyer, a fourth-year Chemical Engineering student from one of the most illustrious engineering colleges, IIT Bombay, bagged 99.61 percentile at his very first attempt. A fresher with three summer internships at ICICI, National Stock Exchange and Capital One looks forward to pursuing MBA(Finance) at one of the top three IIMs(A-B-C). An extreme inclination towards Finance domain and a thirst to meet successful professionals led him towards CAT exams. He banked on Maths and English, strategically planned preparation routine which mainly included solving MOCK CAT series. Avinash has already bagged a placement at Citi Corp.
Stay up-to date with CAT News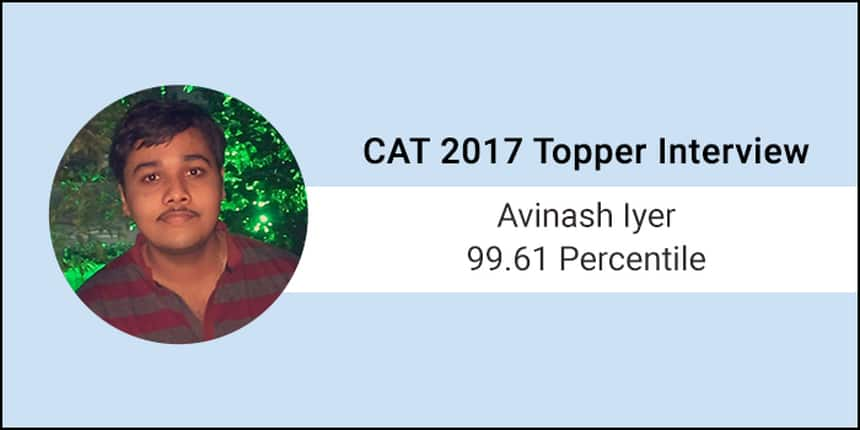 Avinash, an avid football follower and rock music fan, shares his CAT 2017 exam experience in a holistic manner with Careers360 in this interview.
Recent Posts:
Read the full interview here:
Careers360: Heartiest Congratulations on scoring 99.61 percentile in CAT 2017. Please tell us something about yourself.
Avinash- Thanks a lot. As far as my education is concerned, I have been in Mumbai for 15-16 years now and did my schooling at Ryan International School at Goregaon. Then, took preparation for JEE and got admitted to IIT Bombay (Chemical Engineering). My Mom is a home-maker while my Dad is a General Manager at ICICI Bank. I have completed three summer internships but do not have work experience per se. Therefore, I am a fresher.
Careers360: What are your overall and sectional percentiles?
Avinash- My overall percentile in CAT 2017 was 99.61. Here are the sectional percentiles:
CAT Sectional Percentile
| | |
| --- | --- |
| Section Name | Percentile |
| Verbal & Reading Comprehension | 97.65 |
| Data Interpretation & Logical Reasoning | 96.06 |
| Quantitative Ability | 99.7 |
| Total | 99.61 |
Careers360: How was your exam day experience? What, according to you, were the toughest and easiest sections?
Avinash-After I stepped out of the CAT exam centre, I was pretty much sure of the fact that my logic section did not go well. I was quite confident about Maths and English sections. My English percentile could have been better though. The ambience at the centre (Kandeveli) was comfortable. The Logical Reasoning section was arduous. I feel in order to invite candidates from diverse academic backgrounds; the CAT exam pattern has been modified since the last four-five years. Also, would like to comment on the pie-charts of the DI/LR section; they lacked clarity which made it even more difficult.
I have command over Maths, a lot more than in English, so I found Maths (QA) to be the simplest of all, but yes, the VA/RC section was pretty simple. The DI & LR section was the toughest and I had to toil hard through the section.
Careers360: How did you prepare for CAT 2017? What are the factors behind your success?
Avinash- As far as the Maths and English were concerned, I was quite confident with the concepts. I was tutored by T.I.M.E for a year and solved all their mock test series. I used to critically analyse each test so as to understand my standing. It is equally important to concentrate on the speed as time is a challenge for CAT.
The factors which primarily led to my success were my family, peers, planning, and practice. Rigorous practice and critical analysis helped me obtain 99.61 percentile in CAT 2017.
Careers360: What was your time management strategy?
Avinash- My strategy for solving the QA section was to skip questions that I knew but would take a long time; tried my hands on the unknown questions and completed the short questions. Then returned to solve the long unattempted questions.
To solve the VARC section, I first took up all the reading comprehension, completed them as they take a substantial amount of time. Then I solved the fill in the blanks followed by jumbled paragraphs.
I did not spend much time on Data Interpretation section as it involved a lot of calculation. My focus was on the LR questions alone and I solved all of them. Some of the questions were quite ambiguous in nature as we could not demarcate questions related to Logic or Data Interpretation.
Careers360: Did you take coaching? How helpful was it? Is it possible to succeed through self-study?
Avinash- I took admissions with T.I.M.E back in July 2016; religiously followed their student programme by attending all the lectures and sessions, barring my internship days. It was helpful indeed as I had to maintain a balance between my engineering classes at IIT Bombay and CAT preparation.
You can certainly opt for self-study. Coaching is just a guiding system. If you have someone who has already been through this process or appeared for CAT, you can also get inputs from him/her. If you know the concepts, work strategically, scoring a decent percentile should not be difficult. But I would suggest taking up a test series to improve your speed.
Careers360: What is your dream B-School and why?
Avinash- I am looking forward to pursuing MBA (Finance) at one of the top IIMs, (Ahmedabad-Bangalore-Calcutta).
I want to do something in Finance domain and have been placed at Citi Corp already. Some say, it is best to gain two years of working experience before taking up MBA, So, in two minds right now. But since I am inclined towards Finance domain, I am interested in joining IIM Calcutta or other top IIMs.
Careers360: Have you started preparing for GD/PI/WAT?
Avinash: I did not start preparing for GD/PI in but just flipping through some current affair pages.
Careers360: Who has been your idol who you look up to?
Avinash- Honestly speaking, I do not have any single idol or hero. There are great leaders you can look up to. But, the one person who has been my constant source of support and inspiration is my father. It is his foresight and guidance that got me here.
Careers360: What are your hobbies? How did you relax amidst CAT preparation?
Avinash- My hobbies include playing chess and listening to music, especially hard rock music.
While exercising Quant questions, I used to listen to old rock music that rendered me motivation. I used to follow Premier Football League very closely and the exciting matches made me happy amidst CAT preparation.
Careers360: Any suggestion that you would like to share with aspirants?
Avinash- I would suggest all to practice and take up test series as much as possible. Try to minimise the use of a calculator as the interface is bad and will also take up a lot of time. While preparing, set your time and try to finish the paper much ahead of time. Speed is something you must focus on.
Also Read
CAT 2017 Topper Interview: Suryansh Bhargava bagged 99.91 percentile
CAT 2017 Topper Interview: Shubham Abrol, 99.78 percentile
CAT 2017 Toppers - Know Profiles of CAT 99-100 Percentilers
CAT 2017 Result: Easy Quant helps non-engineers to enter CAT topper league
Questions related to CAT
Showing 9972 out of 9972 Questions