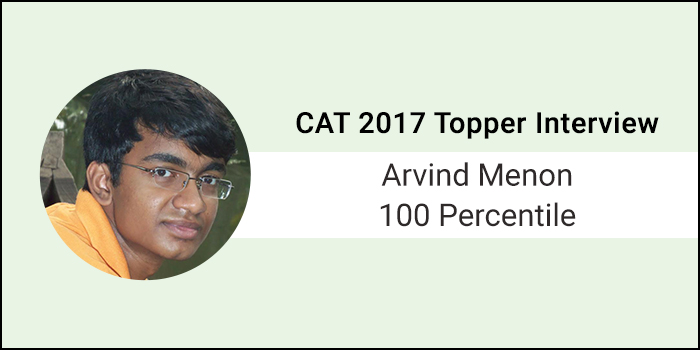 Carrying the experience of JEE preparation, Arvind Menon exactly knew what he had to do while appearing for CAT 2017 exam. With strong quant and verbal skills, he topped the CAT exam with 100 percentile. Arvind is currently a final year Chemical Engineering student at IIT Bombay and was preparing for the placements along with CAT. Arvind believes that if you have a good understanding of high school mathematics and you've got decent verbal skills, you can crack the exam easily. He also focused on the importance of mock tests and said that mocks are a really good idea for preparation.
MBA/PGDM Admissions Open 2019
IFIM Business School
Apart from enjoying swimming and working out, he loves to play guitar in his free time. In this interview with Careers360, he tells us about the books he studied during preparation, how useful mock tests are and his plans ahead.
CAT Pathfinder
Know your call chances for Admissions
Use Now
Recent Posts:
Read the full interview here:
Careers360: Congratulations on your CAT result. Please tell us something about yourself.
Arvind: Thank you so much. I'm a final year B.Tech student at IIT Bombay. I enjoy playing the guitar. I also love swimming and working out.
Careers360: Please share your overall and sectional percentile in CAT 2017?
Arvind: My overall percentile is 100. My sectional percentiles are 99.97 in VARC, 99.93 in LRDI and 99.97 in QA.
Careers360: Were you sure that you'll be able to score 99.99 percentile?
Arvind: I wasn't sure at all.
Careers360: Did you strategies your time on the exam day to achieve 100 percentile?
Arvind: The online format pretty much removes any chance for section-wise planning, so I just made sure I didn't spend any time on questions I didn't believe were doable.
Careers360: Please share your preparation journey?
Arvind: I was preparing for my placements along with going through my final year of engineering. I was not able to really prepare single-mindedly for the CAT. I had purchased some books for revising some of the quant topics that may have gotten rusty since my JEE days, but I was only able to finish one of them – Arun Sharma's Quantitative Aptitude. The other books were by Nishit Sinha, but I found them to be poorly edited and severely lacking in quality, so I abandoned them. I attempted perhaps 6-7 full length papers that I found from friends and on the internet in the week before the paper. We had a lot of mock tests for the placement activities conducted by companies, which also helped with keeping me sharp since the aptitude required is similar.
Careers360: What according to you were the toughest and easiest sections?
Arvind: I found Quant to be a breeze. LR/DI was quite tough for me.
Careers360: Did you take coaching? How helpful was it? Is it possible to succeed through self study?
Arvind: I did not take any coaching. Mock tests are a good idea if you feel like you need them but I do not believe coaching is necessary if you have a good understanding of high school maths and decent verbal skills.
Careers360: What are the factors behind your success?
Arvind: I had a very strong basis of the concepts used in quant and LR/DI, along with a lot of practice in working fast from my JEE preparation, although that was a long time ago. Even then, my strength was my judgment of whether a question was worth my time, and that helped.
Careers360: What next? Are you planning to pursue the IIMs' management programme if you get admission or do you have some other plans?
Arvind: I have obtained a job at a trading firm in Amsterdam, so I'll be continuing with that. I will consider an MBA after working for a few years.
Careers360: Please tell us which is your Dream B-School and why?
Arvind: I don't have a dream B-school in mind, but I'd really like to get into Harvard or LBS down the line.
Careers360: Anything you like to say to management aspirants who are preparing for entrance exams?
Arvind: Best of luck.