CAT 2016 Topper Interview: Managing speed and time during exam is very important, says 100 percentiler Yash Chaudhari
Pune boy Yash Chaudhari has scored an incredible 100 percentile to be among the CAT toppers of 2016. The topper is an Electrical Engineering student and follows football keenly. In this interview with Careers360, Yash shares his exam strategy and how taking a mock test every day till the test boosted his preparation.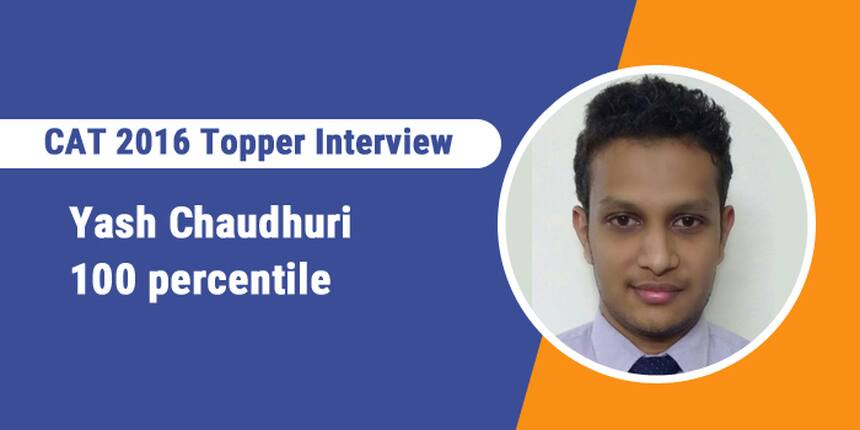 Recent Posts:
Yash mentions that although he had started preparing eight months before CAT 2016, it was only in the last two months that he had put maximum efforts. A die hard Ronaldo and Real Madrid fan, Yash aims to take admission in IIM Ahmedabad and pursue Finance.
Read here the full interview:
Careers360: Congratulations Yash! Were you expecting this score? How are you celebrating?
Yash:  Thank you so much! Yes, I am indeed celebrating with my family and friends. Regarding my score, honestly I was not expecting 100 percentile, though plan was to get something above 99.
Careers360: What is your section wise percentile?
Yash: In Verbals, I have got 99.9 while in DI and LR my percentile is 99.86. In Quantitative Ability, I secured 99.96 percentile.
Careers360: You seem to have performed good in all the sections. Tell us which section was toughest for you?
Yash: QA has always been my strong suit and so has Data Interpretation. Interestingly most of the questions covered in Quant were from the 10th and 12th standard. Being an engineering student, Quantitative Ability was the easiest section for me as my calculation speed is good. But Verbal was one area where I was a bit nervous. But the paper turned out to be pretty good.
Careers360: Can you share you preparation strategy with us?
Yash: While I had been studying for more than eight months, it was in the last two months that I put the most effort. I put four to five hours in my CAT preparation every day till my exam. Since Quant section was doable for me, I concentrated on Verbals. I practised Reading Comprehension and passages. Also, I read a lot of newspapers. Besides preparing from my study materials I also took ample mock tests.
Careers360: How important were mock tests in your preparation?
Yash: Very important. I took one mock test everyday in the last two months of my preparation. It is not just about taking mock tests but analysing your performance. The more mock tests I took, the better I understood my strengths and weaknesses.
Careers360: Which is your preferred business school? Which specialisation are you interested in?
Yash: The answer is always IIM Ahmedabad. I am hoping to get a call from them. In terms of specialisation I want to take up Finance as that is one area I am interested in.
Careers360: You are an engineering student. Is there any specific reason why you want to pursue MBA and change your field?
Yash: While I am an electrical engineering student, I find I am more interested in Finance.  I want to work in the Finance sector for a while and then open a new venture in a few years. Since cashless economy is the new buzzword now, I wish to work on something around digital money.
Careers360: How is your preparation for the next rounds of selection process at IIMs?
Yash: I am reading news papers everyday and engaging in discussions with friends and teachers. I believe being updated with current affairs would help me in the next rounds.
Careers360: What are your hobbies? Do you enjoy any kind of sport?
Yash: I love football! It is my favourite sport and follow it keenly. I am all for Ronaldo and a big Madrid fan.
Careers360: What about movies? Do you have any favourite actor?
Yash: I like Leonardo Di Caprio's acting style. I think he was best in the Revenant.
Also read:
CAT 2016: Know the Topper Profiles of 99-100 percentiler
CAT 2016 Result - 20 candidates secure 100 percentile, says Convenor Prof. Bandi
CAT 2016 Results: 56000 candidates score less than zero in DI-LR section, 37000 get negative score in VA section
Stay tuned to bschool.careers360.com for more CAT 2016 Topper Interviews.
Questions related to CAT
Showing 9087 out of 9087 Questions