CAT 2016 Topper Interview: Analyse mock tests to know loopholes in preparation, says 99.93 percentiler Naman Singhal
A former Infosys employee and now an MBA student at the Faculty of Management Studies (FMS), University of Delhi, Naman Singhal hails from a business background. The decision to pursue a full-time MBA programme did not come as a surprise since Naman was already involved with his family business and gathered nearly a year's work experience. Naman, who is not only a CAT topper but has also topped other major management based entrance exams like XAT, IIFT and NMAT, reveals how all this success didn't come without a price.

Naman did not master CAT in one go but three. He kickstarted his CAT preparations in full swing with self-study and mock tests every two to three days. According to Naman, Data Interpretation & Logical Reasoning (DI & LR) were the toughest sections while the Verbal Ability & Reading Comprehension were the easiest.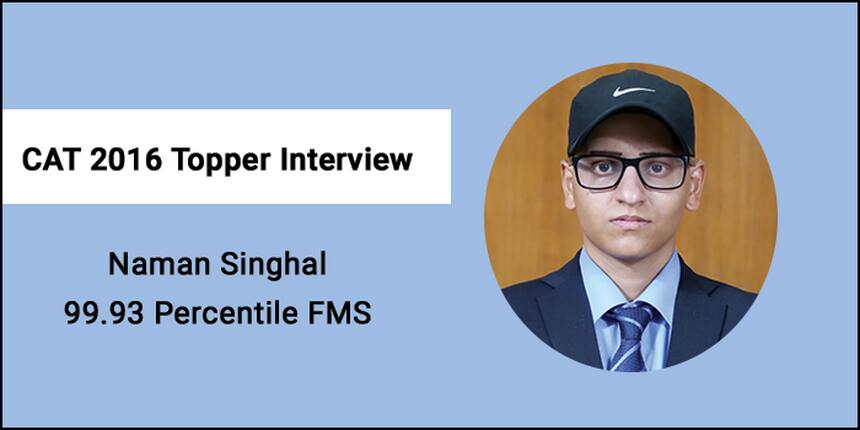 To guide CAT 2017 aspirants, Careers360 brings you a topper interview with Naman Singhal who shares his success journey and how others can learn from his experience.
Recent Posts:
Read the full interview below:
Careers360: Congratulations on your admissions to the Faculty of Management Studies (FMS), University of Delhi. What was your overall and sectional score in CAT 2016? Were there any others exam you had appeared for? If so, please share the score for the same.
Naman: Thanks a lot. My overall CAT 2016 score was 99.93 percentile. Following are my sectional percentile details:
Verbal Ability (VA): 99.84 percentile

Data Interpretation and Logical Reasoning (DI & LR): 99.49 percentile

Quantitative Aptitude (QA): 99.51 percentile
Apart from CAT, I also took XAT, IIFT and NMAT. I scored 99.722 percentile in XAT, 98.4 percentile in IIFT and 226 (99 percentile) in NMAT.
Careers360: Apart from FMS, which B-schools made final admission offers to you? Why did you decide to join FMS?
Naman: I had final admission offers from MDI Gurgaon, IIM Shillong and the other new IIMs. It was a no-brainer for me to join FMS as it is one of the top B-schools in the country.
Careers360: Which was the most challenging and easiest section in the test?
Naman: The overall difficulty level of CAT 2016 was a notch higher than the previous year. I found DILR to be the toughest of the lot. Despite it being my strongest section, I could attempt only 18 out of 32 questions.
The easiest section for me was Verbal Ability & Reading Comprehension. While it has been my nemesis for a long time, I could attempt most of the questions.
Careers360: Please share your preparation journey. How did you strike a balance between your professional and preparation for an entrance exam?
Naman: This was my third attempt at CAT so I had experience of the exam and was well aware of my strengths and weaknesses. I enrolled for IMS and TIME test series. My strategy was to take as many mock tests as possible before the main exam. By the time I took CAT 2016, I had given around 45 mocks.
I could juggle well between my professional life and CAT preparation and did most of my preparation during the weekends.
Careers360: Were you a part of any coaching institute? Do you think coaching is necessary for aspirants to bag the top rank?
Naman: I did not join any coaching classes for my preparation. Self-study and mock tests were my go-to strategy. Coaching is definitely not the one-stop solution to score well in an exam like CAT. It all depends on a candidate's discipline, hard work and proficiency in the subjects.
Careers360: Please share your specific section-wise strategy for VARC, DI & LR and QA.
Naman:
VARC
This was the section which let me down in my previous two attempts. I had a meager 80.05 percentile in VA in CAT 2015. I got a lot of inputs to read as much as I can to improve my verbal ability score. This strategy was not working out for me and I focused on practicing RCs. I solved RCs and para jumbles from TIME module and Arun Sharma's 'Verbal Ability and Reading Comprehension' and could see significant improvement in my scores.
DILR & QA
For QA, I referred to websites offering CAT preparation. I regularly took sectional tests for the topics I wasn't really comfortable with and it helped me increase my speed. I practiced DILR mainly through mock tests and sectionals. Choosing the right set is crucial to scoring well in this section.
Careers360: Please mention section-wise books and study materials you had referred.
Naman: VA: Reading Comprehension and Verbal Ability by Arun Sharma, TIME module
DILR: TIME sectional tests
QA: TIME module and online sources
Careers360: What is the significance of mock tests in your success? When did you start taking mock test and what was the frequency?
Naman: Mock tests are of utmost importance when it comes to CAT preparation. My whole preparation revolved around the mock tests I gave. I started taking mock tests in July and at that time my frequency was 1 mock per week. In September, I set a target of 50 mocks before CAT. I took a mock every two to three days and solved a total of around 45 mocks before I appeared for CAT. 
Careers360: What did you focus on when getting your mock tests analysed and how did you modify your strategy after that?
Naman: I analysed my mock performances to know the loopholes in my preparation. I realised that I am not attempting enough questions and need to increase my speed. Also, I needed to ensure that my accuracy doesn't get compromised.
I laid emphasis on understanding the concepts for the questions I couldn't solve. Though I looked for an alternative solution for the questions I could solve, I didn't tweak my question-solving methodology much and stuck with the approach I was comfortable with.
Careers360: How did you utilise the features like calculator and non-MCQs in CAT?
Naman: The online calculator was handy for solving the calculation-intensive DI & LR section but in my opinion, it consumes a lot of time. I refrained from using the calculator for petty calculations and relied on approximations and mental calculations to arrive at the answer.
My strategy was not to spend much time on non-MCQs as these have a high probability of going wrong. I rather utilised the time on solving MCQs.
Careers360: Any suggestion that you would like to share with aspirants?
Naman: Following are my tips for the future CAT aspirants:
Take as many mock tests as possible. CAT 2016 topper Avidipto Chakraborty took 86 mock tests!

Don't get bogged down by low scores. I secured as low as 65 percentile in a couple of mock tests.

Work on your weaknesses and capitalise on your strengths.

Choose questions wisely. Don't miss out on sitters.

Take the exam with a planned strategy
Stay tuned to bschool.careers360.com for more CAT topper interviews
Get real-time alerts on exam & colleges at your fingertips with Careers360 App!
Click Here to Install or Give a missed call on 08080944727 to get app link.
Questions related to CAT
Showing 9073 out of 9073 Questions