Careers360 Live Chat: Q&A with Dr. Dhananjay Singh, Admissions Chairperson & Assistant Professor(Marketing) at IMT Hyderabad
Dr. Dhananjay Singh, Admissions Chairperson & Assistant Professor(Marketing) at Institute of Management Technology Hyderabad addresses queries from prospective students on different aspects related to admissions and course of IMT Hyderabad. Careers360 formulated all the Q&A from the live chat with the Admissions Chairperson & Assistant Professor(Marketing)  at IMT, Hyderabad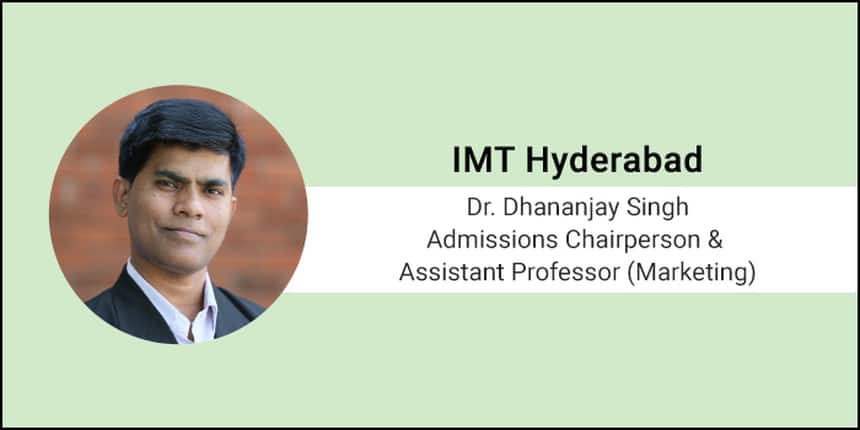 Excerpts from Careers360 Live Chat with Dr. Dhananjay Singh of IMT Hyderabad.
Vicky: Which are the entrance examinations you accept for admissions? Please mention few other details; Cuttoff percentile, total cost of the programme and average placement package  offered to students.
Dr. Dhananjay Singh: The entrance exams that we accept for admissions are CAT/XAT/CMAT and GMAT. The cuttoff percentile that we require for the respective exams are – CAT/XAT 70 and CMAT 85.
The cost of the total management programme is Rs. 12 lakhs including food and single occupancy accommodation of the student.
Let me give you the last year's placement statistics for a better understanding. The average salary that was offered last year was Rs. 6.97 LPA and the highest was Rs. 22.5 LPA. The highest package was offered by DE Shaw(Arcesium).
Himanshu: What all specializations you offer in MBA programme? Which one is most demanding in terms of opportunities?
Dr. Dhananjay Singh: We offer Finance, Marketing, HR, Operations, Business Analytics and General Management. By the way opportunities are more in Finance and Marketing domains.
Sandhya: Do we need to fill separate forms across all campuses? As I hail from Delhi, will it be possible for me to adjust with the culture of Hyderabad? Lastly, could you please brief me about the faculty members in your institute?
Dr. Dhananjay Singh: Firstly, you can apply for all the campuses through one form by logging on to our website. Secondly, 40 percent of the students are from Delhi NCR region. Moreover we have students from 80 cities and 28 states. All the students are faring well and do not encounter any cultural challenge.
90 percent of the faculty are Doctorates from IIT, NIIT, and other reputed institutions.
Avik: What was the total batch size? Were there any unplaced students last year?
Dr. Dhananjay Singh: The batch size was 240. Inspite of 14 - 15 opportunities eight percent of the batch could not get placed. To be precise, around 20 students could not be placed.
Avik: Do you accept NMAT by GMAC examination? According to you, which is better IMT Hyderabad or IMT Nagpur in terms of corporate opportunities and ROI?
Dr. Dhananjay Singh: We don't accept NMAT. We only accept CAT/XAT/CMAT and GMAT. You can choose IMT Hyderabad if you are looking for corporate opportunities, faculty as well as ROI. The average package of the top 50 and 100 candidates were INR 8.52 LPA and INR 7.29 LPA respectively.
Shikha: I am interested in correspondence MBA. Do you offer the same?
Dr. Dhananjay Singh: Shikha, we do not offer any correspondence course.
Vivek: Can you draw a comparison between the two IMT campuses, namely IMT Hyderabad and IMT Ghaziabad?
Dr. Dhananjay Singh: It is equivalent in terms of soft and hard infrastructure but IMT G was set up in 1982 and IMT Hyderabad in 2011. In terms of placement, last year IMT Hyderabad had an average placement of 92.7 percent with average package of Rs. 6.97 LPA. Highest package of Rs. 22.5 LPA. Top 20 got an average package of Rs. 10.83 LPA.
Vivek: Which companies visit IMT Hyderabad for Finance profiles?
Dr. Dhananjay Singh: Few select recruiters include FactSet, Care Ratings, Deloitte, E.I.Dupont, e Clerx, Canter, Amazon, KPMG, S& P Global and many reputed banks.
Hitesh: Does IMT Hyderabad provide international placement?
Dr. Dhananjay Singh: Yes, we do offer international placement. Last year Khimji Ramdas(Oman) and Gramener visited the campus and Khimji Ramdas offered INR 15 LPA. The profile for which they offered 15 LPA was Marketing and Operations oriented.
Institute of Management Technology, Hyderabad Updates and Articles
Institute of Management Technology (IMT), Hyderabad has announ...
02 Jan 2018
IMT Hyderabad has announced the admissions for the PGDM progra...
11 May 2016
Questions related to Institute of Management Technology, Hyderabad
Showing 86 out of 86 Questions