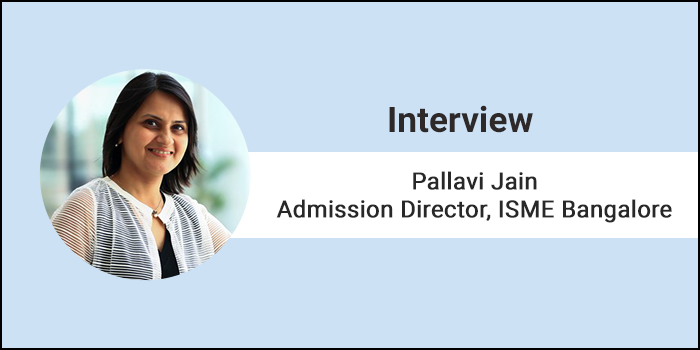 International School of Management Excellence (ISME) Bangalore was established in the year 2006. Apart from the flagship PGDM programme, the B-School also offers PGDM Business Analytics programme. In an exclusive interview with Careers360, Pallavi Jain, Admission Director of the institute shares the details of the admission process and USPs of ISME Bangalore.
Pallavi Jain shares the new initiatives launched by the institute for the upcoming academic year such as Volunteerism and Community-Based Initiatives, Faculty Learning Initiatives, introduction of BBA LLB programme among others. Read the full interview to know more about ISME Bangalore.
Compare Colleges
College Comparison based on Courses, Placement, Rank, Fee
Compare Now
Excerpts of the interview.
Careers360: What are the flagship programmes of ISME Bangalore? Please share the intake and fee for 2018 – 20 batch?
Pallavi Jain: The flagship programmes and fee is given in the table below. 
| | |
| --- | --- |
| Program | Fees |
| PGDM (AICTE) | Rs. 5,95,000/ |
| PGDM – Business Analytics (AICTE) | Rs. 6,45,000/ |
| Executive PGDM | Rs. 2,15,000/- |
| BBA (Bangalore University) | Rs. 4,50,000/ |
seat intake for both UG & PG level management programs is 120.
Careers360: What are the factors considered for admission to the PGDM programmes?
Pallavi Jain: The eligibility and selection criteria are as follows:
Bachelor's / Master's Degree from a recognized education body with a minimum of 60 percent aggregate marks.

Performance in Interview is a crucial admission criterion.

Work experience would be an important consideration for admission.
Careers360: How does ISME blend industry inputs in the academic curriculum?
Pallavi Jain: Our curriculum is dynamic with continual changes, thus meeting the requirements of the industry. For instance, early on we realised the importance of Analytics & Digital Marketing and incorporated them into our curriculum. ISME constantly endeavours to bring in industry-best practices into its classrooms through guest lectures by industry leaders and experiential learning basis. To give students an insight into corporate culture and how organisations and industries function, about two to three industry visits are held in every trimester.
ISME has a unique Experiential Learning assignment which makes learning fun and applied. ISME students go to various companies to do practical projects for the courses instead of theoretical internet based project. This enables students to be more job ready. ISME is getting a lot of support from industry bodies like NHRD for such initiatives.
Careers360: How do you prepare your students for the emerging challenges in the job market?
Pallavi Jain: ISME is an institution that provides a platform where there are no limits to what students can achieve. We make that happen through the three pillars of action we practice which are: providing a truly international experience, mirroring corporate work ethics and working towards excellence in student-focussed experiential learning. With this, we see ourselves nurturing a generation of Managers and Entrepreneurs who are well-versed to think global. ISME seeks to create professionals who can come up with innovative solutions. Importantly, they should excel in communicating their ideas to the world and make a difference.
Careers360: How has been the placement for academic year 2015 – 17? What are the specific trend that you have observed this year?
Pallavi Jain: The below table brings the highlights of the placement of 2015 – 17 batch.
| | |
| --- | --- |
| Number of participating students | 87 |
| Number of participating companies | 83 |
| Number of first-time recruiters | 40 |
| Number of offers | 102 |
| Average salary | 4.60 |
| Highest salary | 8.00 |
| Lowest salary | 3.00 |
| Highest recruiting sector | BFSI |
| Highest recruiting domain/profile/function | Marketing |
| Company making highest offer | Amazon |
| Top recruiting companies |  AON Consulting, IndusInd Bank, Northern Trust, NxtGen, Statestreet, Thomson Reuters, RTB Demand |
The impact of demonetisation was evident across most sectors and had slowed down the recruitment. In spite of that, 100 percent of ISME students got excellent job offers in 2017. This year the trend is positive as the economy is looking up and roles in marketing have picked up pace and the class of 2018 has seen a great start to the placement season.
Careers360: How do you prepare your students for placement process?
Pallavi Jain: With 'corporate' at the core of our teaching, ISME is the only institution which offers VAT - Value Added Term,an additional and unique mini semester focused to groom students for the corporate world. The curriculum focuses on soft skills, interview skills, group discussions, demeanor with senior management and Six Sigma Green Belt concepts. In short, everything to groom young management graduates. These training are beyond the regular academic programme which help in transforming students for a smoother transition into the corporate world.
The four week training program is aimed at preparing students for the Placement Season. The courses offered are:
1. Group Discussions and Mock Interviews
2. Management Techniques Review
3. Global Business Strategy Game by Prof. Arthur Thompson, University of Alabama, USA
4. MS Office training
5. Green Belt Course work certification from KPMG and many other value added programs
Careers360: How do you guide students who want to start their venture?
Pallavi Jain: The Entrepreneurship Cell at ISME is a non-profit students' committee dedicated to promoting the spirit of entrepreneurship among students wherein various workshops, Expert speaker sessions, movie playing, games and various competitions are conducted for aspiring Entrepreneurs to build Entrepreneurial skills and to learn various aspects of starting own business. ISME is also an institutional member of the National Entrepreneurship Network (NEN) which inspires, educates and supports student entrepreneurs, start-ups and SMEs for creating high-value jobs.
Careers360: What are the unique academic initiatives you plan to take in next few years?
Pallavi Jain: We have initiated the following for our upcoming batches.
Engaged Learning Initiatives
The best way to learn is to be active and engaged and ISME's signature Management Festis one such initiative that supports academic success by integrating curricular and co-curricular opportunities for students to engage in experiential learning, community service and leadership development while interacting with faculty, staff and other students from colleges within and outside Bangalore.
Volunteerism and Community-Based Initiatives
When we talk about community at ISME, we don't just mean our campus. We mean the citizens, businesses, and organisations in the surroundings area as well. Through partnerships with them, our volunteerism and community-based initiatives will give students opportunities to gain valuable hands-on experiences in real-life professional environments. Likewise, our local partners will receive extra help from passionate, eager-to-learn ISME students.
Faculty Learning Initiatives
We want our faculty to have the tools they need to give students an academic experience that will prepare them for their future. Our engaged learning initiatives will prepare faculty members to support students through consistent, relevant feedback in high-impact practices as first-year seminars and undergraduate research.
Introduction of BBA. LLB
ISME is also starting a BBA, LLB of Karnataka State Law University programme from next year along with the BBA program that ISME already has from Bangalore University.
Careers360: What are the key challenges that MBA/PGDM education face today? What are your thoughts towards coping with those challenges?
Pallavi Jain: The key challenges that MBA graduates face is the rapid change in job profiles. The ability for students to learn and unlearn needs to be very high.
Also Read
Questions related to ISME Bangalore