Animeha Singh scored a whooping 99.96 percentile in XAT 2013 and converted the call of XLRI Jamshedpur at ease. In this Careers360 interview of XAT Topper, Animeha shares her experience and preparation strategy to crack XAT 2014.

To prepare for XAT 2014 click here


Animeha is an Economics graduate from Miranda House, University of Delhi. Apart from academics, her passion lies in public speaking, social work managing and reading blogs and online magazines.
Excerpts from the interview:

Q: What motivated you to pursue MBA and where do you want to see yourself after completing the course?
A: I have always been ambitious. I learnt very early that I want to be my own boss and see myself heading my own venture and to do that I felt that the all-round knowledge that the MBA degree provides would aid me in my endeavour. After I complete my MBA, I plan to take up a job in the field of either Strategy or Consulting to obtain industry experience.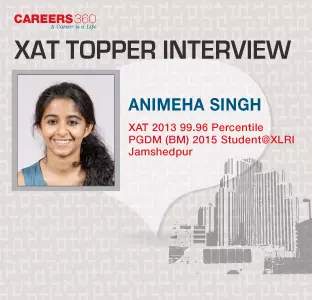 XAT Topper Interview- Animeha Singh XLRI Student Gives Tips for XAT 2014
Q: When did you start your XAT preparation and how did you strategize your study plan?
A: I started my preparation in my 3rd year, roughly six months before I was due to take the
CAT. My overall strategy was very simple. I identified my weakness (Quantitative Ability) and focused on improving my performance in that section. Regular study was at the top of my priority list and I think that has made all the difference.

Q: What is your XAT 2013 percentile? Apart from XAT which were the other exams taken by you?
A: I scored 99.96 percentile in XAT 2013. Apart from XAT, I took the CAT and NMAT.




Q: How was your GD & PI experience at XLRI?
A: The topic of my GD for the Business Management course selection process was 'Effects of Globalization on Indian Culture'. Overall the level of discussion was average with a few easily excitable people and at points multiple people were speaking simultaneously. I contributed with three substantial points which directed the flow of the GD. Overall I was happy with my performance.


My PI went really well. Being from a non-engineering background, I knew I had a definite edge and my XAT score was very good as well. I was asked a lot of questions related to the subjects I had taken in my Undergraduate level. The interview then steered towards why I wanted to pursue my MBA and went on to the life experiences that I've had that would help me during my pursuit of an MBA degree. Finally I was asked a few questions on my background and my hobbies. Overall it was a very good interview because I was in my comfort zone and I knew what I was saying. I was myself.

Q: Which B-schools offered you final admission? Why did you select XLRI for pursuing MBA?
A: I was offered admission to NMIMS Mumbai and XLRI. I chose XLRI for two very simple reasons:
a) XLRI has a brand image that only a few other colleges in India can compete with
b) The teaching faculty and curriculum are the best in India.
Many other factors, like placement records etc., did contribute to this choice as well.

Q: What is your opinion about self study? What would be your message to those XAT aspirants who are not taking formal training?
A: Of course it's possible to crack any competitive exam without formal training but joining a coaching centre gives the average aspirant a sense of direction and a structure to the way one should study. Coaching centers also expose you, in part, to the kind of competition one will be facing and helps in keeping one motivated.
I have just one piece of advice for the XAT 2014 aspirants who would like to prepare by themselves: Do join some test series at least three months before you are about to take your CAT or XAT. You can only gauge your own performance through properly evaluated tests. Also, remain focused.

Q: How did you balance your XAT preparation with your regular schedule?
A: I was a student while preparing for XAT. I made it a point to put in two hours every day for preparation. I took out two hours whenever possible. It's not easy but it had to be done.

Q: What was your preparation strategy for the various sections of XAT?
A: I knew I was weak at Quant so I focused more on that section and studied Quant rigorously. My VA was strong so I did not have to put in additional effort to prepare for that section. To write essays, one must read a lot. I used to read the newspaper daily and read magazines like Outlook and Time whenever I could get my hands on them. I also used to practice essay writing once every two days. That helped keep me in touch with penning down my thoughts effectively and succinctly.

Q: What was your strategy for time management required for the XAT pattern?
A: XAT has too many questions and too little time. Faced with such a situation, I used to read the question quickly and my preparation had equipped me with being able to gauge whether I would be able to solve the question or not. I only attempted those questions that I was absolutely sure about solving. That made me improve my accuracy and helped save on time as well.

Q: What would you like to tell the MBA aspirants who will take XAT 2014 and other exams of the season?
A: The key word for all aspirants should be 'Focus'. It's a highly competitive world and to do well, you must desire to do so. Regular study will see you through.