XAT 2021 Topper Deep Pandya says, Starting preparation helped me completing the course way before the pandemic
XAT 2021 Topper - Deep Pandya XAT 2021 topper and 99.2270 percentile always wanted to make something big after he failed to make it to IIT. Deep Pandya started preparing for the B-Schools entrance test in the second year of his engineering course. During the pandemic when other students were troubling to get into online coaching, Deep Pandya had already completed the course in IMS. Starting the preparation earlier helped Deep Pandya to complete his course way before the pandemic. . In an interview with Careers360, XAT 2021 topper Deep Pandya talks about his exam tactics and sectional wise preparation strategy. Read the full interview of XAT 2021 Deep Pandya to know vital tips for preparation.
Stay up-to date with XAT News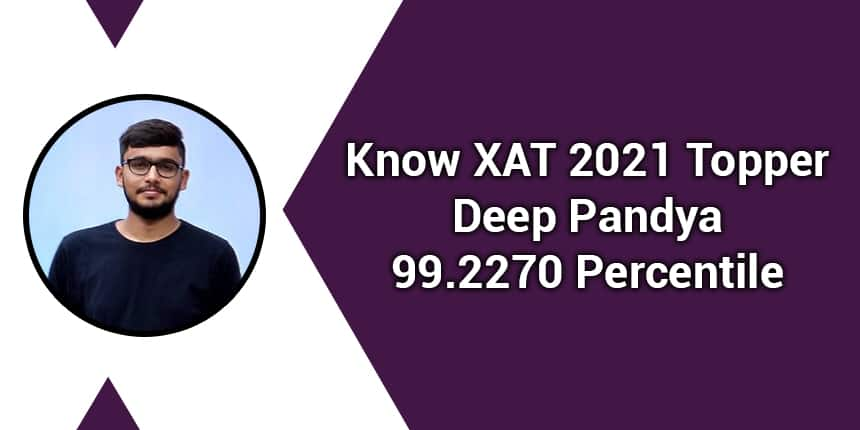 Careers360 - Congratulations Deep Pandya. Tell us something about yourself.
Deep Pandya - I completed my high school from the Aditya Birla Group School and I am currently pursuing my graduation from Vishwakarma Government Engineering College, Ahmedabad
Careers360 - Why do you choose XLRI over other B Schools?
Deep Pandya - XLRI is one of the top B-Schools in India. XLRI is known for its outstanding courses, placement and its wonderful campus environment.
Careers360 - Share with us your XAT overall score and sectional wise percentile?
Deep Pandya - My overall percentile is 99.2270 in which I secure 98.69, 95.7 and 93.6 percentile in Verbal, Quant and DM respectively.
Careers360 - Apart from XAT, do you appear in any other B school entrance test? If yes, what was your score?
Deep Pandya - Yes I appeared in CAT 2020 and scored 96.51. I was very disappointed. The problem with the CAT was the timing. In the first 10-15 minutes, I could not get into my groove which was the drawback. But in XAT, there is the flexibility of using the time according to our convenience. We can use 3 hours to think and analyse but in CAT only 40 minutes was allotted to each section.
Careers360 - When did you start your preparation for XAT? Share with us your preparation and exam strategy.
Deep Pandya - I started preparation for the B-Schools entrance test when I was in the second year of my engineering course. When the pandemic started I had already completed the syllabus and started giving mock. I gave 35 mocks for CAT and 7-8 mocks for XAT. If we are preparing for CAT, then it's more like we are preparing for XAT as well. The syllabus for both the exams is more or less the same.
Careers360 - How did you manage your time during the preparation?
Deep Pandya - I used to make sure to maintain the minimum attendance percentage for my college which is 65%. Thursday and Friday I had fewer classes for my college and here I focused more on coaching classes and preparation for the entrance test.
Careers360 - What were your strong and weak areas? How did you tackle your weak areas?
Deep Pandya - Since I am an engineering student and good in English as well, Verbal and Quant are my strong points, however, I found the Decision making section a bit challenging to me. I used to give sectional tests for the weak areas and I made sure to cross 90 percentile in the initial stage and later try to escalate my performance.
Careers360 - When did you start taking the mock tests and what was the frequency? How did you utilize it for preparation? How many times did you take mock tests?
Deep Pandya - After CAT 2020, I plan to give enough mock for the DM section as the rest of the sections are more or less similar to CAT. I gave around 8-10 mocks for DM only and 8-10 mocks for XAT in alternate days. After I gave the mocks, I analysed the paper and took a break and studied my weak areas and again I gave mocks.
Careers360 - How did you prepare for XAT - Self-study or Coaching? Is self-study sufficient enough to crack XAT?
Deep Pandya - It depends on the individuals. If you are not sure, I would recommend going to coaching classes as there are areas in English and logic which we need to be taught.
Careers360 - Your message/tip for this year's XAT aspirants?
Deep Pandya - If you are sincerely doing CAT preparation then you are doing XAT preparation also. Don't worry about XAT, English is a little bit tricky but in current trends, if you are scoring above 50 per cent marks in all the sections then it is more than enough to score above 99 percentile.
Questions related to XAT
Showing 932 out of 932 Questions