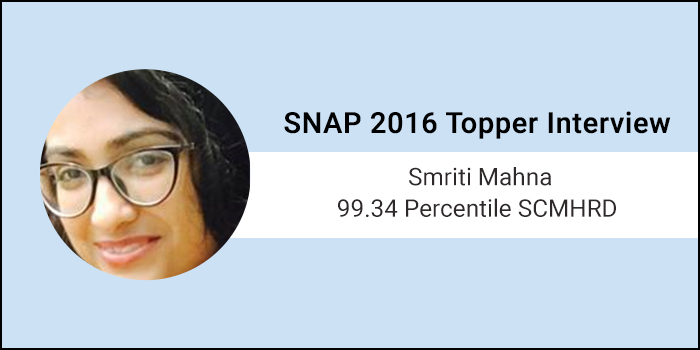 It isn't easy to manage a 6-day work schedule alongside entrance exam preparation but Smriti Mahna was extremely focused and dedicated to balancing the two. Devoting a consistent number of hours on both weekdays and weekends towards preparation is what gave her the top spot in SNAP. Smriti successfully made her way into SCHMRD, Pune by scoring 99.34 percentile in the exam. Now, she is pursuing MBA in Human Resource from the institute. She also had several admission offers from noted B-schools but she preferred SCMHRD as she believes it is the best for HR programme. Before joining the institute, Smriti was an Electronics and Communications engineer with more than two years of work experience.
SNAP Sample Paper
Download Free Sample Paper for SNAP
Download Now
In this interview with Careers360, she reveals her preparation and time-management strategy for the exam. Also, she tells us what is that management aspirants should focus on while preparing for national level management entrance exams.
Read the full interview here:
Careers360: Congratulations on your admission to SCHMRD. Tell us about your score in SNAP 2016? Any other management exam you appeared for? Please share their scores as well.
Smriti: Thank you for your wishes. My SNAP 2016 score was 99.34. I also appeared for TISSNET in which I scored 80 marks.
Careers360: Why did you choose SCMHRD over other B-schools?
Smriti: I also got a final offer letter from SIBM, Pune. However, since I was sure about pursuing an MBA in HR, I decided on joining the best college for the same.
Careers360: Please share your preparation journey. How did you strike a balance between your academic/professional life and preparation for an entrance exam?
Smriti: It was essential for me to approach the preparation in a systematic manner since I had to manage a 6-day working schedule alongside as well. I used to devote 2-3 hours on weekdays to work on concept building and 6-8 hours over the weekends to solve previous year question papers or give mocks. Also, the students should keep themselves updated on current affairs through a regular newspaper reading habit which would not only help in the General Knowledge section but also in the GD-PI preparation.
Careers360: What was your section-wise strategy for Analytical and Logical Reasoning, General English, Quantitative, Data Interpretation and Data Sufficiency and General Awareness?
Smriti: For General English: I made sure to read at least one comprehensive passage every day and coupled this with building the general grammatical and vocabulary concepts tested alongside solving the previous year papers.
Quantitative, Data Interpretation and Data Sufficiency: I devoted maximum time preparing for this section. I focused on understanding the underlying concepts rather than the tips and tricks and then tested my grasp of the same by practicing from various resources.
Analytical and Logical Reasoning: This section also requires a regular practice and most importantly exposing oneself to a wide variety of questions in order to get a good hand at being able to structure and develop the approach quickly. Hence I practiced regularly from previous year CAT and SNAP questions which made up an exhaustive question bank.
General Knowledge: I tried to keep myself abreast on all the recent news and happenings. This was enough given that SNAP clearly mentioned that it would only be testing the current affairs from previous 2 years.
Careers360: Please tell us about the books and study materials you referred during your preparation.
Smriti: Quantitative, Data Interpretation: Sarvesh K Verma
Analytical and Logical Reasoning: TIME Modules/ Previous year question papers of CAT, SNAP
General English: Verbal Ability by Sujit Kumar- only for a general idea of the entire syllabus/ Previous year question papers of CAT. SNAP/ Newspapers/ Norman Lewis (Vocabulary building) could also be referred to.
General Knowledge: Regular newspaper reading (The Hindu/ Economic Times)/ Online crash courses for GK for a quick and exhaustive brush up of all the topics.
Careers360: Tell us about the coaching institute you were associated with. Do you think coaching is necessary to bag the top rank?
Smriti: No, I wasn't. I only joined a GD-PI course at MBAGuru. In my opinion, the coaching institutes do give you a direction to your preparation and help you in staying on track with the same. However, it is not a prerequisite to bag a top rank. It completely depends on the student and his/her proficiency levels across the various subject areas.
With so many online courses coming up, one can also explore these options given that the students might be having any prior work commitments which already take away a significant portion of their time, thus making the to and fro travel to the institutes difficult.
Careers360: How important you think mock tests are for success in management entrance exams? When did you start taking mocks and what was the frequency?
Smriti: The mock tests are really important. They give you a clear and objective view of your actual preparation level by simulating an exam day like environment. Hence, you get a clear understanding of your strengths and weak areas which can be then worked upon accordingly.
In the initial months, I would give around 1-2 mocks every alternate week. However, closer toward the exam, I gave 2 mocks every week. More than the number of mocks, it's important to ensure that each mock is analyzed properly and we don't repeat the same mistakes in the next ones.
Careers360: What was your section-wise time management strategy on the exam day?
Smriti: The duration of the exam was 150 minutes. I first attempted the GK section, since one would either know or not know the answer not spending more than a few seconds per question so spending around 10-12 minutes in total. I followed it up with my strong area i.e General English and Reading Comprehension and managed to attempt all the questions in another 45-50 minutes. I, then, divided the remaining time equally between Quant and Logical Reasoning spending about 45 minutes per section.
Careers360: As you know that SNAP will be conducted in the computer-based mode for the first time. What are your thoughts on it?
Smriti: The students would be more comfortable with the platform. It would be easier for them to concentrate all their efforts on only resolving the questions and not marking the answers for the same on the answer sheet as was the case earlier. Thus, helping them in overcoming the chances of students making a mistake in circling the wrong bubbles.
Careers360: Apart from the regular classes, projects and assignments, which are the other non-academic activities you are involved in? Share your experiences.
Smriti: I am a member of one of the committees at our college and also actively participate in the various B-School Competitions. Both of them have been enriching experiences which have helped my personality, soft skills and knowledge of my chosen field develop better. Further, the B-school competitions have provided me the opportunity to interact with some of the best HR industry stalwarts and knowing their views/opinions is the best learning one could ask for.
Careers360: How has your journey been at SCHMRD so far?
Smriti: The experience at SCMHRD so far has been one of a kind. From OBL to AOL (you would only get to know once you join SCMHRD) to competitions to lectures, there has never been a dull moment here on campus. You would definitely be working on one thing or another and hence every day I see myself as a new individual who learns, grows and develops a wider perspective on life. With countless memories that I have gathered here in just a short span of 3 months, I am hopeful of experiencing the best two years of my life ahead.
Careers360: Any suggestion that you would like to share with aspirants?
Smriti: SNAP 2017 aspirants must ensure to put in the best of their best efforts and make them count by doing smart work and not only hard work. What works for one might not for another, hence devise your own suitable preparation strategy by trial and error.
Time management is another crucial factor not only during the preparation time but also during the exam and it is also equally important to play to your strengths. Maintain your cool on the D-Day and remain focused and calm.
Also Read
Questions related to SNAP