PI-WAT Experience: Since I was a fresher, panellists focused on my resume and GK, says Arko Biswas of IIM Raipur
Careers360 presents to you an exclusive interview with Arko Biswas, currently pursuing PGP from IIM Raipur in the PGP 2017-19 batch. Arko aced the PI-WAT rounds with high scores and has quite a lot of interesting aspects to share with aspiring candidates. Besides, he also appeared for final processes in other top B-schools like Symbiosis Institute of Business Management (SIBM) Pune, Institute of Management Technology (IMT), National Institute of Industrial Engineering (NITIE) Mumbai and Institute of Rural Management Anand  (IRMA).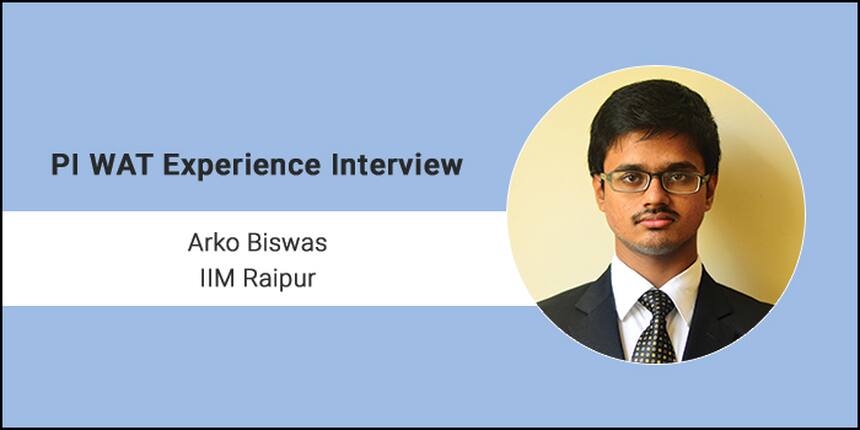 Being a fresher, the questions on Personal Interview rounds were based on his resume and current affairs. Hailing from a school which provided him a strong foothold on grammar and writing, Arko didn't have to focus much on learning to structure articles or on grammar. Instead he strengthened his other abilities and prepared for current affairs and learnt how to write and speak on them. His coaching at T.I.M.E. prepared him to divide the WAT session into 30 percent for thinking, 20 percent for introduction, 30 percent for body and the rest 20 percent for conclusion helped him in thinking and framing of the article. Quick-witted Arko also kept his composure during serious cross questioning and probing by the board.
Excerpts from the interview.
Careers360: What is the selection procedure at IIM Raipur?
Arko: Candidates are shortlisted on the basis of CAT score and via CAP (Common admission process). After that comes the Written Ability Test followed by Personal Interview process.
Careers360: Please elaborate on your overall experience of the selection procedure at IIM Raipur.
Arko: My CAP process was held in the campus of IIM Calcutta on March 1, 2017, at 11:00 AM. For the WAT process, my batch of students was given the topic "Changing role of women actors in Bollywood"in 300 words with a time limit of 15 minutes to complete it.
My interview process was conducted by three male panellists and it lasted for 25-30 minutes and being a fresher, my interview was focused on my resume, some questions on current affairs and two questions on my graduation course, i.e. Mechanical Engineering. The flow of my interview was based on the answer to the first question, which was to speak about myself. I was then asked the standard question – Why MBA after engineering? I spoke about my domain of interest in MBA and career goals.
They asked me about my interest and I mentioned about football. Then I was asked to analyse the future of football as a Business sector in India and last season's performance analysis of my favourite team. My resume consisted of quizzing achievements, so there were few questions from current affairs like my summary on the implications of the latest budget by the Indian Government. I then had a conversation on Roger Federer's comeback with one of the panellist who happened to be a Federer fan!
Besides this, I had two questions from Mechanical Engineering, one about the components and functioning of IC engines and my explanation in layman's language. In the next question, I was asked about machining concepts which I could not answer. I was asked to justify that how am I curious, one of my characteristics which I mentioned while discussion. Finally, the interview was adjourned after they asked me if I had any question for them.
Careers360: Which other B-Schools' selection procedure did you appear for? How was your experience in other institutes vis a vis in your institute?
Arko: Apart from CAP, I appeared for final process for Symbiosis Institute of Business Management (SIBM), Institute of Management Technology (IMT), National Institute of Industrial Engineering (NITIE) and Institute of Rural Management Anand  (IRMA).
SIBM process consisted of three rounds- picture description, group discussion and PI. IMT process had a group task, in which we had to present on the topic - 'Social media as channel of promotion has evolved with time' using basic stationary items. The group task lasted for 30 minutes and the whole time we were monitored by the panellists on our performance as a group and its various dynamics. The process at NITIE consisted of GD and PI. The GD topic on 'Sustainable energy'. I personally found the process of IRMA to be the most interesting as it had a case analysis as a group and then we were finally to discuss and come to conclusion for which we had 30 minutes followed by PI. 
Careers360: What was your WAT topic and how did you structure it? Did you find it easy or you had a difficult time writing it?
Arko: I was given the topic "Changing role of women actors in Bollywood" in 300 words with a time of 15 minutes given to complete it. I had some idea about the topic beforehand, so I found it on the easier side. I structured my article into three main parts with introduction, main body and conclusion. My write up focused on women empowerment, I gave examples of movies like Queen, English Vinglish, Dangal and wrote how Indian movies are portraying female characters as protagonist to build inspiring stories. I wrote about the social aspects and positive impact that Bollywood has had in the promotion of women equality and strong independent character in our society.
Careers360: Did you get external help or join a coaching school to prepare for PI and WAT? When did you start your preparations for it?
Arko: For WAT and PI rounds, we were guided well by our faculty at TIME coaching classes. They provided us a structure and we prepared on the trending current affairs topics and topics consisting of social issues. A tentative list of articles was made, and we practised on at least 15-20 articles/week strictly following time limits. Apart from these we regularly read newspapers and the Monthly Magazines by T.I.M.E. I started my preparations for the WAT-PI from the starting of January. I also regularly followed blogs to read about student experiences and guidance.
Careers360: Do you think that WAT requires some separate preparation apart from what you mentioned?
Arko: This is a question which can have various answers. My schooling background provided me a strong foothold on topics, which is why I didn't have to focus much on learning to structure and the grammatical part. My mainly prepared the current trending topics and learnt how to write and speak on abstract topics.
Careers360: Please share the WAT topics which you were asked during the admission rounds last year?
Arko: My topics were:
Changing role of women actors in Bollywood

Threat of Air pollution to India and how an individual was contributing to it. I was asked to write the negative aspect of the topic

Smart city Project in India, is it achievable or is it over ambitious?
Careers360: Are there ways to handle a situation when one has no answer to a question during PI?
Arko: If I was in such a situation, I would write about the general idea and then draw a conclusion from examples or incidents in it. The approach and structure will be completely logical, and that very logic with certain comparisons from Literature and Philosophy will guide my write up. Being an avid reader, I would prefer this approach in a tongue-tied situation. 
Careers360: How must one approach a WAT topic? Could you share some Dos and Don'ts for the same?
Arko: Assuming that one knows something about the topic to begin one can approach in the following way:
Think of an appropriate introduction, body and conclusion before you start writing

Take a neutral side and put forward a clear line of thought in a structured manner

Avoid being verbose and concentrate more on the correct usage of grammar

Most importantly concentrate on the content of the topic and don't deviate from it
Careers360: Is there a particular kind of time management strategy that should be added to the candidate's skillset? Will it help in writing a complete structured WAT?
Arko: Time management is one of the vital elements for the WAT process. I chose a certain  division of time management which was very useful for me. I kept approximately 30 percent time for thinking, 20 percent for introduction, 30 percent for body and the rest 20 percent for conclusion. The vital part for me was thinking and framing of the article. Make sure you have a conclusion and complete your write up as a whole.
Careers360: How did you feel when you faced the interviewers during the PI? Please share a few details like the size of your panel and your overall experience.
Arko: My overall personal interview experience for the CAP was good. I had a mixed reaction. I was not very sure about converting an IIM call as there were several instances of cross questioning where they tried testing my composure. However, it turned out I had tackled it efficiently.
The panel consisted of three male members. I was partially tensed while appearing for the interview since it had been a year long hard work for the opportunity and a single mistake could cost me a lot. I felt at ease with my first question about introduction. The crisp and good introduction helped me sway the interview in a comfortable and favourable direction. The key to the interview is a cool, composed and proper presence of mind.  
Careers360: Which interview turned out to be the best one? Enlighten us about the finest one according to you.
Arko: Among all the interviews, I had the best experience at the Interview in IMT which had two panellists. Upon entering, even before a handshake, I was fired a question.
P1- Do you know the name of the person whom we just interviewed?
ME: Yes sir,'Arkojeet'.
P1- Why should we even interview you? He already has a Jeet after Arko.
ME: What's in a name, sir? It is all about the person.
P2- You say name does not matter?
ME: Not exactly, it matters in some respects. Like for the celebrity star with huge stage names, it does matter to some extent. I then gave examples of stars and brands.
P1: Say, your name is changed to Dinanath Biswas, you become the CEO of a company.  How would you feel about it?
Me: After few days a child is born, his parents name him Dinanath. I will know his parents aspire him to be a successful business man like me, hence the name. I will give a new name to the market and hence a new brand will be created.
P1: Very Well!
Careers360: That was a brilliant reply! What about the questions which you found difficult to answer? How did you reply to those?
Arko: I was not very comfortable with the questions where they gave me situations from Mechanical Engineering and I was asked to describe and take a decision based on it. I gave an unsatisfactory and generic answer and then passed the cross question.
Careers360: So in those situations, was the panel easy or harsh on you? What should one do when s/he has no answer?
Arko: If the question is quantitative and you don't know the answer, just politely say that you don't know as you are just a human and not expected to know everything. For a qualitative question, it is a test of your presence of mind, approach the answer logically and make your thought process visible to the panellists. The way you work things out in a situation which you don't know about or have limited knowledge of, is the best and most efficient way to make your mark. The panellists were not rude, but they do try to test your limits with cross questions as the competition is high and they need differentiation from other candidates. 
Careers360: Perfect. So what were the most fascinating questions you were asked? Please share your answers too.
Arko: During my interview process, I was asked to prove how I was curious after I claimed to be. There was a Reynolds 045 pen on the table, I picked that up and showed that there is a small hole on the cap by design. I asked them if they knew what that was for. I then explained how it is designed to prevent children or just anyone from choking in case they have swallowed it and how I got to know this because of my curiosity. That little fact was interesting for them and they were impressed.
Careers360: How different is an IIM interview from a non-IIM yet top B-School interview? Are there major differences?
Arko: In an IIM interview, there are more number of cross questions. I observed that non-IIMs focused more on qualitative aspects than on the quantitative aspects. For IIMs, the focus was more on personality and attitude.
Careers360: How did you go about the preparations for PI? Did you search or look up some questions or practice mock P Is?
Arko: Yes, I watched videos of mock PIs and PI experiences on the internet and learned about the type of questions which are a must for interviews from online blogs. Apart from these there was guidance and mock PIs by faculty at coaching classes. I also kept myself updated with current affairs and formed a logical opinion about them.
Careers360: Point noted! And finally what are the aspects or qualities that the interview board looks for in a candidate?
Arko: The main thing they look for is the right attitude. MBA does not teach one new skills, it just nurtures and hones those skills to make better leaders of tomorrow. Willingness to learn and smartness is among one of the valued characteristics. 
Also Read
Questions related to CAT
Showing 8569 out of 8569 Questions