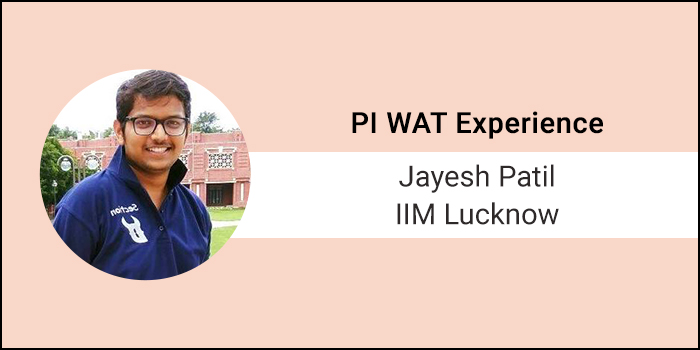 How to Crack PI-WAT: A graduate in Electronics Engineering from University of Mumbai with 16 months work experience and also an entrepreneur with his own start up, Jayesh Patil of IIM Lucknow faced most of the interview questions related to work and business. In this interview with Careers360, Jayesh talks about his preparation methods and strategy on how to ace the PI-WAT rounds and how giving mock interviews helps to know how you deliver what you think.
MBA/PGDM Admissions Open 2019
IFIM Business School
Being shortlisted by IIM Bangalore, Calcutta, Indore, Kozhikode, FMS Delhi and NITIE Mumbai, Jayesh underwent various experience during the PI-WAT rounds of these top B-schools. Apart from IIM Lucknow, he also converted calls from IIM Kozhikode and few others. Read on to know his PI-WAT experience and IIM Lucknow and other top B-schools in India.
CAT Pathfinder
Know your call chances for Admissions
Use Now
How to Crack PI-WAT
Excerpts from the interview.
Careers360: How does one get through IIM Lucknow? Tell us about the selection procedure.
Jayesh: The selection process at IIM Lucknow has two stages. Interview calls are given out on the basis of CAT percentile, HSC-Graduation Percentage, work experience, gender and academic diversity. Final calls are given on the basis of above factors along with Interview and WAT.
Interview and WAT carry 50 percent weightage for final selection.
Careers360: Please share your experience of the interview. A detailed account of your experience would be of great help for aspiring candidates. 
Jayesh: There was no fixed pattern of questions being asked to students and it differed from panel to panel. After initial document verification we were directed to respective interview panels. A brief
account of the interview is as follows:
The panel consisted of a male and female professor. The male professor was busy reading the newspaper and did all the talking. The female professor just observed and asked one question in the end.
After initial greetings he asked me to show my file of certificates and asked me to introduce myself. Every line I uttered was met by a follow up question – right from how to get admission at my grad college to what are the different types of human personalities. Whenever I couldn't answer, the professor calmly explained the same.
When he reached the sports page of the newspaper, he asked me if I watched cricket and which team would I support India or Pakistan. He asked why India? After I answered, he asked me to continue with my introduction.
When I mentioned I worked on my own start-up he stopped me and passed on a sheet which had four beer glasses drawn with liquid at different levels in it. I was asked if I drink alcohol, and if I visited a gift shop to buy gifts before handing the paper. He asked me to give a catchy tag line to the given picture considering I'd place it in a gift shop. After I answered this, I was again asked to continue with my introduction.
Questions on favourite book, its author, last line of that book's protagonist (apparently he had read the book) followed. After this the female professor asked me to give my views on the growing importance of internet in our lives and its effect on our relationships. This was the last question.
Careers360: Which other B-Schools' selection procedure did you appear for? How was your experience in other institutes vis a vis in your institute?
Jayesh: I attended interviews for IIM Bangalore, Calcutta, Kozhikode, Indore, FMS and NITIE. Each institute had its own set of parameters to judge on.
IIM Indore and NITIE interviews revolved around academics and GK. FMS and IIM Calcutta interviews were based on current affairs and is more of a conversation than an interview. IIM Bangalore's interview was very structured and questions were asked about my background, the usual – why MBA, where would I want to work and my SOP. IIM Kozhikode interview was stressful with objections raised over each answer I gave.
IIM Lucknow interview was different from all others as it was a very friendly conversation with the panellists and they caught me off-guard multiple times by asking random questions. That took the current conversation from one topic to another.
Careers360: What was your WAT topic and how did you structure it? Was it easy for you or did you have a hard time writing it?
Jayesh: "Space research projects are a waste of money" was my WAT topic. The topic was fairly easy and I gave a balanced view of both for and against arguments. I could cite examples from recent news of ISRO's Mars mission and multiple satellites sent to orbit in a single launch. In conclusion, I supported the money spent on space projects in order to find alternative resources as those on earth are being consumed exponentially.
Careers360: When did you start your preparations for PI-WAT rounds? What kind of preparation did you begin for WAT?
Jayesh: I read a lot of current affairs for WAT preparation. All the WAT topics I practised were related to the recent happenings or news around the world. This also helps in citing examples for random abstract topics. I made a conscious effort on current affairs from October 2016 and started a dedicated preparation for PI-WAT rounds after CAT results.
Careers360: Tell us more about your preparation strategy for WAT. Is there a separate strategy that should be adopted?
Jayesh: No separate strategy is required as such. Following up on current affairs, practising few abstract topics and structured writing on a given topic within 15-20 minutes helps a lot.
Careers360: What were the WAT topics which you were asked during the admission rounds last year? Can you name some?
Jayesh: Sure. At IIM Calcutta I was given to write on "Farmer suicides are on a rise. What measures do you suggest to improve this situation?" The time given was 30 minutes.
IIM Indore put forward "Ads don't just sell products but also notions of success. To what extent do you agree?" I was expected to write with reasons for the same. My topic at IIM Kozhikode was, "Is it right to allot investor money and profits to CSR activities?'.
At IIM Bangalore, I was given 10 minutes to think and 20 minutes to write on the topic "Government of India has announced monetary benefits for improving sanitation in rural areas. Will this be useful and what other measures do you suggest for the same".
Careers360: How did you structure your topic during WAT? What if one is clueless about the topic?
Jayesh: There is no right or wrong answer to a WAT topic. It tests ability to give a structure to thoughts on any topic. If you do not have any knowledge about the topic, try to find some meaning, cite examples based on the meaning that you understand. Make sure you follow a structure – Intro, Arguments and examples, your take if any, conclusion.
Careers360: Please tell us some best practices which worked well for your approach in WAT.
Jayesh: Usually the WAT topic will have positives and negatives. Use the time given to think by noting these points along with any example or anecdote that you can think of. While writing, give preference to the more pertinent and relevant points as there is a limit on the writing space provided.
Do not waste a lot of time and writing space on Introduction and stating obvious facts. Try to keep the introduction short but interesting. Do practice few topics just to get a hang of how you think and write and whether you are able to complete the WAT in given time.
Knowing many quotes, short poems might help though it is not necessary. Cite as many examples as possible and try to keep the examples as relevant to the topic as possible. Conclude well, give a decisive statement or take a firm stance on the topic. Above all, keep a conscious eye on the clock so that you make sure you end the topic comfortably before time.
Careers360: Is there enough time to think and write a complete structured WAT? Are there some time management skills required?
Jayesh: Usually separate time is given to think and write. Use the time given to think for creating a rough structure and giving them a preference order.
Careers360: Which interview was the best amongst all the ones you appeared in? Tell us a little about the best PI experience.
Jayesh: The one at IIM Kozhikode was the best experience for me. It kicked off with a question about my GD performance. They also asked me to rate the rest of the group members, probably to check how confident I was about my own performance.
Rest of the PI was more of thrashing by the panellists. I was mocked and rebuked about my work ex, hobbies, future plans. At one point, one of the panellist threw my application form on the desk saying I haven't done anything worthwhile in life. However, I made sure I smiled throughout the entire mocking and continued with my story. It was a stressful experience and I was surprised when I converted the call. Smiling definitely helped.
Careers360: Which questions did you find tricky? How did you answer them?
Jayesh: The most difficult questions I faced were about why I choose to do MBA and how it fits in after having my own entrepreneurial venture. I answered that my experience at the start-up has made me realise that I don't have a structured way to go about business. As a result, it becomes very difficult to manage things like pitching projects and converting clients. I'd like to get an academic foundation with MBA, apply those concepts and then get on with my venture again.
A lot of follow questions were asked in multiple interviews about CEOs and start-up founders who do not have an MBA, yet they are doing well. My reply to that was that there is a considerable learning curve that goes into running a successful company and I'd like to reduce this time by getting an MBA.
Careers360: How did you deal with the questions for which you had no answer? Were the panellists discourteous or were they easy on you?
Jayesh: When I faced a tricky one like that, I'd say – I don't know but the topic seems interesting and I'd google it now. Most of the times the panel was easy on me. Some panellists go on to explain the concept or idea. The exact impact of the number of 'No's you say in the interviews is unknown. I say that because I did manage to convert my IIM Kozhikode call after having a really stressful experience.
Careers360: What were the most interesting questions you were asked? Please share your answers as well.
Jayesh: At my IIM Bangalore PI, I was asked to give my idea of my own future start-up and what would make it different. They also gave me a situation and asked me to pitch the idea and convince them to buy it.
Careers360: How is an IIM interview different from a non-IIM yet top B-School interview?
Jayesh: I felt IIM interviews test a candidate as best fit for the B-School, whereas other top B-schools have a more general benchmark to test candidates. NITIE and FMS interviews were academics and general awareness focussed, whereas IIM interviews revolved around my entire academic past, future plans, present plans, etc.
Careers360: How did you set yourself up for PI? What were the questions that you looked up to prepare yourself for the PI?
Jayesh: I gave a lot of mock PIs. Practised answers with a friend multiple times. Prepared answers for general questions like why MBA, strengths-weaknesses, short term-long term plans, why XYZ
college, hobbies, area of interest. I made sure I could speak on each point which was on my CV and Application form for a minute or so. Make sure you know about the place you were born or brought up in or any recent news, trivia related to that place. Giving mock PIs helps as you get to know how you deliver what you think. The feedback from mock PIs helped me prepare my answers better.
Careers360: What factors or qualities do you think that the PI panel looks for in a candidate?
Jayesh: The PI panel basically looks at how you handle random situations, are you calm or under pressure. Defending your opinions is a must, doesn't matter if they are right or wrong. However, making factual errors is not appreciated.
Careers360: Was there any humiliating moment when you were unable to answer a question?  What was your reaction that time?
Jayesh: In my IIM Kozhikode interview I was talking about my favourite book, Wings of Fire, when one of the panellists asked me suddenly if I had wings of fire. In a hurry I answered I have a hard copy at home. Only when the panellists started laughing I realised I had made a blunder. She had asked me about hypothetical wings of fire which they meant as passion. It was a very embarrassing moment and I had to come up with some answer immediately. So, it is very important to take a moment to think about the question and then speak before jumping on to answer.
Also Read