IIFT 2017 Topper Interview: Mock tests encourage you to study hard, says 99.88 percentiler Pranay Suman Das
Pranay Suman Das quit his job to prepare for management entrance exams. He knew that he was left with the sole task of clearing the major B-school exams and he did it quite well. Pranay topped IIFT 2017 with 99.88 percentile and scored remarkably well in other highly competitive management exams too. Out of multiple admission offers, Pranay decided to join IIFT, Delhi because of its international reputation and corporate-accessible location. Describing his preparation journey, he mentioned the importance of mock tests in preparation. He also explained that coaching makes the preparation journey easier but it's not necessary to take coaching for the exams.

LATEST - IIFT 2018 Scorecard Released! Check now.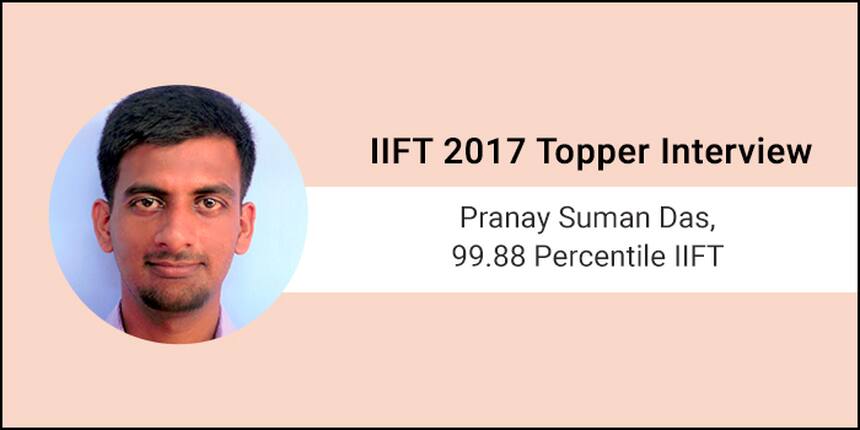 In this interview with Careers360, Pranay reveals that sometimes pre-decided strategies don't work on the exam day. Candidates should be ready to improvise. Read on to know more.
Read the full interview here:
Careers360: Congratulations on your admission to IIFT Delhi. What was your score in IIFT 2017?
Pranay:Thank you. My overall score in IIFT was 62.41 (99.88 percentile) and sectional scores were - Verbal Ability: 22.67, Quantitative Analysis: 16, Logical Reasoning: 20.42 and General Knowledge: 3.32.
Careers360: Did you appear for any other management entrance exam? If yes, please share the score. 
Pranay: Apart from IIFT, I appeared for CAT, SNAP and NMAT. I secured 99.36 percentile in CAT, 99.81 percentile in SNAP and 99 percentile in NMAT.
Careers360: Did you have admission offers from other B-schools? Why did you choose IIFT over other B-schools?
Pranay: Apart from IIFT, MDI, SJMSOM, NMIMS, SIBM Pune, XIMB, new IIMs and some other colleges offered me admission. Choosing the right college is a tough decision considering other colleges have great reputation and specialties. However, IIFT as a brand offers a mix of niche course (International Business, Trade) and mainstreamed ones like Finance and Marketing. Also, the location of the college makes it very accessible to corporates. Under the aegis of Ministry of Commerce, it has grown up to be a college of international reputation. Hence, I joined IIFT.
Careers360: Please share your preparation journey. How did you strike a balance between your academic/professional life and preparation for an entrance exam?
Pranay: I had quit my job for the preparation of entrance exams. I believe, to excel in any kind of exam, one needs to obliterate any backup options. When you believe that cracking this exam is the sole option left to you, you can do wonders.
I used to divide my day into 3 parts. One part for practicing new problems, second for revision of my earlier mistakes and the last one for trying out things that need regular practice (Like vocab or RC or Permutation and combination).
Careers360: What was your section-wise strategy for the exam? Did you follow any specific preparation strategy for IIFT?
Pranay: IIFT is an exam which falls mid-way on a toughness scale. What one needs to do for IIFT is work on one's strength. I used to begin with GK (5 minutes), English (25 minutes), Quant (45 minutes) and LR (45 minutes). However, this plan fell apart in the final exam and I had to improvise. Rather than taking the exam as a challenge to your intelligence, one should try to maximize the score by doing things he/she has been doing well regularly.
Careers360: Mention section-wise books and study materials you referred during your preparation.
Pranay: I followed the study material provided by my coaching centre only. For Reading Comprehension, rcprep.com is a very good source.
Careers360: Were you a part of any coaching institute? Do you think coaching is necessary for aspirants to bag the top rank?
Pranay: Yes, I was a part of IMS, Bhubaneswar. Also, I subscribed the examination module from Career Launcher. Although I don't believe coaching is necessary for entrances exams, it definitely makes the journey easier. In a world where most of your competitors go to coaching, to level the playing field, you might need the help they offer.
Careers360: What is the significance of mock tests in your success? When did you start taking mocks and what was the frequency?
Pranay: I used to take 3 mocks per week for the last 4 months of the preparation. It allows you to know about your level of preparation. The way I used to see it, if you are scoring less, a mock exam will encourage you to study hard. If you are scoring high, the motivation is to retain the percentage. So, it's a win-win either way.
Careers360: What was your section-wise time management strategy on the exam day?
Pranay: I made a section-wise time management strategybut I couldn't execute it properly on the exam day. So, I improvised. Some parts of the exam took more time than expected and some parts took much lesser time than I thought. So, one should try to complete questions as soon as possible rather than worrying about pre-decided section timing.
Careers360: Apart from the assignments and class projects, what other non-academic activities you are involved in? Share your experiences.
Pranay: I write short stories and they have been published in national level magazines. Also, I love to read books and listen to podcasts. These have helped me in building up a vocabulary and understanding tough RC passages.
Careers360: How has your journey been at IIFT so far?
Pranay: It has been surreal. After joining at such a reputed institution, it has been a chain of unexpected events from day 1. Sometimes, the real world is scary. You tend to believe you can't handle MBA, then you realize that's why you have joined MBA. Get the taste of the real world and carry on.
Careers360: Any suggestion that you would like to share with aspirants?
Pranay: Since the exams are around the corner, don't try to work on your weaknesses now. Solidify your strengths. Go with an open mind to the examination and try to adapt. That's what they try to check in an aptitude exam. However, just remember that no matter what position you are in, it's just an exam. So, be confident and do your best on the IIFT 2018 day!
Questions related to IIFT
Showing 198 out of 198 Questions