CAT 2016 Topper Interview: Effective time management is key to success, says Sandeep Patra, 99.6 percentiler
Sandeep Patra, and engineer and a Coal India Limited employee, states that with focussed strategy and an effective time management one can easily crack CAT. In his interview with Careers360, Sandeep says that CAT is all about analysing an aptitude of a candidate and is structured in a similar way.
Recent Posts: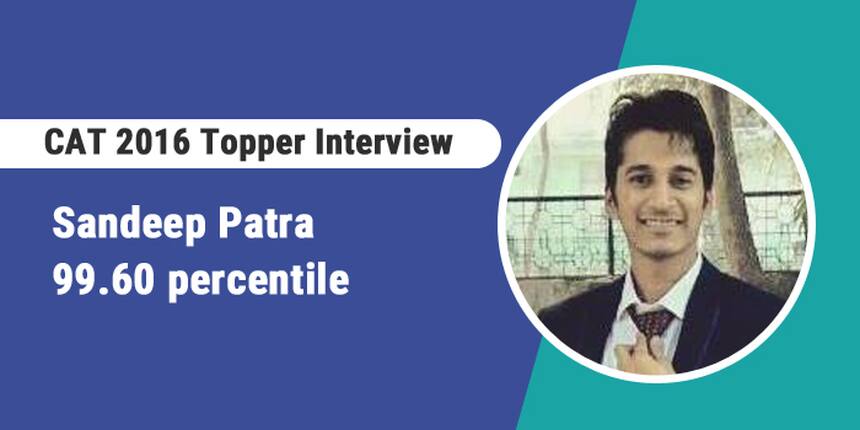 Aiming to make his way to IIM-Ahmedabad, Bangalore or Calcutta, Sandeep shares his preparation strategy especially for his weak areas. He further mentions that all future aspirants must focus on time management skills to be able to complete the test on time and save some crucial minutes for revision.
Interview Excerpts
Careers360: Congratulations Sandeep! How are the celebrations going?
Sandeep: I might celebrate with my office colleagues. I was kind of expecting this percentile probably because I used to secure a similar percentile in my mocks.
Careers360:  What is your section wise percentile? 
 Sandeep: In Verbal Ability section, I scored95.8, Logical Reasoning and Data Interpretation I got 98.9. And in Quantitative Ability, it was 99.7, making my overall percentile- 99.60.
Careers360:  How was your exam? Which were the toughest and weakest sections according to you?
Sandeep: The exam was average. Though I could attempt fewer questions than I had planned for the D-day. However, since I could gauge the difficulty level of the test, I knew I had to take care of accuracy aspect. Quants & LR-DI were always my forte but it seems I still needed to work a lot on my verbal ability.
Careers360: How did you prepare for CAT? How much time did you give for your preparation?
Sandeep: Since my job at Coal India Limited is very hectic & am located in a very remote area where there is no access to classroom coaching, I made optimum use of various social media platforms. I used to dedicate three to fours everyday for CAT preparation. This was my routine for almost five months prior to the CAT exam.
Careers360: Which is your preferred IIM? Which specialisation are you interested in?
Sandeep: I would like to get selected in either IIM Ahmedabad, Bangalore or Calcutta – the top three. I am specifically interested in finance owing to my knack for mathematics.
Careers360: Have you started preparing for the next rounds?
Sandeep: I have received a call from IIM Bangalore already and I haven't even started with the selection rounds preparations yet. Presently, I am keeping myself updated with the latest happening and current affairs by reading newspapers and writing and following Quora.
Careers360: Any tips for the futre CAT takers?
Sandeep: The future aspirants need to prioritise things and they should learn to manage their time during the test. It is important to identify the weak areas and work on them at the earliest and take a lot of mock tests and also analyse them.
Also Read
CAT 2016: Know the Topper Profiles of 99-100 percentilers
CAT 2016 Result - 20 candidates secure 100 percentile, says Convenor Prof. Bandi
CAT 2016 Results: 56000 candidates score less than zero in DI-LR section, 37000 get negative score in VA section
Questions related to CAT
Showing 9087 out of 9087 Questions