'Crack CAT 2015 by Keeping Buffer Time', says CAT Topper Rubal Bagde of IIM Trichy


Keeping Buffer Time keeps you ahead of your deadline. It lets you have a good amount of time to revise the test and correct mistakes if any. This strategy of keeping buffer time also helps in cracking top management entrance exams like CAT.
Stay up-to date with CAT News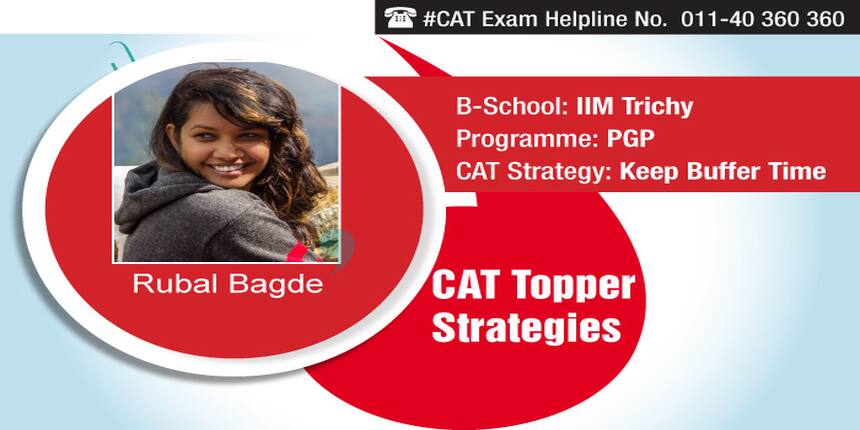 Rubal Bagde, a Computer Science engineer from Nagpur secured a high percentile in CAT 2014 and secured admission in IIM Trichy. In the series of 'CAT Topper Strategies' by Careers360, where toppers share strategies they followed to crack CAT 2015, Rubal shares her success mantra of becoming a topper.
Rubal's strategy was to devote equal time to both sections keeping a minimum of 10 minutes of buffer time. According to her, keeping buffer time is the best time management approach for CAT. While preparing for CAT 2014, she devoted 2 to 3 hours every day after office for her preparations. During mock tests, she practiced by allocating equal time to both sections, keeping buffer time. This extra or back up time was kept for half solved questions, or to review the test. This strategy prepared Rubal for the D-day.
Read this interview to know Rubal's strategy which she followed during her preparations till CAT day.
Careers360: What were your initial thoughts behind pursuing MBA?
Rubal: Being from IT field, MBA was in my mind once I started working with a start-up. The working approach of a start-up and the importance of managerial skills made me pursue MBA.
Careers360: How was the overall experience of appearing in CAT 2014? What was your preparation strategy for CAT 2014 as the pattern was changed?
Rubal: Pattern change was significant in CAT 2014. Increase in questions and timings along with the liberty to switch between sections were major changes which were introduced in the test. This was a test to check time management skills of the candidates. My strategy was to devote equal time to both sections, keeping 10 minutes of buffer time.
Careers360: Please share your preparation strategy for the Quantitative Ability & Data Interpretation and Verbal Ability & Logical Reasoning separately?
Rubal: My strategy for Quantitative Ability and Data interpretation was simple. Work the most on your strong topics and know the approaches for the weak topics. I focused on the topics of speed time distance, time and work, number systems and probability. Data interpretation was more about practice and understanding the questions. For Verbal Ability, I read articles and solved exercises. Logical Reasoning was again worked upon through practice. The most important thing was to devote apt time for each question. Learning to implement let go strategy was important.
Careers360: What was your Time Management formula for the CAT?
Rubal: Being a working professional, time management was a tedious task for me. I had to plan every hour after my work. I gave 2-3 hours every day after office for my preparations. Weekends were the most hectic in terms of studying. All mocks, analysis and research were done on weekends. During mocks I practiced for proper time allotment to both sections with the buffer time. Buffer time was kept for half solved questions, or to review the test. This prepared me for the D-day.
Careers360: What were your strong and weak areas? How did you tackle your weak area in the exam?
Rubal: My strong area was Logical Reasoning and weak areas were Quants and English. To tackle them, I practiced various questions on Quants, and for English, I stuck to more reading and solving exercises. Because only when you practice and solve questions it helps you understand where you are going wrong and how to improvise upon the same.
Careers360: After the exam, how did you prepare for the PI-WAT rounds?
Rubal: Preparing for PI-WAT rounds, I firstly reviewed different PI questions and WAT topics from past PI-WAT rounds. This gave me an idea about what the topics could be. Reading newspaper daily to keep up with the current topics is also necessary. Reading articles from newspapers, magazines etc. and doing a proper introspection about my educational and professional life was on top of the list.
Careers360: How did you prepare for your PI? What are the key factors that influence your selection at PI stage?
Rubal: PI is Personal Interview hence I prepared from the scratch. I started with meaning of my name, history of my home town, current news about the city, college history, company information, technical skills and their usage etc. In all, a thorough research on who you are, from where and how, each answer has to be structured. I was always helped by my mentors through the preparation phase.
Key factors which influenced my selection process were Confidence, Honesty and Preparation.
Careers360: What was your WAT topic and how did you structure your write up?
Rubal: My WAT topic was 'Can India become a super power by 2020'.
After getting the topic, I devoted a minute to take a stand which I could back up with numbers and facts. The topic can cover various aspects related to India and with given time limits I prioritized the points which were significant and relevant to the topic. I incorporated the points which would hamper the growth of India towards becoming the super power.
Careers360: Your message to this year CAT aspirants?
Rubal: Focus on basics and the various approaches to solve a question. Also, proper analysis of mocks should be done before final CAT 2015 exam day. Decide on your strategy while analysing the mocks. Time management has to be a priority. Rest, if you prepare well, then belling the CAT is not a difficult thing.
Also Read:
How to utilize calculator in CAT 2015
CAT 2015 pattern change: Why and how you need to tweak preparation strategy

Other Feature Stories on B-School and MBA:
B-School Placement Reports - 2014
Stay tuned to www.bschool.careers360.com for more news and updates
Questions related to CAT
Showing 9992 out of 9992 Questions