Attempt as many questions as possible by taking calculated risks: Nihit Agrawal, CAT 2015 99.1 percentiler


Nihit Agrawal, who secured 99.1 percentile in CAT 2015, believes that having clarity on the concepts and attempting the right questions are key factors crack CAT Exam with a high percentile. In this interview, he shares how he balanced preparation with his job and tackled difficult sections.
Recent Posts: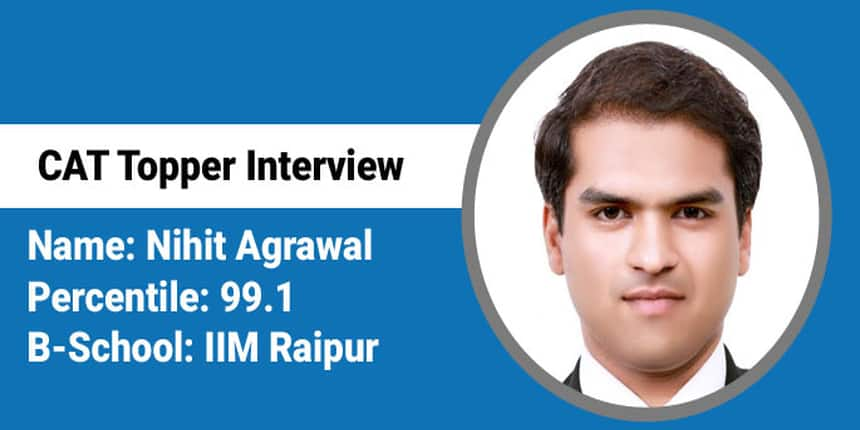 According to Nihit, a Computer Science graduate from VNIT Nagpur and IIM Raipur student, the best part of the test was sectional time limit, owing to which one can put complete focus on a particular section. Sharing his tips on exam day strategy, Nihit suggests CAT aspirants to choose the questions wisely and not spend more than few minutes for a question. However, to get a high score, attempt as many questions as possible by taking calculated risks.
Read the full interview below.
Careers360: Why did you decide to pursue MBA from IIM?
Nihit: I had taken CAT in 2012 a secured a better percentile but had no intention to pursue MBA at that time. I worked for around 3 years and was exposed to a variety of opportunities and different roles. I was very satisfied with my job but I felt that ultimately you have to be in a managerial position and having relevant professional knowledge and credentials will help in later stages. An IIM brand name should help me in achieving the purpose.
Careers360: When and how did you start preparing for CAT?

Nihit: I was working at client-side during the period and was on a critical project with tight deadlines, which gave me very little time to prepare. However, I ensured to attempt online mock tests whenever time permitted. I always looked at solutions later to rectify my mistakes and identify the mathematical techniques which I had forgotten. I believe in getting the basics right, which was taught in 10th and 11th standard.
Careers360: Please share your sectional preparation strategy?

Nihit: Since time was fixed for all sections, section wise strategy was easier to formulate. For VA, my plan was to attempt all the questions as it is relatively easy to manage time. For LRDI, I invested around five minutes to decide which six of the eight passages are the best choices by scanning the data a high level. I attempted the six passages and did not bother to touch the remaining two. For QA, I answered the questions in reverse order and didn't spend more than three minutes on a question no matter how lucrative it was.
Careers360: What was your Time Management formula for the CAT?

Nihit: Time management is the most crucial part of CAT as answering 100 questions in 170 minutes is extremely difficult. My formula was to not spend much time on a single question. There are questions which can be solved in seconds and there are some which might take even 10 minutes to solve. It's always a best practice to let a question go if it has already consumed four to five minutes rather than wasting more in a hope to get a solution.
Careers360: What were your strong and weak areas? How did you tackle your weak area in the test?

Nihit: My strong areas were Quant, especially P&C and probability, and Logical Reasoning whereas I struggled with comprehension and Data Interpretation due to impatience of too much data. My strategy in test was to get the idea of the passage without reading word-by-word and trying to identify the theme. I answered the questions based on my understanding and some logical intuition.
Careers360: How was your experience of CAT, since the pattern changed, calculator was introduced?
Nihit: I had morning slot for CAT and there were a few technical glitches due to net connectivity. However, there was no major impact on time and the test was concluded successfully. The new pattern was helpful as it was easier to manage all sections within fixed time. Introduction of calculator was very crucial for DI section as most questions are calculation-intensive. Since, it was a virtual calculator and takes some time to input data, using it for minor operations was not feasible.
Careers360: After the exam, how did you prepare for the PI-WAT rounds?

Nihit: After the calls, I focused on preparing my resume to identify my core strengths in order to drive the PI process according to my comfort zone. Since I was working and had limited time, I used to read blogs and articles to get updated with current affairs and interesting writings. I had close friends who had similar scores and calls, and we discussed a lot of the admission process. The best preparation done by us was shifting the conversation topics to slightly meaningful and relevant ideas rather than usual chitchat.
Careers360: What are the key factors, you think, that influenced your selection at the PI stage?

Nihit: The key factor which worked for me was knowing myself completely. I was well prepared with my personality, education, work-ex, interests. The interviewers are more interested in knowing about the candidate rather than their general knowledge. The ability to communicate and honest answers strengthen the candidature.
Careers360: What was your WAT topic and how did you structured your write up?

Nihit: My WAT topic was - 'Disaster Management in highly populated urban areas'.  I divided the essay into four parts. The opening constituted a brief summary of the topic followed by how high population can create problems. Majority of the essay was focused on how high population can be a positive attribute as well when dealing with evacuation and rehabilitation. Attention was provided in keeping the content crisp, legible and well known examples.
Careers360: What is your message for this year's CAT aspirants?

Nihit: Strengthen your basic fundamentals and practice regularly. Getting 5 more questions correct than the average will make all the difference. Attempt as many questions as possible by taking calculated risks. Simply scoring a high percentile in CAT is not enough to into a good B-School as various other factors are considered. Taking advice of seniors and experts is a must during the application stage as there are various exams and institutes.
Also Read:
What if I don't take coaching? Can I still crack CAT?
CAT 2016: When and how to start preparations
Know CAT evolution over the years
Stay tuned to www.bschool.careers360.com for more news and updates on CAT 2016
Questions related to CAT
Showing 9108 out of 9108 Questions