CAT 2020 Topper Shivam Kumar 99.95 percentiler says, "build your skills, knowledge and temperament"
CAT 2020 Topper Interview - Shivam Kumar, 99.95 percentiler: Overwhelmed on scoring 99.95 percentile in the Common Admission Test, CAT 2020 topper Shivam Kumar, a chemical engineer from BITS Pilani is elated at cracking the exam. Identifying the mistakes after taking the mocks, discussing it with friends and mentors, CAT 2020 topper Shivam Kumar used to rectify the wrong doings at the earliest during the course of the preparation. In an era where there is cut throat competition, CAT 2020 topper Shivam Kumar kept himself motivated with the help of the support that he got from his family, mentors and revitalized himself with his closed ones also. Being confined to one's room while preparing for the CAT exam due to COVID 19, the young engineer entertained himself by watching netflix. Read the full interview of CAT 2020 Topper Shivam Kumar, as he shares insights about the exam.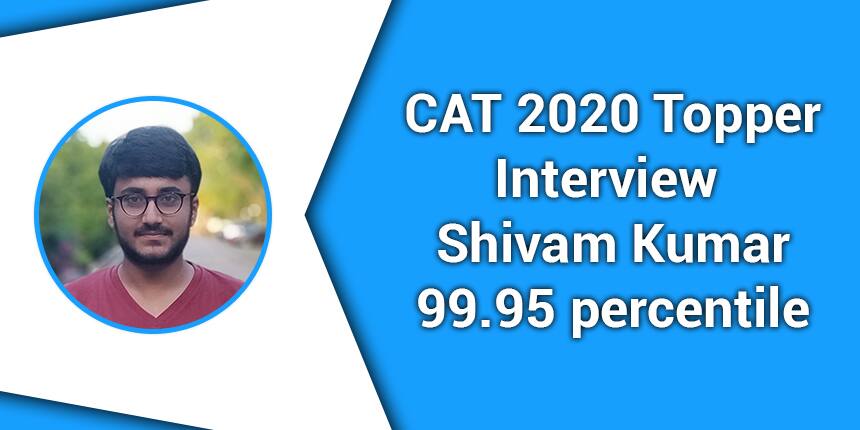 Latest: Check IIM Admission Criteria 2021-2023 Here. Also Check CAT Cutoff 2021- 23
Careers360 - Congratulations on securing over 99 plus percentile in CAT 2020! What was your reaction? Were you expecting this?
Shivam Kumar - I was overwhelmed by the result. I was expecting 99.8 to be honest. 99.95 came as a pleasant surprise to me.
Careers360 - What are your overall and sectional percentile and scaled scores?
Shivam Kumar - OA: 140.09 (99.95)
VARC: 52.56 (99.91)
DILR: 26.61 (96.2)
QA: 60.91 (99.93)
Careers360 - Tell us something about your background.
Answer - I come from Muzaffarpur, Bihar. I completed my undergraduate degree in Chemical Engineering from BITS PILANI.
Careers360 - How was your exam day experience?
Shivam Kumar - It was a roller coaster ride. My paper was in slot 3 and I could not resist myself taking inputs from the people who had appeared in earlier slots. During the paper, I blanked out after DILR. I could solve only 2 sets. But then I gathered myself as I knew QA was my strong point which had the potential to compensate for DILR. After the exam got over, I was not satisfied with the performance especially in DILR.
Careers360 - What was your preparation strategy for CAT?
Shivam Kumar - I took 35-40 mocks, analysed it properly. Mock and its analysis is 80% preparation. I also took sectional mocks of the past years. For a few topics in which I was not comfortable, I solved topic wise questions as well.
Careers360 - What according to you were the toughest and easiest sections?
Shivam Kumar - Quant was the easiest (probably because of my engineering background) and DILR was the toughest.
Careers360 - How did you tackle your strong and weak areas?
Shivam Kumar - Since Quant was my strong suite, my focus was on improving the timing and efficiency while solving questions. After mocks, I used to discuss the questions and their solutions with friends. Those discussions led to new insights which helped me a lot. For DILR, I religiously solved all the sets which were there in the mocks. I maintained a list which detailed my analysis of all types of sets. It helped me in categorising the sets into easy, medium, tough buckets.
Careers360 - What was your time management strategy with respect to preparation as well as exam day?
Shivam Kumar - Proper time management helps in maximizing the output as one has limited time. I focused more on VARC and DILR as I was struggling with those during the preparation period. I used to reassess where I was lacking the most in terms of achieving my highest potential. Though result says otherwise, I allocated my time in the ratio of 1:2:1 in VARC, DILR and QA (if I have to quantify it). On D-Day, you don't have much options. You have a timer ticking in which you need to hit the ball and maximize your score. But you need to play the ball to its merit. You need to respect the tough question keeping your ego aside. I made sure I solved all the easy questions first before moving to the tough ones. And 60-70% of the paper is easy to moderate. You need to do those first.
Careers360 - What was your take on the changed CAT 2020 exam pattern?
Shivam Kumar - One needs to understand that in exams like CAT, relative performance counts. So if there is any change, it is for everyone. You need to be prepared for anything and everything that comes your way. Yes, it was surprising but I reframed my mind accordingly
Careers360 - How helpful was your coaching institute for you? Is it possible to succeed through self-study?
Shivam Kumar - The mocks were quite helpful, it prepared me well for the exam. most importantly, it prepared me for the uncertainties. Self study is the key, if one is self motivated and follows a disciplined schedule, then he/she can ace the exam with self study.
Careers360 - What are the factors behind your success?
Shivam Kumar - If I have to list it down: (a) Self motivation (b) Composure (c) Family support (d) Friends-cum-mentors: They were the backbone during the entire prep period (e) Revitalizing myself with my closed ones periodically.
Careers360 - Have you started preparing for GD/PI/WAT?
Shivam Kumar - Yes, as soon as the response key was released, I started preparing for the next rounds
Careers360 - Which other MBA entrance exam have you appeared/appearing for?
Shivam Kumar - I will be appearing for XAT 2021
Careers360 - What is your dream B-School? After that, what career do you want to pursue?
Shivam Kumar - Mt dream B-school is IIM Ahmedabad. I want to pursue a career in Operations post-MBA. The chaotic nature of this field excites me towards it.
Careers360 - What are your hobbies?
Shivam Kumar - Watching/Playing Cricket. I like to play Chess as well. I love travelling.
Careers360 - What were your relaxation and recreation methods you followed amidst preparation?
Shivam Kumar - Unfortunately Covid kept all of us in our rooms. So I needed to find something online to relax myself during this phase. Online Chess and Netflix came to my rescue.
Careers360 -Do you have any idol who you follow?
Shivam Kumar - Honestly speaking, I have never thought about it. However, I have grown up admiring Rahul Dravid. One can learn a lot of positive qualities from him.
Careers360 - What is your message for next year's CAT takers?
Shivam Kumar - CAT exam = Skill/Knowledge + Exam Temperament.
CAT not only tests your knowledge and your preparation, it also evaluates your composure to handle pressure situations. So while preparing and taking mocks , try to simulate the exam condition as close as possible. It will help you build your exam stamina. And during this phase, believe in yourself and enjoy the journey.
Questions related to CAT
Showing 9483 out of 9483 Questions