CAT 2020 Topper Ravi Prinshu says, "Be consistent and focussed in your preparation"
CAT 2020 Topper Interview Ravi Prinshu, 99.78 Percentile - CAT 2020 result is out. This year the unique part of the CAT 2020 exam was that it was conducted amidst COVID 19 pandemic. The students had to face double stress, one was a change in CAT exam pattern and the other was the guidelines that had to be followed due to novel coronavirus. However, CAT 2020 topper Ravi Prinshu who scored 99.78 percentile kept his calm and focused on the goal and did not let the adverse situation deter him from achieving his target. Coming from an engineering background, his aim was to leave the information and technology field and switch his career towards management. An ardent reader, and a fan of Japanese animation, CAT 2020 topper Ravi Prinshu used to beat the stress by watching football and cricket matches. CAT exam was conducted on November 29 in three slots. Read the full interview of CAT 2020 topper Ravi Prinshu as he provides valuable insights with regard to preparation for the exam.
Latest CAT Update - CAT 2020 result out on January 2. Also check CAT cutoff 2020.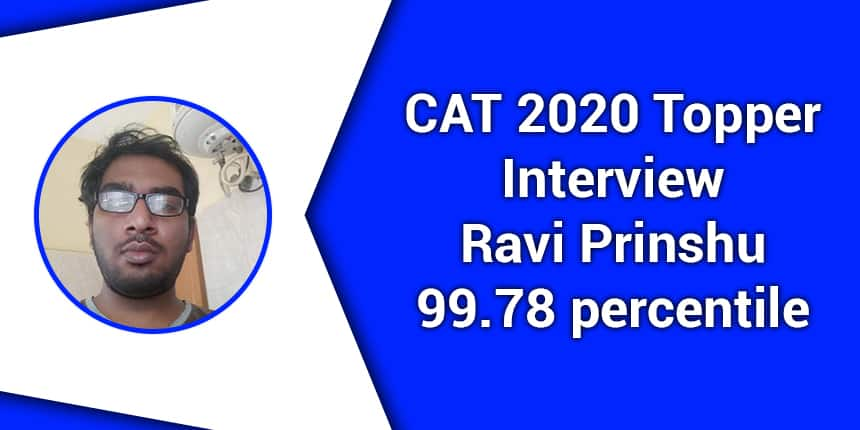 Careers360: Congratulations on securing over 100 percentile in CAT 2020 ! What was your reaction? Were you expecting this?
Ravi Prinshu: I scored 99.78 percentile. After giving the CAT 2020 exam, I was not expecting anything since there was a chance in the CAT exam pattern. However, I was confident that I had done well and was hoping to score 99 plus percentile.
Careers360: What are your overall and sectional percentile and scaled scores?
Ravi Prinshu: My Overall percentile is 99.78 and in VARC i got 99.59, in DILR I got 99.73 and in QA I got 97.22
Careers360: Tell us something about your background.
Ravi Prinshu: I am an electronics engineer by profession and completed by B.Tech in 2017. Since 2017 I have been working and ten days before the CAT exam, I left my job since I did want to have any kind of stress. I belong to Bhagalpur and my father is a principal in a training institute.
Careers360: How was your exam day experience?
Ravi Prinshu: I was in slot 1 of the CAT exam and since IIM Indore had not specified how many questions would be asked in each section. Hence, there was a bit of anxiety. It was a new kind of experience for me and I had spent 5 minutes, first going through the questions. Moreover, due to COVID 19 also I was a bit stressed and the authorities at the test centre had checked our temperature three times.
Careers360: What was your take on the changed CAT 2020 exam pattern?
Ravi Prinshu: I am glad that we had a change in the CAT exam pattern 2020. Since the exam was of two hours, I could keep my focus throughout the exam. If the exam is of three hours then it is a bit exhausting and I normally used to lose focus while solving the questions in the last section. However, the exam conducting body should keep in mind that the questions should be in accordance with the time limit. As in each slot different sections, the questions were quite lengthy. Hence, if the CAT exam is of two hours, then questions should also not be very time consuming.
Careers360: What was your preparation strategy for CAT?
Ravi Prinshu: Since I was working , I could take up the I could merely devote one to two hours for the CAT preparation. However, I used to study more over the weekends and I had taken the CAT test series by Career Launcher.One of the preparation strategies that I adopted was to take the CAT mock test before I seriously began my preparation so that I could understand my strong and weak areas.
VARC- This was one of my strong areas as I used to read a lot of novels and while preparing for VARC, I used to just give the mock tests. I had attempted all the questions in this section as I was confident that I would do well.
DI and LR - While preparing for data interpretation and logical reasoning, I had taken the test series by Career Launcher since they have sectional questions as well as tipc based questions also.
Quantitative Ability - I searched Facebook groups from where I could get to know about the formulae and their short cut and I could execute them while solving the questions.
Careers360: What according to you were the toughest and easiest sections?
Ravi Prinshu: Quantitative ability in CAT was most difficult. I found the DI and LR was easy and I solved the three sets of questions. One thing which the candidates should remember while solving the DI and LR questions is not to panic and do not aim at solving everything. If one is able to solve three sets, then he or she will do very well.
Careers360: How did you tackle your strong and weak areas?
Ravi Prinshu: After every CAT mock test, I used to analyse the questions and see where I had made a mistake and work accordingly and ensure that i fix my mistakes at the earliest.
Careers360: What was your time management strategy with respect to preparation as well as exam day?
Ravi Prinshu: The CAT mock tests helped me to know the areas in quantitative ability and in logical reasoning, where I was making mistakes. As far as VARC is concerned, I was able to figure out easily what the correct answer was.
For Quantitative ability I used to give four to five hours in a week and for data interpretation and logical reasoning, I used to practice three to four sets.
On the day of the exam, my advice to the candidates is not to panic. First and foremost I went through all the questions that were asked in the CAT 2020 exam. I identified which were the easy questions and I aimed at solving all the easy questions first and foremost. Later on I came to solve the slightly difficult questions. In the first attempt I did not spend more than four to five minutes on each question. The main focus was to solve all easy questions in the paper
Careers360: How helpful was your coaching institute for you? Is it possible to succeed through self-study?
Ravi Prinshu: It is possible to study for CAT without coaching on your own. With the right kind of strategy, one can study on their own and can take test series from a good coaching institute.
Careers360: What are the factors behind your success?
Ravi Prinshu: One of the factors behind my good performance wsa that I wanted to leave the IT sector, hence I was determined to crack the CAT exam. My patents also supported me when I told them about my decision to leave the job.
Careers360: Have you started preparing for GD/PI/WAT?
Ravi Prinshu: Right now I am taking help from my friends who are already in the IIMs. I am also reading a lot of newspapers and keeping track of the latest events that are taking place presently or have occurred in the past.
Careers360: Which other MBA entrance exam have you appeared/appearing for?
Ravi Prinshu: I will appear for XAT 2021, IIFT 2021 and TISSNET
Careers360: What is your dream B-School? After that, what career do you want to pursue?
Ravi Prinshu: My aim is to make way either to IIM Ahmedabad, or FMS Delhi or TISS.
Careers360: What are your hobbies?
Ravi Prinshu: I enjoy reading novels and watching Japanese animated movies.
Careers360: What were your relaxation and recreation methods you followed amidst preparation?
Ravi Prinshu: Watched animations, played strategy games and watched cricket and football matches.
Careers360: Do you have any idol who you follow?
Ravi Prinshu: Since, my childhood, my idol has been Sachin Tendulkar
Careers360: What is your message for next year's CAT takers?
Ravi Prinshu : Believe in yourself. If you have decided to take the CAT exam,then work towards it wholeheartedly. Be consistent in your preparation, remain focussed on your goal and do not take unwarranted stress.
Questions related to CAT
Showing 9501 out of 9501 Questions