CAT 2020 Topper Gahana Agarwal Say, 'Lots of practice is the only key to success'
CAT 2020 result was declared on January 2 in online mode. 2020 may not be a good year,however, with the announcement of CAT result, it definitely brings a smile on the face of Gahana Agarwal. With only 4-5 months left until CAT 2020, Gahana Agarwal, a Deployment Engineer at Comcast started preparing for the entrance test and scored 99.39. Changes in the CAT exam pattern has doubled the exam stress to candidates, but Gahana Agarwal did not let stress take a toll on her and hamper on her performance in the entrance test. During her preparation time, Gahana Agarwal watched a video of a mentor on youtube to keep herself motivated. Read the complete article to know how CAT topper Gahana Agarwal prepared one of the most competitive management entrance test.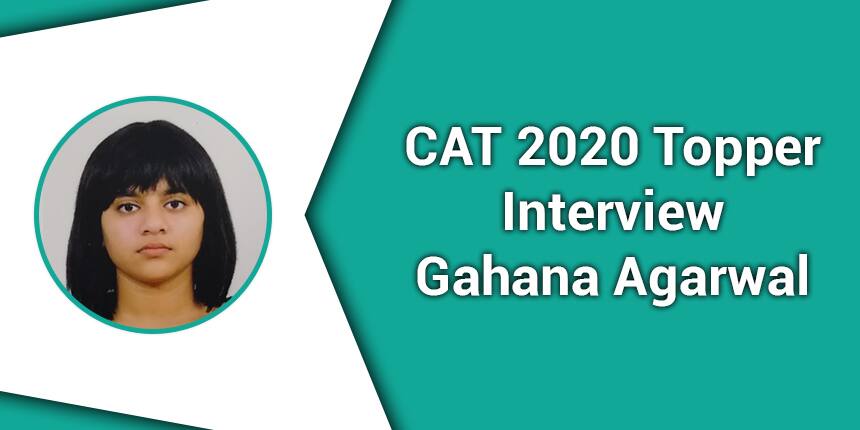 Careers360 - Congratulations on your stupendous performance. What was your reaction? Were you expecting this?
Gahana Agarwal - Thank you so much! I was delighted when I received my scorecard. I wasn't expecting this score because I had not done very well in the mocks during my preparation phase.
Careers360 - Share your overall and sectional percentile and scaled scores?
Gahana Agarwal - Overall percentile: 99.39. Sectionals are 93.19, 99.4, 98.66 for VARC, DILR and QA respectively.
Overall score: 108.69. Sectional scores are 30.49, 37.22, 40.99 for VARC, DILR and QA respectively.
Careers360 - How was your exam day experience?
Gahana Agarwal - I prepared myself to be calm on the exam day. Since my exam center was about an hour and a half from my house, I created a playlist of speeches which motivate me to listen to on the drive. Another thing that helped me boost my performance was to not let external factors affect my performance.
Careers360 - Share us something about your background. What inspires you to appear in CAT 2020?
Gahana Agarwal - I am an engineering graduate from VIT University (Batch of 2019). I currently work as a Deployment Engineer at Comcast. The reason I want to do an MBA is to advance my career for now and start my own business someday.
Careers360 - What are your exam strategies and mantras used to crack CAT 2020?
Gahana Agarwal - My exam strategy in VARC was to solve questions on a first come first serve basis, because I was quite comfortable with the section. For DILR, I rated the given sets from easy to difficult within the first 5 minutes and then proceeded with solving the easy ones first. For QA, I browsed through the questions and solved the easy ones quickly during the first round of browsing and repeated the same process until the time was up.
I had only 4-5 months to prepare for CAT. So, I started with taking a mock without preparation so I could see where I stand and to figure out how much time I needed to give to studying each day. My prep started with the basics from the popular Arun Sharma books for QA and DILR. I was quite comfortable with VARC so I did not give it much attention until later. Mocks played a huge role in the preparation phase. I gave around 40 to 45 mocks from various different institutes and analyzed them well. This helped me most to figure out which test taking strategy worked best for me.
Careers360 - What according to you is the toughest and easiest section?
Gahana Agarwal - Personally, I was average-good in all three sections, so I didn't find any section especially tough or easy.
Careers360 - When did you start preparation for CAT 2020? How did you tackle your strong and weak areas?
Gahana Agarwal - I started my CAT prep in July. So, I had only about 4-5 months for preparation. As I mentioned, I did not have any strong or weak section as such. But, adjusting my strategies for every mock I took, helped me maximize my score in the end.
Careers360 - What are the factors behind your achievement in CAT 2020?
Gahana Agarwal - During the preparation phase I listened and watched videos of a lot of mentors on youtube which helped in keeping me motivated at all times. Secondly, I kept my options open incase CAT doesn't work out so as to not put too much pressure on myself during the test. Thirdly, lots of practice is the only key to success, there are no other shortcuts and testing out strategies is required.
Careers360 - Which books you preferred while preparing for CAT 2020? Did you take any coaching for this exam?
Gahana Agarwal - I used Arun Sharma's books extensively for preparation.
Careers360 - Have you started preparing for GD/PI/WAT?
Gahana Agarwal - Yes, I have started reading the newspaper on a daily basis and preparing answers for basic questions for the interview.
Careers360 - Did you appear for any other MBA entrance exam? If yes then how did you manage your time with respect to preparation as well as exam day?
Gahana Agarwal - No, I did not.
Careers360 - What is your dream B-School? What career do you want to pursue after completing your MBA degree?
Gahana Agarwal - My dream B school is one of the top 3 IIMs (IIM Ahmedabad, IIM Bangalore, IIM Calcutta).
Careers360 - What were your relaxation and recreation methods you followed during preparation for CAT?
Gahana Agarwal - As I am a working professional, I was juggling office work with my CAT prep, so I didn't have a lot of time for relaxation. But on the weekends, I made sure I took out time to hang out with my family or friends.
Careers360 - Any message you would like to give to the next CAT aspirants?
Gahana Agarwal - It is necessary to keep yourself motivated by any means possible through the entire preparation phase and not to let mocks, scores and percentiles affect your mindset.
Questions related to CAT
Showing 9483 out of 9483 Questions