CAT 2020 Topper Aruneet Dutta Says, "In CAT not only knowledge help but time management is equally important"
CAT 2020 Topper Aruneet - IIM Indore announced CAT 2020 on January 2 in online mode. It was a big day for CAT 2020 Topper Aruneet as he cracked the entrance test with 99.52 percentile. CAT 2020 Topper Aruneet who is currently working as Design Engineer in one of the most reputed Indian MNC cracked CAT 2020 in his first attempt with flying colors. After working in industry for two years CAT 2020 Topper Aruneet wants to explore more in the field of business management. The unprecedented situation of COVID 19 pushed him more to appear in CAT 2020. Aruneet used to talk with his family and friends to recreate and relax his mind whenever he had stress. Careers360 spoke to CAT 2020 topper Aruneet Dutta who shares his preparation strategy and other valuable tips.
Stay up-to date with CAT News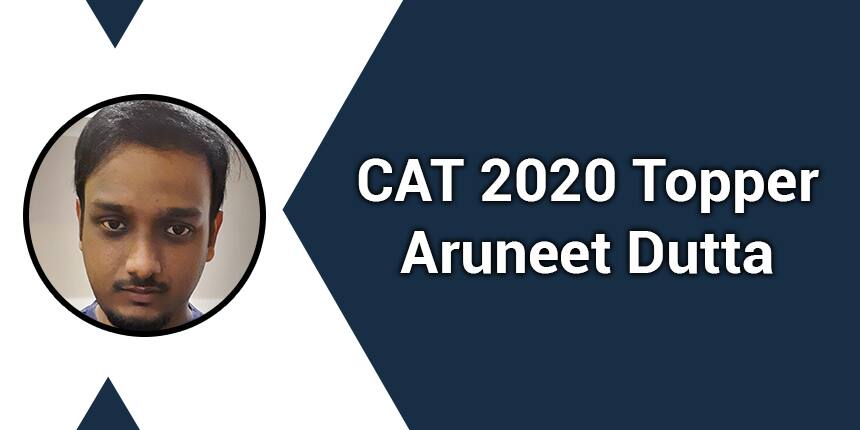 Careers360 - Congratulations on your stupendous performance. What inspired you to appear in CAT 2020?
Aruneet Dutta - I passed out in Chemical engineering in 2018 from Jadavpur University, Kolkata and I got a job Indian MNC, based in Mumbai as a Design Engineer. I got the job directly from campus placement. After working as a Design Engineer for two years, I found that doing an MBA not only helps to escalate higher up the ladder but also assists in learning and understanding the whole business. I have a very narrow perspective of business. After working in various mega projects and witnessing how Project Managers lead the project and make decisions, then I thought why I couldn't be this. That actually motivated me to deal more into the subject and then I study what are the aspects and prospects after doing the MBA. So I found out I will have more flexibility after doing an MBA as I won't be restricted in one field only. I can face different kinds of challenges after completing the MBA. That motivated me to appear for CAt 2020. And all this unprecedented situation due to the COVID 19 pandemic pushed me to appear CAT 2020.
Careers360 - Tell us something about yourself.
Aruneet Dutta - I am from Kolkata. I have completed my schooling from St. Joseph & Mary's School and completed my engineering from Jadavpur University, Kolkata. I presently work in a highly reputed Indian MNC, based in Mumbai as a Design Engineer for the last 2 years.
Careers360 - Share your overall and sectional percentile and scaled scores?
Aruneet Dutta - My overall percentile is 99.52 in which I secure 97.92 in Verbal Ability and Reading Comprehension (VARC), 99.64 in Data Interpretation and Logical Reasoning (DILR), 96.96 in Quantitative Ability (QA).
Careers360 - Is CAT 2020 your first attempt and did you expect your score?
Aruneet Dutta - This is my first attempt. With the changes in the exam pattern, there was no clear cut scenario like how the percentile will turn up and how it will be going. After releasing the answer key I found that I did pretty good but not sure I would get 99 above percentile.
Careers360 - What was your preparation strategy and exam tactics?
Aruneet Dutta - I am working professionally. Due to COVID 19 I stuck at Mumbai and did work from home. While staying all alone in Mumbai I have to do the household chores as well as office work. And it makes me more responsible. I did n't have much time left with me to join a coaching institute and do formal preparation after engaging with office work as well as household work.
So I started collecting online study materials. I also took study material from my colleagues who have previously appeared for the MBA entrance test. I do self study with all those materials I have and started preparation around May. I started preparing for CAT 2020 with the DILR section because it was something new to me, quan i already did in class 10 and 12. The basics were cleared but I have to revise it. I started preparing for the quan section around June and verbal was going all along with that.
After May June, when I had an idea how this thing worked, how the cat exam was, then I enrolled in a mock test from July before even completing the syllabus. Mock test gave me a clear scenario of the exam. Bcoz in CAT not only the understanding and knowledge help to crack the entrance test but time management is also equally important. That's why I started giving mock quite earlier and in August I finished the syllabus. I gave 50 above mocks.
Analysis of mock help me alot in cracking CAT 2020
Careers360 - How did you deal with your strong and weak points?
Aruneet Dutta - When I started DILR preparation in May it was quite new to me, however, I found the DILR section to be quite comfortable with me. After giving the initial mock my percentile for Quan was around 75 to 80, so I was quite worried about it. Being an engineer I thought quant should be a strong point for me. So I found some silly mistake of mine. During August, I listed down all the topics then I took 1 topic for 2 days and I looked through all kinds of questions in the materials as well as mock tests. And this tactic I continue for two months and help me to tackle my weak areas.
Careers360 - Apart from CAT 2020, do you appear for any other MBA entrance test?
Aruneet Dutta - I enrolled for IIFT.
Careers360 - What is your message for next year's CAT takers?
Aruneet Dutta - It does not matter when you started preparing for CAT. What matters is how much intensity you are doing it. Whenever you start you should be sure of what you are doing. There may be days when you are down but don't give up.
Questions related to CAT
Showing 9972 out of 9972 Questions