CAT 2020 Topper Aditya Devalla says, " Take mock tests and manage your time well"
The New Year has truly brought about cheers on the face of CAT 2020 topper Aditya Devalla, who has scored 99.97 percentile in one of the most coveted management entrance exams. A chemical engineer from IIT Bombay, CAT 2020 Topper Aditya Devalla always wanted to take up a career in the field of management. Despite the challenging circumstances in which the CAT exam was conducted, Aditya held the view that the exam conducting body had taken all the steps to ensure the safety of the candidates. CAT 2020 Topper Aditya Devalla holds the view that it is essential that the future aspirants try to learn as much as possible from their own mistakes. Read the full interview of CAT 2020 Topper Aditya Devalla to know how he prepared for the exam.
Latest update: CAT 2020 result declared on January 2, 2021. Also check CAT cutoff 2020.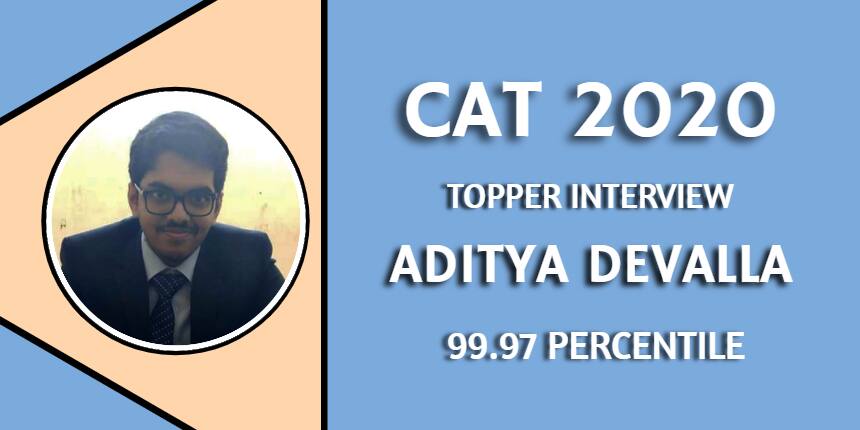 Quick Links -
CAT 2020 Topper Ravi Prinshu says, "Be consistent and focussed in your preparation"
Careers360: Congratulations on securing over 99.97 percentile in CAT 2020! What was your reaction? Were you expecting this?
Aditya Devalla: I am very happy that I have scored 99.97 percentile in CAT 2020. I was confident that I would score well but a little nervous, before the CAT 2020 result announcement. Definitely, I was expecting better but 99.97 is beyond expectation. It is a big thing for me.
Careers360: What are your overall and sectional percentile and scaled scores?
Aditya Devalla: My overall percentile is 99.7 and the overall scaled score is 145.5 in CAT 2020. In the Verbal Ability and Reading Comprehension (VARC) section I have scored 99.9 percentile, in data interpretation and logical reasoning I have got 98 and in quantitative ability I have got 99.
Careers360: Tell us something about your background.
Aditya Devalla: I am from Hyderabad and completed by chemical engineering from IIT Bombay. Before appearing for CAT, I was working as a data analyst in Axis Bank. As I always want to pursue an MBA, I prepared for CAT 2020 and cracked it in my first attempt.
Careers360: How was your exam day experience?
Aditya Devalla: As the exam is conducted in the midst of pandemic, proper guidelines of social distancing were followed at the CAT 2020 test centre. We were advised to give our ACT 2020 exam with masks on. Also there was a change in exam duration which was a little bit challenging but apart from that everything was systematic.
Careers360: Did you face any challenges due to the change in CAT 2020 exam pattern?
Aditya Devalla: As the announcements were made well before, we got enough time to adjust ourselves. Although we were preparing on the basis of different exam patterns, after the announcement, I started practising as per 2 hours pattern and got through it.
Careers360: What was your preparation strategy for CAT?
Aditya Devalla: Since, this was my first attempt. I focussed on every section by giving almost equal time. I give proper four to five months for the CAT exam preparation.
For Quantitative Aptitude, I made the short notes of all the important concepts of quantitative aptitude. I managed my time for each section equally. I appeared in sectional and overall tests every week to know my performance. Also, it is very important to go through your wrong answers, this is what I used to do after all tests.
For English and DILR, I practised a lot. The more you practice the better you will be. The practice helped me to attain accuracy in the CAT 2020 exam.
Careers360: What according to you were the toughest and easiest sections?
Aditya Devalla: I found the Quantitative section easy and I can say I solved easily. The DILR section was definitely the toughest this year. It was not easy to answer the questions in one go. Meanwhile, Data interpretation and logical reasoning questions were on moderate level, you can answer if you practiced and appeared for CAT mock tests.
Careers360: How did you tackle your strong and weak areas?
Aditya Devalla: Once, I checked all the questions of the DILR section,I know that paper is tough. So, I chose the questions which are easy to solve from that lot and started solving them first. After solving them, I was confident about my accuracy for the questions I solved. It is always better to choose and solve easy ones than wasting your time on lengthy questions.
Careers360:What do you think that the CAT new exam pattern is good for aspirants in future?
Aditya Devalla: All I can say is that the CAT is a competitive exam. You need to perform better than others to get on top. So, it's all about students' adaptability for any exam pattern. Although there was not much difference. However, the liberty to give time over questions to choose and solve is now limited, You cannot spend too much time just on reading questions. This is only a disadvantage.
Careers360: What was your time management strategy with respect to preparation as well as exam day?
Aditya Devalla: As I already told I divide my time equally between each section. Whenever I sit in practice, I try to solve one set from each section and then I go through my wrong answers from the set I solved. My performance gradually improved in DILR with practice.
For quantitative aptitude, I can say I have an advantage because of being from an IIT background. I got a decent grip on the quant section.
Careers360: How helpful was your coaching institute for you?Is it possible to succeed through self-study?
Aditya Devalla: I joined T.I.M.E. Unfortunately, I didn't get a chance to attend any offline classes due to the pandemic going on. I attended online classes for the basic concepts of important chapters. Rest everything was my self study. I appear in every test conducted on every weekend. As per the performance, I used to analyse my preparation level and work on that. The institution gave us a chance for one to one session with faculty. They let us know about our preparation and where we can improve as per our mARKS.
Careers360: What are the factors behind your success?
Aditya Devalla: Well about factors I can say, the most important thing is hard work. I gave my complete four months for CAT preparation. I was focussed on cracking the CAT and preparing in the same manner. I used to learn from my own mistakes.
Careers360: Which other MBA entrance exam have you appeared/appearing for?
Aditya Devalla: I am appearing for the XAT exam.
Careers360: What is your dream B-School? After that, what career do you want to pursue?
Aditya Devalla: As such there is no particular institute in mind, but I would like to make my way to IIM Ahmedabad. I want to do an MBA in finance as it always fascinated me to work in the financing industry.
Careers360: What are your hobbies?
Aditya Devalla: I love to play football and badminton. Apart from that I love to watch movies and football.
Careers360: What were your relaxation and recreation methods you followed amidst preparation?
Aditya Devalla: Being a big fan of football, I love to watch football and relax myself when I'm not studying.
Careers360: Do you have any idols who you follow?
Aditya Devalla: Yeah definitely. I really admire footballers, being a big fan of Lionel Messi and Cristiano Ronaldo, I'm following their career growth and how much hard work they do to achieve the goal. That inspires me alot. Also, I look upto Elon Musk for how much he achieved.
Careers360: What is your message for next year's CAT takers?
Aditya Devalla: I can be very clear about goals like what you want to achieve. Focus on your weaker sections. Work on your mistakes and try to improve. You need to understand your preparation level and work accordingly. Most importantly, appear in CAT mock tests regularly in both the sectional and overall test. Time management can be learned through these tests. All I did was giving more and more tests.
Questions related to CAT
Showing 9483 out of 9483 Questions