CAT 2019 Topper Vishal Kamboj Believes,"You don't score until you score" and Made His Way To IIM Kozhikode
CAT 2019 Topper Interview Vishal Kamboj, 97.76 Percentile - No less than a dream comes true to be called up for admissions in IIM Kozhikode located in God's own country. Professionally, Vishal who scored 97.76 percentile in CAT 2019 is a Mechanical Engineer with 2 years of experience in automotive operations. Playing piano and riding a bike are his favourite hobbies. Vishal is a foodie and can cook as well. During one on one conversation, Vishal clearly stated that he prepared for CAT 2018 and converted IIM Nagpur, IIM Amritsar, IIM Jammu as well as IIM Bodhgaya but was not ready to settle there and wanted to get into the prominent of Indian B-Schools in the country. Saying so he quoted the famous movie line "You don't score until you score" and further added that he prepared for CAT 2019 and converted IIM Kozhikode, IIM Udaipur, IIM Jammu, IIM Trichy, IIM Sirmaur. Apart from IIMs he got 98.5 percentile in IIFT and converted IIFT Delhi as well. In this interview with Careers360, Vishal shares tips and tricks on how to crack selection rounds at top B-School.
Latest- Candidates can now download CAT 2020 admit card. Know all about CAT Mock Test 2020.
Stay up-to date with CAT News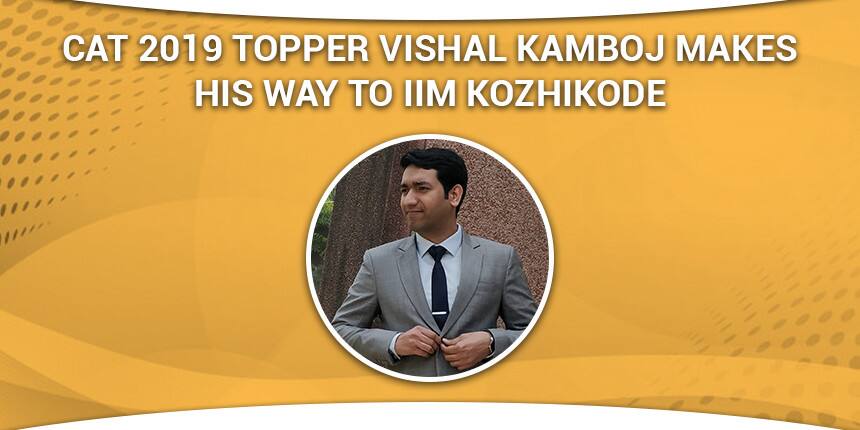 Careers360: Congratulations on converting to your desired institute! How do you feel? Please tell us a little bit about you.
Vishal Kamboj - Thank you very much. There is no feeling which can parallel the happiness of finally achieving the goal that I set out for when I left my job 2 years ago in hopes of getting into the cream of Indian B-schools. I have always believed in the quote" You don't score until you score" signifying my spirit for achieving excellence and fighting till my last breath. Getting into God's own country's IIM is a very special feeling.
I am a mechanical engineer from YMCA university Faridabad and a professional with 2 years of experience in automotive operations as a manufacturing engineer. My affinity for automobiles made me an automobile enthusiast and then a mechanical engineer. I belong to the Yamunanagar district in Haryana and I like to play the piano and ride my bike. I enjoy cooking and eating scrumptious dishes. I prepared for CAT 2018 and converted IIM Nagpur, IIM Amritsar, IIM Jammu, IIM Bodhgaya but was not ready to settle there and wanted to get into the most prominent of Indian B schools in the country so I prepared for CAT 2019 and got 97.76 percentile and converted IIM Kozhikode, IIM Udaipur, IIM Jammu, IIM Trichy, IIM Sirmaur and got 98.5 percentile in IIFT and converted IIFT Delhi.
Careers360: What is the selection procedure at IIM Kozhikode?
Vishal Kamboj - Initially, candidates are shortlisted for the PI stage by considering their CAT score (45% weightage), Class 10th(30%), and Class 12th marks(15%), academic and gender diversity(10%). The final shortlisting is based on performance in the cat exam(35%), interview(35%), written ability(20%) and resume score(10%).
Careers360: Please elaborate on your overall experience of the selection procedure at IIM Kozhikode.
Vishal Kamboj - Shortlisting for PI was done in the month of January and I received my call for an interview in late January. We had to submit a personal data form listing our academic details and achievements. The day of PI began with document verification, a written essay, and concluded with the interview. IIM Kozhikode is renowned for its diversity so the candidates I got to meet at the interview were from various professional and academic backgrounds. The process was smooth and well-managed.
Careers360: Which other B-Schools' selection procedure did you appear for? How was your experience in other institutes vis a vis in the institute you have converted?
Vishal Kamboj - I appeared for IIM Calcutta, IIM Lucknow, CAP IIMs, MDI Gurgaon, DMS IIT Delhi, Sjmsom IIT Bombay, and IIFT Delhi.
Each of the above mentioned B-Schools has its own selection criteria aligned with the vision of the school, one notable difference is the presence of Group discussion in IIFT Delhi and MDI Gurgaon. Due to the disruption caused by Covid-19 my interviews for IIM Calcutta and IIM Lucknow were held via video conferencing which was a new experience in itself. All of these institutes have a well-organized process and it is great to be able to visit these prestigious institutions.
Careers360: What was your WAT/PI topic and how did you structure it? Did you find it easy or you had a difficult time writing/ thinking about the topic?
Vishal Kamboj - The WAT topic was "We should stop feeling guilty about global warming". The topic is related to the biggest challenge of our time though it is a general topic that everyone is aware of still the question statement made it a little challenging. I wrote against the statement and structured it in paragraphs. I also included quotes to add weight to my opinion.
Careers360: Did you get external help or join a coaching school to prepare for PI and WAT? When did you start your preparations for it?
Vishal Kamboj - I enrolled with IMS Faridabad for my preparations for CAT 2019. I read newspapers to improve my diction throughout my preparation and to make myself aware of the current affairs in and around the country, reading editorials helps a lot in developing critical thinking and organizing our thoughts.
Careers360: Do you think that WAT/PI requires some separate preparation apart from what you mentioned? Please share the PI topics which you were asked during the admission rounds?
Vishal Kamboj - As far as WAT is concerned, yes it does take some practice to develop cogent writing skills. I would suggest summarizing newspaper editorial to develop structured writing skills since you are evaluated on multiple parameters such as the structure of your essay, information, and clarity of thought. The interview should be used to showcase our strengths, the best tip I can give is stay calm and be articulate with your thoughts.
Some WAT topics that I was asked to write about were-
IIFT Delhi - Solutions for solving stubble burning around Delhi

MDI Gurgaon - Social media boon or bane for society

SJMSOM - Role of digital learning in the education system

CAP IIMs - Demographic dividend in India, benefits and challenges
Note - I have tried to recall these topics to the best of my memory but their phrasing might be different.
Careers360: Are there ways to handle a situation when one has no answer to a question during PI?
Vishal Kamboj - Well as the old English adage goes "Honesty is the best policy". It is best to not dig a hole for yourself by either lying or answering without having the full knowledge as the panelists are experts in their domains. There is no harm in smiling and politely acknowledging our shortcomings but don't get bogged down by a few questions that you are not able to answer as you can never know everything. Try to keep your chin up.
Careers360: How must one approach a WAT/PI topic? Could you share some Dos and Don'ts for the same?
Vishal Kamboj - Understand the topic carefully to structure your thoughts and make an outline in your mind. If allowed to use a rough sheet make three things-
Bullet points for the introduction

Your main argument, and

The conclusion of your essay before you start writing on the evaluation sheet.
It is better to break down the topic using the PESTEL (political, economic, social, technological, economic and legal) viewpoint approach and decide the best course of action accordingly. If you are faced with an abstract topic or you are unable to break down the topic, then try to identify the keywords in the topic and focus on that.
Some of the Dos for WAT -
Try to add quotes and data to add depth to your essay

Handwriting must be legible

Ensure you differentiate the introduction, body, and conclusion by writing different paragraphs
Some of the Don'ts for WAT -
Don't cut or scratch after writing

Do not make any grammatical or spelling errors
Quick links-
CAT 2019 Topper Pallavi Beniwal says," Academics, Industry Knowledge and Confidence matters holds the key"
CAT 2019 Topper Amit Gupta says "Don't lose your composure," makes his way to IIM Lucknow
Careers360: Is there a particular kind of time management strategy that should be added to the candidate's skillset? Will it help in writing a complete structured WAT?
Vishal Kamboj - WAT is allocated significant weightage in the selection process so acing it should be a priority. Practice writing an essay of 300-400 words in under 20 minutes to make yourself comfortable. Carry a watch on the day of WAT to avoid asking the invigilator for time and keep an eye on it to adjust your writing speed.
Careers360: How did you feel when you faced the interviewers during the PI? Please share a few details like the size of your panel and your overall experience.
Vishal Kamboj - I am always excited about the interviews as I believe communication to be my strength. The size of the panels ranged from 2 to 3 members. Most of my interviews were very relaxed where I spoke at length on my views though I was grilled about my answers at times. An interview is a very good opportunity to present your skills and learning.
Careers360: Which interview turned out to be the best one? Enlighten us about the finest one according to you.
Vishal Kamboj - In hindsight, I believe my interview with IIM Calcutta panel was my best as I was put to test by the panelist from the onset. It lasted over 20 minutes and I went from defending my academic performance in college to what's happening in the middle east and other current affairs topics. I was even questioned why I used Hotmail as my email service provider. Also, it was my first experience via video conferencing and it was quite surreal explaining mechanical concepts to the panel by drawing on a page and lifting it in front of the camera.
Careers360: What about the questions which you found difficult to answer? How did you reply to those?
Vishal Kamboj - I was asked to design a simple machine to count steps when walking, in my interview for IIM Kozhikode which left me blank for a while but I was able to answer the question after some deep thought.
At MDI Gurgaon I was asked to explain the business application of Pythagoras theorem which left me scratching my head and I was stumped and couldn't answer it.
Careers360: So in those situations, was the panel easy or harsh on you? What should one do when s/he has no answer?
Vishal Kamboj - I wouldn't say the panel was harsh but they did try to throw me off my balance but were always keen on listening to my answers and gave me ample opportunity. As I said before when you don't know the answer it is better to politely admit that you don't know the answer to the said question than trying to force one.
Careers360: What were the most fascinating questions you were asked? Please share your answers too.
Vishal Kamboj - Most interviews you would expect to start after you take your chair in front of the panel but my interview at IIM Kozhikode started the time I entered the room and the panelist walking with me asked me how I felt being the last person being interviewed in the panel to which I replied smilingly: "I feel great, last but not the least" and the panelists smiled and asked me to take my chair.
Whereas, in my interview at IIFT Delhi, I was asked to rank B-Schools according to my preference I tried to make my way out of the question by giving a diplomatic answer: "Mam I don't think it will be prudent on my part to decide on the colleges without converting them". But they cornered me and told me to answer it by listing the colleges in order of my preference and the choices given to me were MDI Gurgaon, IIFT Delhi, SJMSOM IIT Bombay, and IIM Rohtak. I ranked MDI Gurgaon over IIFT Delhi to which their follow up question was "You are sitting in front of IIFT panel and telling us you prefer MDI over IIFT?". I replied," Mam I believe honesty is my strength, and lying won't be of any benefit for any of us".
I converted IIFT Delhi.
Careers360: How different is an IIM interview from a non-IIM yet top B-School interview? Are there major differences? (If you have appeared for IIMs)
Vishal Kamboj - Personally speaking, there are no major differences as each interview experience is different and you never know what question you will be asked.
Careers360: How did you go about the preparations for PI? Did you search or look up some questions or practice mock PIs?
Vishal Kamboj - I read up some frequently asked questions in B-school interviews online and made my own answers for each. I discussed my answers with my friends and faculty at my coaching school (IMS Faridabad) to make sure they matched my personality. I read about the B-school for which I was going to be interviewed and noted down anything unique to that institution and also tried to talk with alumni of the institution to gain useful insights. I Did not practice mock PI's as I was confident of my communication skills owing to my work experience in manufacturing operations.
Questions related to CAT
Showing 9991 out of 9991 Questions