CAT 2019 Topper Tanuj Ruia says "Be Ready for Terse Questions, Maintain Calm When Under Pressure"
CAT 2019 Topper Interview Tanuj Ruia, 99.69 Percentile - It is no less than a dream to get admission to one of the most reputed and popular management institutes like the IIMs. Tanuj Ruia, the student who has scored an overall of 99.69 percentile in CAT 2019, has got admission in Indian Institute of Management Bangalore and has achieved his goal of getting admission to the reputed management institute. The hard work that he has done is nothing compared to the happiness that he has received. If we look at how much Tanuj Ruia has scored in each section, then the percentile would be 99.39 percentile in verbal ability and reading comprehension, 98.13 percentile in data interpretation and logical reasoning, and 99.08 percentile in quantitative ability. Careers360 interviewed Tanuj Ruia and asked him the mantra behind his success and getting admission to his desired Indian Institute of Management, which is none other than IIM Bangalore. In this interview, Tanuj Ruia shares tips and tricks on how to score well in CAT examination. Not only that, he shares some valuable information regarding CAT. He tells us about how the selection process of IIM Bangalore is, his experience of the same, tells us about the other IIMs' selection process apart from IIM Bangalore that he has been for, and other selection process questions. Let us hear from Tanuj Ruia himself about his whole experience in CAT 2019 and his success mantras.
Latest: Candidates can download CAT 2020 admit card from October 28. Get details related to CAT Mock Test 2020.
Stay up-to date with CAT News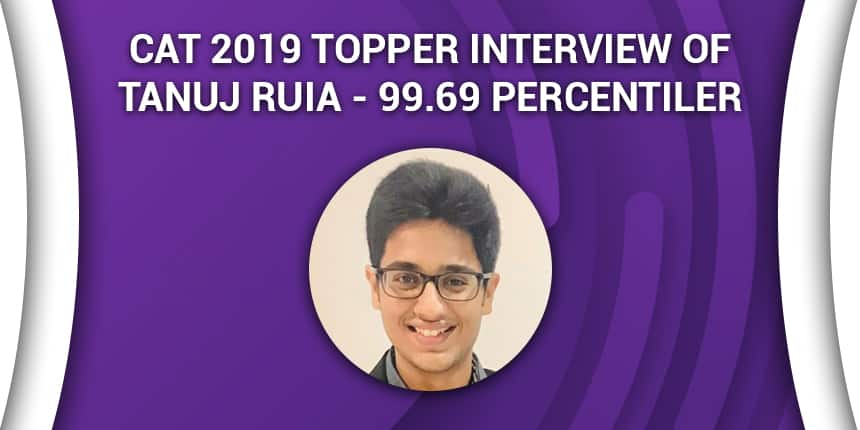 Careers360: Congratulations on converting to your desired institute! How do you feel?
Tanuj Ruia: CAT is attempted by almost 2.5 lakh test takers out of which only a few thousand get a chance to study in these premier institutes. I feel ecstatic and honored on getting a final admission offer from these B-schools.
Careers360: What is the selection procedure at IIM Bangalore?
Tanuj Ruia: The first Phase shortlist is released by the institute on the basis of CAT score, 10th and graduation percentage and work experience/professional certificates. The final offers are made after evaluation of a candidate's performance in WAT (Written Ability Test) and the personal interview with almost 40% of the weightage given to WAT PI. So even if you have a great CAT score with a strong background, WAT PI will ultimately decide if you are going to make it to the institute or not.
Careers360: Please elaborate on your overall experience of the selection procedure at IIM Bangalore.
Tanuj Ruia: The selection process at IIM Bangalore is pretty transparent as marks are allocated on the basis of a pre decided criteria. The process was pretty smoothly conducted by the institute. WAT had a limit of a single side page and we were given 20 minutes to think and write. The WAT topics are generally based on current affairs and require a candidate to form an opinion on the same. The PI was also conducted without much hassle and questions were asked from the SOP which has to be submitted to the institute beforehand.
Careers360: Which other B-Schools' selection procedure did you appear for? How was your experience in other institutes vis a vis in the institute you have converted?
Tanuj Ruia: I appeared for the interviews of IIM Ahmedabad, IIM Bangalore, IIM Calcutta, IIM Lucknow. The process is more or less the same for all these B-schools with different weightage given to the past academics and work experience as per the institute's policy. But due to Covid this time, WAT was eliminated from the selection process as the interviews were conducted online for IIM C and L for some candidates. I did appear for the online interview of IIM L and it was conducted smoothly.
Careers360: What was your WAT/PI topic and how did you structure it? Did you find it easy or you had a difficult time writing/ thinking about the topic?
Tanuj Ruia: The WAT topic for me at IIM B was "Aadhar has been a game changer as it has enrolled more than 100 crore people in India. However, a lot of people are worried about the privacy and protection of their data. What are your views on the same" Since the topics are generally based on current affairs, I was pretty comfortable with the topic. A general structure for WAT is the intro part, the hypothesis testing part and the conclusion which I did follow for all my WATs.
Careers360: Did you get external help or join a coaching school to prepare for PI and WAT? When did you start your preparations for it?
Tanuj Ruia: Yes, as soon as the results were announced, I joined IMS. The faculties at IMS were very helpful and assisted me in preparing my answers. The mock interviews are a must before the actual interviews. I was also fortunate to get inputs from my elder cousin brother who had gone through the process during his MBA prep. So my advice to future CAT aspirants would be to be in touch with an experienced person who can review the answers which you have prepared.
Careers360: Do you think that WAT/PI requires some separate preparation apart from what you mentioned?

Tanuj Ruia: WAT is generally based on current affairs or information which is provided in the paragraph itself. Read newspapers regularly (Do include a financial newspaper). Also, there are various fortnightly magazines which do have some amazing articles (like India Today, Business Today).
For PI, you need to revise all your major subjects which you have studied in your graduation (at least clear your basics). There are some common HR based questions like "Why MBA", "Why this institute" etc. Prepare a crisp answer for all these questions. For people having experience, questions about your current role and responsibility are bound to be asked. Also, do some research about the companies for which you have worked or are currently working.
Careers360: Please share the WAT/PI topics which you were asked during the admission rounds?
Tanuj Ruia: IIM Ahmedabad: "Spending money on Statue Unity resulted in wastage of resources. Instead, it could have been spent on other things like infrastructure in a developing country like India. Your views on the same."
IIM Bangalore: "Aadhar has been a game changer as it has enrolled more than 100 crore people in India. However, a lot of people are worried about the privacy and protection of their data. What are your views on the same"
IIM Calcutta: Social media has given the freedom of speech to the masses. However, it has led to a lot of false information being spread resulting into incidents of violence and riots. What are your views on the same?
Careers360: Are there ways to handle a situation when one has no answer to a question during PI?
Tanuj Ruia: Honesty is appreciated by the interviewers. Don't try to beat around the bush. A simple "I am not aware of the answer" would do you a lot better than bluffing. However, if you do have a vague idea about the same, just ask the interviewer if you can have a try at the answer.
Careers360: How must one approach a WAT/PI topic? Could you share some Dos and Don'ts for the same?
Tanuj Ruia: For the WAT, jot down the points and flow of your write up on a rough sheet (ask the panelist if you can do so) in the first 3-4 minutes. The WAT would look a lot more logical and would have a proper flow. Also, don't bluff about things which you aren't sure about. Things written in the WAT do come up during the Personal Interview and you can face hard time defending what you wrote earlier.
Try to drive the interview. Give subtle hints during the conversation so that the next question asked is from the area which you want to be discussed.Keep calm and maintain a positive attitude during the entire process. Wear a smile on your face. ☺
Careers360: Is there a particular kind of time management strategy that should be added to the candidate's skill set? Will it help in writing a complete structured WAT/PI?
Answered above
Careers360: How did you feel when you faced the interviewers during the PI? Please share a few details like the size of your panel and your overall experience.
My IIM B interview panel had 2 interviewers, both of whom are professors at IIM B. The interview lasted around 25 minutes. I was asked to substantiate my stand on the WAT topic and was asked questions from Finance.
One of the interviewers gave me a hard time by constantly disagreeing with whatever I said. It was a stress interview. Every statement which I made was countered by her. After coming out of the interview, I was pretty sure that coming to IIM B this year will be a distant dream. Also, I did have my IIM C interview the very next day, so I tried to focus on that and forget whatever had happened.
Careers360: Which interview turned out to be the best one? Enlighten us about the finest one according to you.
My IIM C interview turned out to be a breeze. I was pretty sure of converting it after stepping out of the interview room. It was more of a conversation than an interview. A wide range of topics were discussed like the reason why very few non engineers make it to C's WAT PI process, changes in the CAT exam structure to correct the same, my aspirations once I complete my MBA and some technical questions in Finance.
Careers360: What about the questions which you found difficult to answer? How did you reply to those?
I am not a big fan of HR questions, so I did put in extra efforts for preparing my answers for those questions.
Careers360: So in those situations, was the panel easy or harsh on you? What should one do when s/he has no answer?
Unless it is a stress interview, the panel goes easy on you. However, to see how you perform under pressure, be ready for some terse comments. Maintain your calm in those situations.
Careers360: What were the most fascinating questions you were asked? Please share your answers too.
In my Calcutta 's interview, there were 4 bowls in front of me. The 1st bowl had almonds, 2nd had chocolates, the 3rd had cookies and the 4th one was empty. I was asked by the interviewer the reason for keeping it empty. I first said that during the documents verification, there were 4 bowls and the bowl having cashews was missing. They asked me to come up with an innovative answer. I took a minute and answered that it was intentionally kept empty so that an interviewee who doesn't want any of the 3 filled bowls could politely refuse to take any of them by choosing the 4th bowl. They seemed pretty impressed with my answer.
Careers360: How different is an IIM interview from a non-IIM yet top B-School interview? Are there major differences? (If you have appeared for IIMs)
I only gave CAT and XAT. I scored 99%ile in XAT but couldn't clear the sectional cut off of a section. Hence I do not have an answer for this since I only gave the interviews of IIMs. FMS did not conduct interviews this year and gave the final admission offers based on the CAT scores and 10th-12th marks.
Careers360: How did you go about the preparations for PI? Did you search or look up some questions or practice mock PIs?
Since I had no work exp till 31st July, 2019 (CAT 19 cut off date), I was a fresher as per the CAT form. Hence I focussed a lot on my academics (especially Finance, Costing, Taxation) and regularly read newspapers and magazines for the current affairs. I also did have a look at the last 3-4 projects I did during my article-ship and thereafter during my stint as an Audit Associate at a CA firm.
Careers360: And finally what are the aspects or qualities that the interview board looks for in a candidate?
The interviewer wants to understand your thought process, and whether you can withstand the pressure of the B-school in case you are selected. Also, these institutes look for people with strong ethics and leadership qualities. Be confident and maintain a positive attitude throughout the entire process, even if the interview is not going as per your plans.
Quick Links:
CAT 2019 Topper Interview: Somansh Chordia "Be passionate about your goal"
CAT 2019 Topper Interview: "Learn and analyse from your mistakes," says Rahul Gupta 100 percentiler
Questions related to CAT
Showing 9975 out of 9975 Questions