"It's best not to bluff and honestly admit" Says Sanjana Rout CAT 2019 topper who made her way to IIM Calcutta
CAT 2019 Topper Interview Sanjana Rout who made her way to IIM Calcutta - It is rightly said that the best view comes after the hardest climb. CAT 2019 topper Sanjana Rout made her way to IIM Calcutta after rigorous practice and by believing in herself. Sanjana bagged 99.75 percentile in CAT. On the basis of her CAT 2019 score Sanjana was shortlisted for IIM Ahmedabad, IIM Bangalore, IIM Lucknow, IIM Kozhikode, IIM Indore, IIM CAP, XLRI, SPJIMR, MDI and IIFT selection procedure. She believed that the B-schools she could not convert to were because of lack of confidence and so she stood strong and learnt from each interview where she made the mistake. Sanjana in her exclusive interview with Careers360 shares her interview experience with the interview panels and some important questions that were asked. Also, she has shared various written ability test topics that were asked in each B-school she has appeared for.
Latest: Candidates can download CAT 2020 admit card from October 28. Get details related to CAT Mock Test 2020.
Stay up-to date with CAT News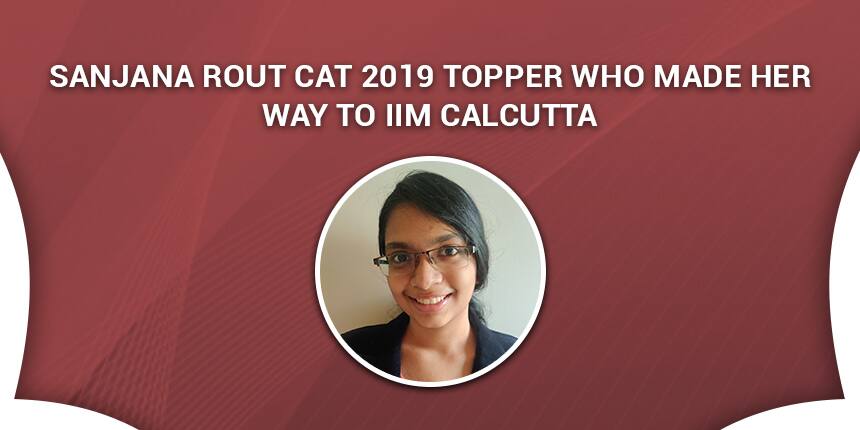 Careers360: Congratulations on converting to your desired institute! How do you feel?
Sanjana Rout: I am absolutely delighted to have made it to IIM Calcutta. It felt surreal, the moment the results got out and I found out that I have been selected. It's been almost two weeks since then and it still feels unbelievable. It is indeed a dream come true.
Careers360: What is the selection procedure at IIM Calcutta?
Sanjana Rout: The usual selection procedure of IIM Calcutta involves a Writing Ability Test (WAT) followed by a Personal Interview (PI). However, since many selection procedures had to be conducted online this year because of COVID-19, the WAT component had been scrapped off from the final selection criteria.
Careers360: Please elaborate on your overall experience of the selection procedure at IIM Calcutta
Sanjana Rout: My WAT-PI for IIM Calcutta was scheduled on March 4th in Bangalore (offline). I was pretty comfortable with the WAT topic so I could write well (of course, this was scrapped later on and did not affect my final selection). Following this, for the PI, I was one of the last few candidates to appear for the PI after a long wait. The PI was surprisingly very short and the interviewers were very friendly.
Careers360: Which other B-Schools' selection procedure did you appear for? How was your experience in other institutes vis a vis in the institute you have converted?
Sanjana Rout: I appeared for the selection procedure of the following B-Schools: IIM Ahmedabad, IIM Bangalore, IIM Lucknow, IIM Kozhikode, IIM Indore, IIM CAP, XLRI, SPJIMR, MDI and IIFT.
Every experience was different from the other and I got to learn a lot from every interview. I realised that in the institutes that I could not convert, I had lacked confidence and could have done better.
Careers360: What was your WAT topic and how did you structure it? Did you find it easy or you had a difficult time writing/ thinking about the topic?
Sanjana Rout: For WAT there was a paragraph which talked about how youngsters these days are becoming more centred on technology and no longer value real life relationships and we were required to give our opinion about it and how to tackle the issue.
I structured my essay into 3 paragraphs, covering both sides of the situation, how technology can both unite and separate. I was pretty comfortable in writing about this topic and was able to finish in due time.
Careers360: Did you get external help or join a coaching school to prepare for PI? When did you start your preparations for it?
Sanjana Rout: I joined both TIME and IMS for preparing for PI. I started preparing shortly after the CAT results were announced.
Careers360: How did you go about the preparations for PI? Did you search or look up some questions or practice mock PIs?
Sanjana Rout: In order to prepare for PIs, I talked to some seniors who were from a similar background and had converted top B-schools. Following that, I attended some briefing sessions at IMS and TIME. I regularly read newspapers and also brushed up on the topics I had studied in college. Apart from this, I prepared for some usual questions like "Tell me something about yourself" and "Why MBA?" I also appeared for a number of mock PIs, both in person as well as telephonic. The mock PIs enabled me to identify where I was going wrong and work on my weaknesses.
Careers360: Do you think that PI requires some separate preparation apart from what you mentioned?
Sanjana Rout: I think a thorough brush-up of the entire college curriculum is necessary, at least for freshers. I focused mostly on economics (I'm a triple major in Economics, Political Science and Sociology) and often found myself under-confident while answering questions from the other two. Apart from that, going through a lot of past interview experiences of people also helps.
Careers360: Please share the WAT topics which you were asked during the admission rounds?
Sanjana Rout: It's been a while since I appeared for the admission rounds so I don't everything properly but these are some that I remember:
IIM Bangalore: Is deep discounting by e-commerce companies beneficial or harmful?
IIM Ahmedabad: There was a paragraph about change in sports/games culture in schools and how it impacts students. We had to agree/disagree with the argument and provide our opinion
IIM Lucknow: Family businesses are doing much better than other businesses in India
IIM Kozhikode: Revocation of Article 370 from the Indian Constitution
XLRI: Hierarchy in society is essential for optimal social well-being outcomes
MDI: Ease of Doing Business in India
IIFT: Clean air is a luxury in metro cities (WAT)
Nepotism prevails over talent (GD)
Careers360: Are there ways to handle a situation when one has no answer to a question during PI?
Sanjana Rout: I think in a situation where one does not know the answer, it's best not to bluff and honestly admit that they don't know. The interviewers are very experienced and they can always know when we're bluffing.
Careers360: How must one approach a WAT topic? Could you share some Dos and Don'ts for the same?
Sanjana Rout: Structure your essay well. Write in at least 3 paragraphs: introduction, body and conclusion. Try not to take extreme standpoints; it's always safer to examine all different perspectives. Make sure your essay contains valid points and you're not simply beating around the bush. Proofread your essay before submitting and make sure not to make any grammatical or spelling errors.
Careers360: How did you feel when you faced the interviewers during the PI? Please share a few details like the size of your panel and your overall experience.
Sanjana Rout: My IIM Calcutta interview started off in a rather unexpected manner. There were three male panellists, and one of them (M1) called me in. As I entered the room, I saw that there was a server there waiting to take their order for juices. Looking at me enter, M1 asked me which juice should they order. I was a little surprised and told him politely that it's up to him. However, he and the other panellists started insisting that I should order so I ended up saying "watermelon juice". After this episode, I was asked to take a seat. By this point I had realised that my interviewers were quite friendly, so I was able to relax a bit. My interview went on for a very short time, less than 10 minutes I'd say. I had not anticipated it to end so soon and looking at my surprised face the interviewers even asked me "Didn't expect the interview to end so soon? Why do you think it ended so soon?" I assumed it must be because they were tired (I was one of the last few candidates for the day) but they replied saying "No, it's because we have nothing else to ask". I was just leaving when the server came in with the glasses of watermelon juice. My interviewers insisted I should take a glass too, so I exited the room with a glass of juice, quite perplexed about the whole affair. However, I suppose it went well since I converted the call in the end. J
Careers360: Which interview turned out to be the best one? Enlighten us about the finest one according to you.
Sanjana Rout: I think one of my best interviews was at XLRI. The interview started off with a point I had brought up in the GD. It felt like a normal conversation where we debated about social hierarchy, the importance of freedom, different types of governments and significance of economic progress. The interviewers were very friendly and patiently listened to all the points that I put forth. It was overall a very nice experience.
Verdict: Converted.
Careers360: What about the questions which you found difficult to answer? How did you reply to those?
Sanjana Rout: Sometimes I'd ask for extra time to pause and think about the answers to difficult questions and sometimes if I absolutely had no idea I'd just smile and say that I don't know the answer.
Careers360: So in those situations, was the panel easy or harsh on you? What should one do when s/he has no answer?
Sanjana Rout: Most of the times, the panel was easy on me, allowing me to take extra time and answer. In the situation where I didn't know something, the interviewers usually moved on to some other question or provided me with hints to enable me to answer. There have been some stress interviews too when the interviewers were strict and chided me for not knowing something, but that was very rare.
Careers360: What were the most fascinating questions you were asked? Please share your answers too.
Sanjana Rout: One question that I hadn't anticipated was asked in my IIM Calcutta interview. The question was "If you could be any item in a kitchen, what would you like to be?"
My answer to the same was: I'd like to be a glass which provides water to people in need as I like helping people when they need me.
Careers360: How different is an IIM interview from a non-IIM yet top B-School interview? Are there major differences?
Sanjana Rout: Mostly non-IIMs have GDs also as a part of their interview process (XLRI, MDI, IIFT) and such interviews tend to start off with a brief discussion on the GD topic. Other than that, I felt IIMs focus a lot on academics and try to get to know as a person. As mentioned earlier, my XLRI interview was more like a discussion. In my MDI interview, I was asked a lot of static GK questions while my IIFT interview was more about current affairs.
Questions related to CAT
Showing 9973 out of 9973 Questions