"Right Attitude plays pivotal role in PI," says Ankit Desai CAT 2019 Topper who made his way to IIM Ahmedabad
Getting Into a premier B-school is not everyones cup of tea. But, toppers like Ankit Desai with their great determination make it a cakewalk as they land in the most prestigious management school of this country. Ankit Desai, with 99.91 percentile has secured admission in IIM Ahmedabad, the dream management school for every MBA aspirant. In an exclusive talk with Careers360, Ankit, shared his experience of the selection process of IIM Ahmedabad as well as his journey throughout the preparation for making it to his dream B-school. During the course of the conversation Ankit clearly told what are the points one needs to keep in mind while facing the interview board. He shared some of the interesting topics on which he was questioned. Also Ankit, who made his way to IIM Ahmedabad spoke about how he prepared for the interview. Read the full interview and know all the toppers of CAT 2019.
Latest- IIM Indore has released CAT 2020 admit card on October 28. IIM Indore has released CAT Mock Test 2020 in online mode on November 5.
Stay up-to date with CAT News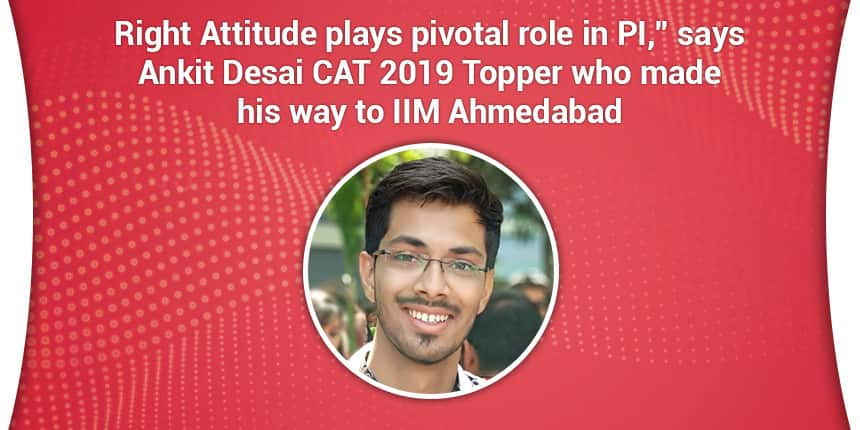 Careers360- Congratulations on converting to your desired institute! How do you feel?
Ankit Desai - Thanks a lot! I don't think I have words to express the feeling. I couldn't believe in the first go that I had made it through and hence refreshed and logged in thrice to make sure. it took me more than a day to cognize with the truth. I am eagerly waiting for the day when I would start my journey as a student at IIM A.
Careers360 - What is the selection procedure at IIM Ahmedabad?
Ankit Desai - The selection procedure is divided into three stages.
Stage 1 is the preliminary screening - academic scores and CAT scores are considered and checked if they fulfill the minimum eligibility criteria.
Stage 2 is the shortlisting for AWT-PI round. A lot of factors are considered here. There's a 65% weightage given to CAT score and the remaining weightage is to the marks scored during 10th, 12th and graduation and a 5% weightage to work experience. There are different points awarded for scores in different disciplines. Also, in stage 2, a certain number of students are chosen for each discipline (undergraduate studies) in order to bring in a diverse pool of candidates.
Stage 3 - The shortlisted students for AWT-PI are then scheduled for a personal interview. This component has 2 things - one is the analytical writing test in which a case or a scenario is given and in around 20-25 minutes, we have to write according to the problem statement given in about 300 words. The AWT is followed by a personal interview. The personal interview is the most important factor considered for admissions as it amounts to nearly half of the overall final composite score based on which admissions are rolled out.
Read the full interview of Isha Nisar who also scored 99.37 percentile in CAT 2019.
Careers360 - Please elaborate on your overall experience of the selection procedure at IIM Ahmedabad?
Ankit Desai - I had a good CAT score and with my academic scores, I knew I would get an interview call from IIM Ahmedabad. The major concern for me was the personal interview as it carried the maximum weightage. So, despite having a good CAT score, it was necessary to have a very good PI in order to get a place in the coveted institute. The interview shortlist was rolled out on January 6th and we had to fill an online application before getting the interview dates. A week later I was notified that my interview would be on February 21st. I was very nervous the day before the interview and even more on reaching the venue. It was my first interview and one of the most important ones for me. The process of document verification and the scheduling of interviews was very well organized by the authorities and was carried out smoothly. We had our AWT in the morning and then the interviews. I was the last to be interviewed in my panel so I had a lot of time in hand to play around with my procrastination and fears. I entered the interview room at around 1. There were two male panelists who questioned me on Why MBA, my technical skills, my interview experience along with some general discussion on topics of my interests. I wasn't sure how I had fared (well I guess no one does) and was not very positive about how things had panned out in the interview room. When I look back, with a positive result in hand, I feel I did well in staying calm and answering all their questions to the best of my ability.
Careers360 - Which other B-Schools' selection procedure did you appear for? How was your experience in other institutes vis a vis in the institute you have converted?
Ankit Desai - I appeared for the process of IIM Ahmedabad, Bangalore, Calcutta, Lucknow, Kozhikode and Indore. My interviews with IIM A, B, C, and K were all scheduled in just 6 days. There were a lot of things I learned about in each of my interviews and would ponder upon how they went to perform well in the upcoming ones. All these four interviews were very different in the context of the environment and the parameter of judgment. While my IIM Bangalore interview was more of a discussion about my interests and the things I wrote in my SOP. It was one where your perception and thoughts were to test, I was put through immense stress and rapid-fire of questions in my IIM C interview. At IIM K, the interview was slightly academic-focused. While all these were held at different venues, my IIM L and IIM I interviews were scheduled online amidst the lockdown due to COVID-19. It was the first time the IIMs were going online for interviews but I feel they did everything in their capacity to make sure that both the online and offline processes were fair for both the stakeholders involved. I have converted IIM B and IIM K and the results for the others are yet to arrive.
Careers360 - What was your AWT and PI topic and how did you structure it? Did you find it easy or you had a difficult time writing/ thinking about the topic?
Ankit Desai - At IIM A, the topics are such wherein you have to think of it as a real-life scenario and either propose a solution to the problem stated discussing both sides of the coin or you have to analyze the topic and comment on the case presented. I found it slightly tough to organize my thoughts and put them on paper in just about 20 minutes. It took me five minutes to understand the scenario, visualize it, and then analyze the problem. I structured a flow in which I would go discuss the benefits and drawbacks of the scenario provided while finally concluding how it could be more efficient. I feel I did fairly well in analyzing the scenario and presenting my case.
Careers360 - Did you get external help or join a coaching school to prepare for PI and AWT? When did you start your preparations for it?
Ankit Desai - I was a classroom student at TIME and hence I had access to a few mock PIs. I appeared for a few mock PIs which helped me get a few valuable insights on how to proceed. I started my preparation after my interview dates were out, so I had close to a month to prepare. I had talked to a few seniors who were in these IIMs to get an idea of their preparation. My preparation was more about self-introspection and critically analyzing my strengths, weaknesses, and interests. I also brushed up a few technical subjects and read the headlines for the days.
Careers360 - Careers360: Do you think that AWT and PI requires some separate preparation apart from what you mentioned?
Ankit Desai - There are a few colleges which ask a bit about current affairs, so it's good to be aware of a few happenings around you. Other than that I feel it is more important to know about yourself than anything else. Everything that is written in the application can be a question you are asked, so be true to yourself while you fill the applications and make sure you know about everything you have written.
Careers360 - Please share the AWT and PI topics which you were asked during the admission rounds?
Ankit Desai - I don't remember the topics explicitly. But one of them asked our views on the investment in bullet train projects. One asked our opinions on the objectives of universities and should they encourage participation in civic polity. One of them was related to the homework given in school and asked about a solution in which students can learn more.
Careers360 - Are there ways to handle a situation when one has no answer to a question during PI?
Ankit Desai - The most important thing is to be calm through the interview and hold on to your nerves. I was having a very bad time while I was being asked questions rapidly and the interviewers reacted as if everything I said was wrong. I had become so nervous that I even said 'I don't know' to a few basic questions that I knew answers to. Always think before you know the answer to the question or not and then answer according to your knowledge. Also, try to drive the interview in the direction of your strengths.
Careers360 - How must one approach an AWT and PI topic? Could you share some Dos and Don'ts for the same?
Ankit Desai -
AWT -
DOs - Keep two pens with you preferably blue. Structure your thoughts before you start writing.
Write to the point and don't overstretch your essay/case. Use examples to support your point.
Write neat and clean.
DONTs - Scribbling is not allowed. Do not quote facts and figures unless you are sure.
Unless and until personal opinions are asked for, do not write your opinion about the case.
PI -
DOs - Dress appropriately. Your grooming should be spotless. Know the venue and reach the place at least 5 mins before the reporting time. Answer all the questions thoroughly while not being wordy. Be honest and present yourself as a professional. Respect the interviewer, greet them and address them as Sir/Ma'am, unless specified otherwise.Make sure you have gone through the website of the institute at least once and know what the institute stands for.
Stay positive and calm.
DONTs - Don't give false remarks about any institute/organisation/person. Do not take a seat until asked to. Do not take your cell phones or any electronic gadgets to the interview room unless stated explicitly. Do not give an impression that you are attracted to an institute because of its placements.
Careers360 - Is there a particular kind of time management strategy that should be added to the candidate's skillset? Will it help in writing a complete structured AWT and Personal Interview?
Ankit Desai - The AWT is a timed test. So it is important to manage your time. You might be an excellent writer but if you fail to manage your time well during the AWT then you might end up not concluding your write-up well. So, practice a few write-ups beforehand to have a good judgment of the time required to write particular amount of words. Also, a balance needs to be maintained between the thinking and writing time.
The personal interview doesn't explicitly test your time management skills but over talking on one particular question/topic doesn't give a good impression. It's advisable to talk to the point while also being thorough and highlighting the key aspects.
Careers360 - How did you feel when you faced the interviewers during the PI? Please share a few details like the size of your panel and your overall experience.
Ankit Desai - I usually feel nervous before entering the interview room and until I have answered a couple of questions. It was the same here. I wasn't very confident at the start but as time went by, I became comfortable answering the questions. Usually, the panel consists of two professors and one alum. The panelists do try to make you comfortable throughout the process but it might not be true always. There are times when the panelists will try to unsettle and disturb you to check your perseverance and patience.
I enjoyed the process. The experience is enriching. One might not get fruitful results all the time but there's a lot of learning one takes home after the interactions.
Careers360 - Which interview turned out to be the best one? Enlighten us about the finest one according to you.
Ankit Desai - My IIM Ahmedabad and Bangalore interviews went very well but I feel my performance in IIM Bangalore interview was the best one. I felt satisfied after exiting the interview room. The interview was a general discussion about the things I had written in my SOP. It started with a discussion on my college and stream of study eventually leading to why I want to join IIM B as a fresher. This led to a discussion on how I ended up getting a job offer and the work I did during my internship and why I have decided to go for an MBA straight after college. Moving on we talked about a few great leaders that the institute had produced over the years and discussing the qualities a leader possesses. I was also asked to do a cost analysis of doing an MBA as a fresher and after work experience to justify my decision. Further, we talked about economic policies, how they affect the stock market, and eventually how technology is giving the field of finance a different view. Before concluding with the interview, we also had a discussion on philosophy and ethics as I had taken a course during my first course. We ended up taking about Ramayana and discussing various learnings that can be used in the management world today. Overall, there were quite a few topics we talked about and the interviewers very keenly listened to all my views and shared theirs as well.
Careers360 - What about the questions which you found difficult to answer? How did you reply to those?
Ankit Desai - There were a few questions in which I had to critically justify why I was interested in finance and if so why am I am doing an MBA instead of a course in finance. There was also a point where I was made to ponder upon doing an MS because of my academic background. Throughout this I stayed firm that I wanted an MBA because of the range of opportunities it offers and also the scope of exploring various domains will still be a possibility. There can be a few other things that the interviewer might disagree with and force you to ponder upon. It's best, to be honest about what you want and not fall for the trap being set.
Careers360 - So in those situations, was the panel easy or harsh on you? What should one do when s/he has no answer?
Ankit Desai - Well, in different interviews the panelists had different reactions. Panelists might also be pretending in a certain way just to make the candidate uncomfortable and sway his/her confidence.
In case you have no answer, you can politely say that you don't have an idea about it. It's better to admit that you do not know a particular thing rather than making some false statements. Also, not knowing something doesn't really harm you unless it's something that you are supposed to know for sure.
Careers360 - What were the most fascinating questions you were asked? Please share your answers too.
Ankit Desai -
Question - My learnings from Ramayana that I would apply in the management world
Answer - The way Lord Rama managed his troops. I mean he knew that his army is of monkeys and he knew the extent of the cognitive abilities they possessed. So he guided them accordingly. Also, he found out the strengths of his people and used them to benefit his troops.
Question - I was once asked whether I was doing an MBA because of parental pressure or was it my decision.
Answer - I answered how I zeroed down upon doing an MBA and telling my parents about it. This further led to if I am answerable to my parents about my decisions and followed by a couple of questions that talked about how much is a child independent in taking a decision and how much can a parent influence his/her decision.
Careers360 - How different is an IIM interview from a non-IIM yet top B-School interview? Are there major differences? (If you have appeared for IIMs)
Ankit Desai - I haven't appeared for a non-IIM interview so not eligible to answer that. But for an IIM interview, the focus is on YOU as a professional.
Careers360 - How did you go about the preparations for PI? Did you search or look up some questions or practice mock PIs?
Ankit Desai - Yes, I did take a few mock PIs. I also watched a few PIs on youtube and talked to a few seniors to know how they prepared.
Careers360 - And finally what are the aspects or qualities that the interview board looks for in a candidate?
Ankit Desai - I feel there are a few things that an interviewer might look for in a candidate -
How critically does the candidate know himself? I would count this as the most important one as most of the questions in an interviewer test whether or not the candidate has self-introspection.

Ambitiousness/Desire - This is majorly tested to know if the candidate is self-driven and can survive the academic pressure of an MBA and excel to become a good professional.

Clarity of thoughts - Opinions are not right or wrong but the way you think says a lot about your personality. Also, are you certain about what you think or are they just a cloud of smoke.

Lastly, I feel the attitude and confidence you possess also matters and is tested through your body language and tone of your answers.
I hope my experience can be of some help to the candidates and wish them good luck for their preparations and journey ahead.
Also Read: The journey of Anushree Naik to IIM Ahmedabad
Questions related to CAT
Showing 8424 out of 8424 Questions