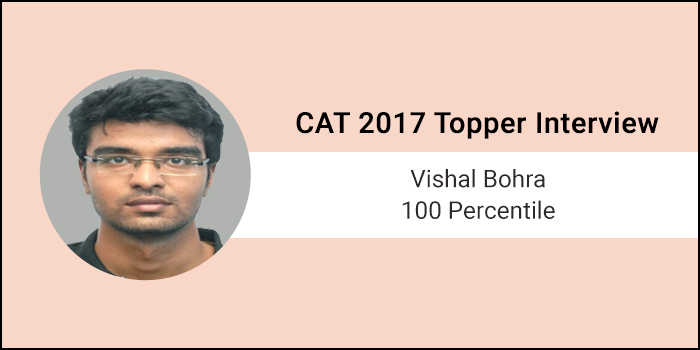 Vishal Bohra, one of the 20 toppers securing 100 percentile in CAT followed the success mantra,  "There is no substitute for hard work" by Thomas A. Edison to achieve this feat. He was third time lucky as he secured the perfect percentile after his first two attempts. Depending solely on self-studies, the Kolkata boy shared that he focused on his weak areas and took regular mocks to prepare for CAT.     
MBA/PGDM Admissions Open 2019
SOIL School of Business Design
Vishal has already been shortlisted for IIFT admissions but his dream colleges are IIM Ahmedabad, IIM Bangalore and IIM Calcutta. A sports enthusiast, who also enjoys cooking to relax shares his CAT 2017 success story with Careers360 in this interview. 
CAT Pathfinder
Know your call chances for Admissions
Use Now
Recent Posts:
Read the full interview below:
Careers360: Please tell us something about yourself.
Vishal: I have completed Civil Engineering from Jadavpur University, Kolkata. Talking about my family, my mother is a homemaker while my father is working in the capacity of a Manager.
Careers360: What is your sectional percentile?
Vishal: I have obtained 98.9 percentile in Verbal Ability & Reading Comprehension, 100 in Data Interpretation & Logical Reasoning, and 99.99 in Quantitative Ability.
Careers360: What was your preparation strategy for CAT 2017 which helped you improve compared to past two attempts?
Vishal: I didn't follow any particular strategy recommended by anyone. I studied according to my own weaknesses and strengths. I took mock tests as many as possible because that helped me in realising where exactly I stand. I worked hard on improving my speed also. Clearing basics of each subject was also an important aspect during the preparation phase.  
Careers360: What according to you were the toughest and easiest sections?
Vishal: Although, I was able to score a perfect 100, but I found Data Interpretation & Logical Reasoning to be a little bit tough. 
Careers360: You did not take formal coaching. How did you manage to secure 100 percentile by self study?
Vishal: No, I didn't enroll myself in any coaching class. And of course, it is absolutely possible to crack this entrance exam depending solely on self-study. I had complete confidence in myself that I could forge my way towards victory with my sincere efforts. Taking coaching classes is not at all mandatory according to me.  
Careers360: Which is your dream B-School?
Vishal: I am hopeful of joining any one of the apex institutes among IIM Ahmedabad, IIM Bangalore and IIM Calcutta is good for me.
Careers360: What are your hobbies?
Vishal: I play Cricket and Badminton in my leisure time. I am also fond of cooking. This way, I was able to relax amidst my hectic preparation phase as well.
Careers360: So what is the next step?
Vishal: I have started preparing for GD/PI/WAT with complete seriousness now as this is the next phase of selection process.
Careers360: Apart from CAT, which other MBA entrance exams have you appeared for?
Vishal: I appeared for IIFT, and I have been shortlisted as well. I took XAT also. 
Also Read:
CAT 2017 Topper Interview: Solving and analysing mock tests is the key to success, says 99.91 percentiler Suryansh Bhargava
CAT 2017 Topper Interview: Take every mock like it is the final exam, says 99.78 percentiler Shubham Abrol
CAT 2017 Topper Interview: Focus on speed over concepts during CAT preparation, says 99.61 percentiler Avinash Iyer