CAT 2017 Topper Interview: Be consistent and believe in your abilities says 99.95 percentiler Viraj Sheth
Viraj Sheth, a 99.95 percentiler in CAT 2017, believes that with consistency, you can overcome every challenge. Hailing from Bhavnagar, Gujarat, Viraj worked really hard to overcome the language barrier as his vernacular was Gujarati but it did not stop him from securing such a good percentile in CAT. Viraj is pursuing B. Tech at Dhirubhai Ambani Institute of Information and Communication Technology, Gandhinagar.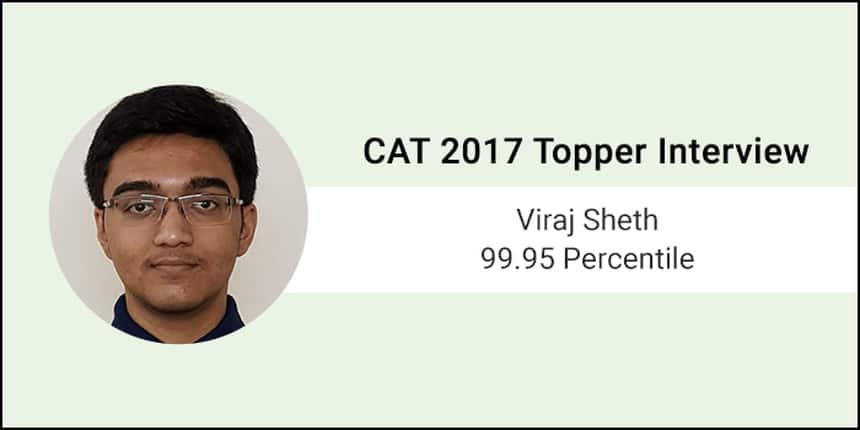 In this interview with Careers360, Viraj shared his success mantra for the CAT 2018 aspirants. According to him, you need to maintain a consistency of giving 6 – 8 hours every day and believing in your abilities is of utmost importance for everything that you are hoping to achieve in life.
Recent Posts:
Excerpts from the interview:
Careers360: Congratulations on securing 99.95 percentile in CAT 2017. What is your sectional percentile?
Viraj: I secured 99.17 percentile in Verbal Ability, 99.88 percentile in Data Interpretation and Logical Reasoning, and 99.54 percentile in Quantitative Ability.
Careers360: Tell us something about yourself and your family members.
Viraj: I hail from Bhavnagar and completed my B.Tech from Dhirubhai Ambani Institute of Information and Communication Technology, Gandhinagar. My mother is an author and my father is a Civil Engineer who runs his construction business. I have a brother, who also appeared for CAT 2017 and secured 99.86 percentile.
Careers360: What was your preparation strategy for CAT 2017?
Viraj: I started preparing in June 2016. Although, I invested seven to eight hours each day in CAT preparation in the last six months. I took a lot of mock tests and I believe that was the most important part of my preparation strategy.
Careers360: Which section to you find toughest or easiest?
Viraj: Verbal Ability was the toughest section for me because Gujarati is my first language. However, I planned well and scored well. Quantitative Ability was the easiest section for me. CAT is really unpredictable when it comes to Data Interpretation/ Logical Reasoning and Quantitative Ability.
Careers360: What was your time management strategy?
Viraj: You should give time to all the three sections regardless which one of them is weak or strong. Maintaining balance is important.
Careers360: How was your exam day experience?
Viraj: There was something written on my screen with ball pen, so I couldn't read. However, it was a slight issue. I believe the authorities want to test you in a stressful situation, and if you are able to understand that then there is no stress left.
Careers360: Did you take coaching? How helpful was it? Is it possible to succeed through self-study?
Viraj: I took coaching from Endeavour careers. I also had the test series from Career Launcher. The faculty members were really helpful they know how to make things easier for you. Self-study is risky but not impossible.
Careers360: What are the factors behind your success?
Viraj: Well, my family and mentors played a major role in my success. In my case, taking mock tests was very important. At least taking 25 – 30 mock test is a must.
Careers360: Did you file any objection to any question from CAT question paper or a CAT answer key.
Viraj: Yes, I did for one question in Verbal Ability. I think this move is good because there should not be any injustice.
Careers360: Which are the B-schools you are targeting?
Viraj: IIM Ahmedabad, IIM Bangalore, and IIM Calcutta are my dream B-Schools.
Careers360: What motivated you to pursue MBA?
Viraj: MBA programme from a top B-School will instil management skills and domain knowledge, enabling me to take up a responsible position at a top corporate organisation, which is my dream career path. I want to make myself competent enough to pursue a higher management role after two years, which would otherwise take me 10-15 years to achieve. 
Careers360: What are your hobbies?
Viraj: I like to play chess and badminton. I like teaching as well. Along with my preparation, I used to help my brother in his CAT preparation as well.

Also Read
Questions related to CAT
Showing 9087 out of 9087 Questions