CAT 2017 Topper Interview: Solving and analysing mock tests is the key to success, says 99.91 percentiler Suryansh Bhargava


A current student of the topmost engineering institute in India, IIT Bombay, Suryansh Bhargava has cracked Common Admission Test (CAT) for 2018-20 admission with flying colours by securing 99.91 percentile. The topper is not someone who is surrounded by his course books all the time; rather he also follows his passion for playing the guitar seriously. An adventure lover, Suryansh is leaving for a four-day trek to Dayara Bugyal, Uttarakhand next week to celebrate this victory with friends. His smart engineering mind combined with dedicated preparation led to his success.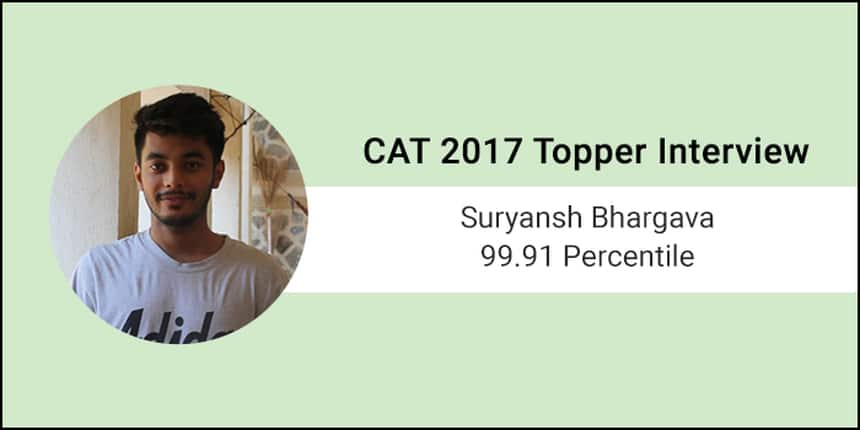 Suryansh didn't appear in any other MBA entrance exams apart from CAT 2017, but he made sure to perform well in this in the first attempt itself. In this interview with Careers360, he shares his entire CAT experience in detail.  
Recent Posts:
Read the full interview below:
Careers360: Please tell us something about yourself.
Suryansh: Right now, I am in the fifth year of the dual degree in Metallurgical Engineering and Materials Science at IIT Bombay. Talking about my parent's occupation, I come from a family of doctors. Both my parents are doctors and my father is also an Indian Army officer.
Careers360: What is your overall and sectional percentile?
Suryansh: My overall percentile is 99.91. I have obtained 99.49 percentile in Verbal Ability & Reading Comprehension, 99.52 in Data Interpretation & Logical Reasoning, and 99.54 in Quantitative Ability.
Careers360: How was your exam day experience?
Suryansh: It was my first attempt, and it was pretty good. I found the test quite easy, especially Verbal and Quantitative Ability sections. I had expected the test to be like that only, based on my mock tests.
Careers360: How did you prepare for CAT 2017?
Suryansh: I started solving mock tests in January, but my serious studies commenced from July onwards only. So, it was all hard work of five months with CAT held in November. I believed that apart from taking mock tests, analysing them is more important. You should be able to identify your weak areas so that you can refrain yourself from committing the same mistake next time.
I attended coaching classes at T.I.M.E. and the teachers helped me a lot in improving. At that time, I had my academic commitments along with placement season going on, but I ensured that I spent at least three hours on rigorous studies daily. Also, I used to read a lot during the preparation phase. 
Careers360: What according to you were the toughest and easiest sections?
Suryansh: I found Verbal and Quantitative Ability sections easy. Data Interpretation & Logical Reasoning section was a bit tough for me. It consumed a lot of my time.
Careers360: What was your strategy during the test?
Suryansh: I devoted nearly 45 minutes to solve questions of Verbal Ability & Reading Comprehension. In Data Interpretation & Logical Reasoning section, I solved the easy questions first. While solving questions of Quantitative Ability, I answered the ones I knew first and marked the difficult ones to solve later. 
Careers360: Did you take coaching? How helpful was it? Is it possible to succeed with only self-study?
Suryansh: Yeah, I took coaching classes, although I was not a regular student there. But surely it proved to be helpful. The teachers aided me in realising how much time has to be given to a particular question. Having said that, I would also like to add that there are students, who have cracked CAT based on self-study only. Improving speed and analysing weak areas is something that has to be done by the student itself. No teacher can help in that. So, it is definitely possible to succeed in this test depending on self-study only.    
Careers360: What are the factors behind your success?
Suryansh: Apart from my sincere efforts and serious studies, motivation from my parents, teachers and friends is a major factor in my success. Moreover, I have strong faith in the concept of "Believe in yourself", and this did the magic for me.
Careers360: Which is your dream B-School?
Suryansh: I am really hoping to get calls from IIM Ahmedabad, IIM Bangalore and IIM Calcutta. I would be happy if I get admission in any one of these. 
Careers360: What are your hobbies?
Suryansh: I love to play guitar in my leisure time. Also, I am fond of exercising. To have a fit and strong body, I hit the gym regularly. I like listening to Coldplay and Prateek Kuhad. All these are stress busters for me and work wonders when I am stressed. This way, I was able to relax amidst hectic preparation phase as well.
Careers360: Do you watch movies? Any favourite actors?
Suryansh: I like both Bollywood and Hollywood movies. Movies of Leonardo DiCaprio and Aamir Khan impress me the most.
Careers360: How are you preparing for the next phase of the selection process?
Suryansh: Now I am preparing for GD/PI/WAT with complete seriousness. For that, I read The Hindu and Mint daily.
Also Read
CAT 2017 Toppers - Know Profiles of CAT 99-100 Percentilers
CAT 2017 Result: Easy Quant helps non-engineers to enter CAT topper league
Questions related to CAT
Showing 9092 out of 9092 Questions