CAT 2017 Topper Interview: Harder you work, better luck you will have, says Madhur Gupta, 100 Percentile


A B.Tech in Mechanical Engineering from DTU Delhi, Madhur Gupta has put in almost a year of hard work and has reaped the benefits of planned study. One of the 20 CAT toppers with 100 percentile, he attributes his success to his mother's hard work. He believes that a better luck is often the result of hard work.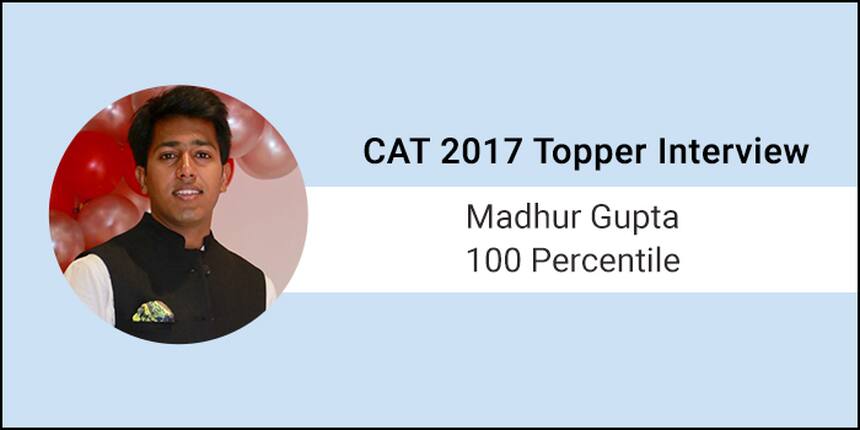 Madhur gave up his position of Operations Manager at Amazon to continue his CAT 2017 preparations as it was difficult to give his best at preparations with a demanding job. He suggests taking regular mock tests after completing the CAT syllabus and following the well chalked out exam taking strategy led to the perfect percentile. An entrepreneur at heart, he loves reading entrepreneurial books to keep himself motivated. Read the interview to know more about the 100 percentiler.
Recent Posts:
Excerpts from the interview:
Careers360: Please tell us something about yourself.
Madhur: I have completed my B. Tech Mechanical Engineering from DTU in 2016 and did my schooling from Delhi. My father is a CA and mother is a homemaker. I was working as an Operations Manager at Amazon and now working at a startup "3Dexter".
Careers360: What is your overall and sectional percentile?
Madhur: My sectional percentile is – Verbal and Reading Comprehension (VARC) -99.7, Quantitative Ability (QA) -99.96 and Data Interpretation & Logical Reasoning (DI & LR) -99.94.
Careers360: How was your exam day experience?
Madhur: My exam day experience was pretty chilled. My CAT was scheduled for the slot 2. For what I heard was the DI & LR in slot 1 was tough. My coaching had prepared me for difficult DI & LR and was therefore mentally prepared for the same. My pain point, the verbal section was very easy. I just maintained my pace and was totally engrossed in the exam. I was so engrossed that I didn't remember any question or the answer that I had opted for.
Careers360: How did you prepare for CAT 2017?
Madhur: I started preparing for the exam from January last year. In the initial four months, I devoted about half an hour to an hour each day for preparations. Later, I quit my job at Amazon as preparing while simultaneously working at the demanding job at Amazon was difficult. I then joined 3Dexter and started preparing for three to four hours daily from July to October. During the last phase, I was doing a mock a day. In all, I took around 50+ mocks. I suggest taking the mock test at the end phase once you have completed your whole course and not at the initial stage when you have not completed your course as you tend to judge yourself on something you have not done.
Careers360: What according to you were the toughest and easiest sections? How did you tackle them?
Madhur: I found QA to be very easy. DI & LR was tough and difficult to handle. I was always strong in Quant since the first mock I had attempted. I still practised Quant for an hour each day for the last six months to CAT I did not want to lose it.  Verbal was a challenge for me and even after preparation, I was not improving in this area. I was quite upset and I self-analysed it for four days straight and came upon the solution to use elimination rather than selection for the verbal section. I used to overthink and used to fumble between the options which used to take a lot of time. I started eliminating the wrong options to help me decide the right one. This helped me later.
Careers360: What was your time management strategy?
Madhur: In DILR, I focussed on question wise approach. Did the easier questions of the set and marked the tough ones of later consideration. In this was completed five sets and later came back to the tougher questions. I found this very convenient. Quant and verbal sections were too easy for any strategy. You either knew the answers or didn't know them.
Careers360: Did you take coaching? How helpful was it? Is it possible to succeed through self-study?
Madhur: I mostly did self-study. But I took the test series from T.I.M.E. and Career Launcher at the end.
Careers360: What are the factors behind your success?
Madhur: A lot matters apart from hard work. I feel more than me, it is my mother's hard work which has reaped success.
Careers360: For the first time IIMs released CAT question paper and answer key. Did you find any wrong question/answer? Did you file an objection?
Madhur: No, I did not find any wrong questions with the CAT question papers. The whole process managed was totally flawless.
Careers360: Where do you want to see yourself few years down the line?
Madhur: I want to be an entrepreneur after completing my MBA.
Careers360: Do you have an idol who inspires you?
Madhur: Jeff Bezos is my idol. His work and contribution motivate me a lot.
Careers360: What are your hobbies? How did you keep yourself relaxed during the gruelling CAT preparation phase?
Madhur: I like reading entrepreneurial books. During my breaks, I used to solve strategy puzzles, talk to friends, go for a drive to keep myself relaxed amidst preparation. My favourite series is F.R.I.E.N.D.S. which really acted as a stress buster for me.
Careers360: Have you started preparing for GD, PI and WAT?
Madhur: I have started preparing for GD/PI. I think this entails on your personal efforts than any coaching. But I am taking help from mentors at TIME.
Careers360: What is your message for aspirants?
Madhur: I didn't believe in luck before. But now I feel that the harder you work, the better luck you will have.
Also Read
CAT Topper Interview
Questions related to CAT
Showing 9084 out of 9084 Questions