CAT 2016 Topper Interview: Focussed preparation is the key to success, says 99.86 Percentiler Adarsh Anand
Adarsh Anand started preparing for CAT when he was pursuing Computer Science Engineering and his well-planned preparation has certainly paid-off. He topped CAT 2016 by securing 99.86 Percentile and bagged an admission offer from IIM Kashipur. A fresher in terms of work experience, Adarsh knew that preparing for CAT won't be easy but his streamlined approach and self-confidence helped him top the exam. Right from the beginning of the preparation, Adarsh focussed on regular studies and analysing mock tests. From reading newspapers to solving mock tests regularly and improving his weak areas through self-analysis, Adarsh's success in CAT 2016 is no surprise.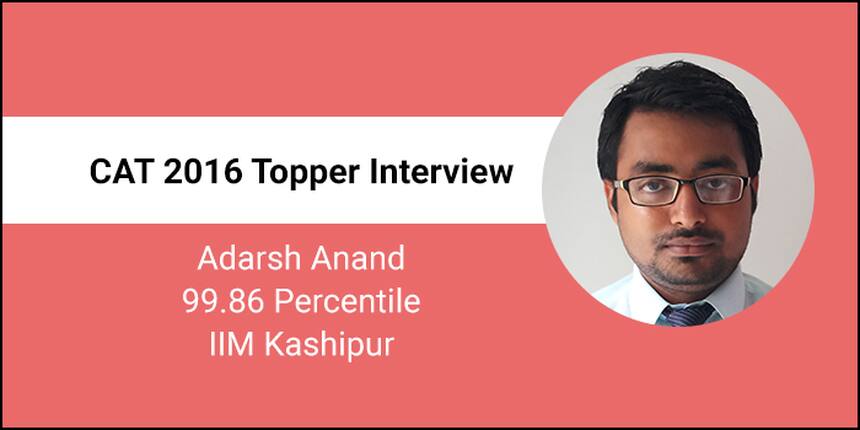 Adarsh Anand's story of success can inspire the lakhs of aspiring management applicants for CAT 2017. In this interview with Carrers360, Adarsh tells us how he prepared to achieve the top rank in CAT.
Recent Posts:
Read the full interview below:
Careers360: Congratulations on your admissions to IIM. What was your overall and sectional score in CAT 2016? Any other exam you had appeared for, please share the score for the same.
Adarsh: Thank you so much. I did not appear for any other exam apart from CAT. Here is my overall and sectional score:
Overall/Sectional Score - 186.30 (82.78/45.00/58.52)
Overall/Sectional Percentile - 99.86 (99.77/98.66/99.48)
Careers360: Which was the most challenging and easiest section for you in CAT?
Adarsh: The most challenging section for me was Data Interpretation &  Logical Reasoning(DI & LR) and the easiest one for me was QA.
Careers360: How did you tackle the challenging sections and topics?
Adarsh: If something is taking too much time to get solved, leave it and move forward and concentrate on other topics or sections. However, this cannot be done with critical topics like Reading Comprehension. Analyse your current level of understanding of the topic and formulate a plan accordingly.
Careers360: What was your preparation journey like? How did you strike a balance between your academic life/professional and preparation for an entrance exam?
Adarsh: I started my preparation in the third year of college. I was giving two hours every day to my preparation but in those two hours, I was very focussed. My college academic schedule was not very rigorous, hence I could take out time to prepare for the exam.
Careers360: Did you join any coaching institute? According to you, how important is coaching for aspirants to bag the top rank?
Adarsh: I joined Career Launcher and it's very necessary if you don't want to invest five to six hours every day. It is recommended for the people who are currently in college and are preparing for the exam simultaneously.
Careers360: Please share your specific section wise strategy for Verbal Ability and Reading Comprehension (VA&RC), Data Interpretation & Logical Reasoning and Quantitative Ability.
Adarsh: For VA & RC, I focussed on reading different newspapers and online articles. If your English is weak, start from reading simple articles available on the internet and then move to reading complex newspaper articles. The Hindu and Business Standard are recommended. Also, use the study material provided by coaching institutes for practice.
For LR & DI - Go for coaching material and practice regularly.
For QA – Use coaching material and practice every day. Do not forget to pay attention to examples taught in coaching classes.
Careers360: What is the significance of mock test in your success? When did you start taking mock test and what was the frequency?
Adarsh: Mock tests played a very crucial role in my success. Join at least two institutes for mock tests. Two mock tests per week is good enough. Analyse your weak and strong points both and work on them accordingly.
Careers360: How did you get the mock tests analysed and how did you modify your strategy after that?
Adarsh: First analysis was done by the institute I was enrolled with. After that, self-analysis should be done by an individual question wise, topic wise and section wise. And then work on the areas which are lagging behind.
Careers360: How did you utilise the features like calculator and non-MCQs in CAT?
Adarsh: It is very time-consuming. So, my suggestion is to avoid that. Attempt all the Non-MCQs and give them priorities over the ones in which you have doubts.
Careers360: Any suggestion that you would like to share with aspirants?
Adarsh: Study for minimum two hours every day with extreme focus and Mock analysis should be the priority.
Also Read
Stay tuned to bschool.careers360.com for more information on CAT toppers
Get real-time alerts on exam & colleges at your fingertips with Careers360 App!
Click Here to Install or Give a missed call on 08080944727 to get app link.
Questions related to CAT
Showing 9087 out of 9087 Questions