CAT 2016 Topper Interview- Analyse your mock test score to overcome weak areas, says 100 percentiler Avidipto Chakraborty

Avidipto Chakraborty, currently pursuing a dual degree from BITS Pilani Goa, cracked CAT 2016 in his first attempt with a whopping 100 percentile. He shares his preparation strategy with Careers360 highlighting the importance of mock tests. He stresses on analysing mock test scores and emphasises on effective time management during the test. In this interview with Careers360, Avidipto provides vital topper tips to the future CAT aspirants.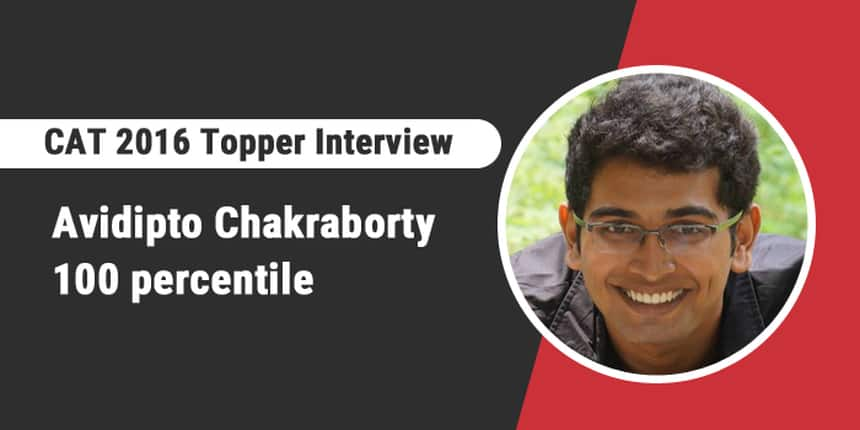 Recent Posts:
Kolkata boy Avidipto is an avid movie buff, a drumming enthusiast, and a marathon runner. He shares how he managed to balance his work and preparations while spending around 12 hours at his work place.
Excerpts from the interview
Careers360: What are your thoughts on being a CAT Topper?
Avidipto:  I am super excited at securing 100 percentile in CAT 2016 exam. The feeling has now began to start sinking in. Earlier it was difficult for me to believe that I am among the toppers. Now, I am gradually realising it that yes I have made it through.
Careers360: What is the reaction of your family members?
Avidipto: It is actually their happiness which makes my success so special. My success would not have materialised had their constant support not been there with me.
Careers360: What was your experience with CAT 2016?
Avidipto: I was taking CAT for the first time so there was no set benchmark that I could follow. Overall CAT 2016 was on the tough side. I found all three sections to be on the higher side of difficulty level.
Careers360: Please can you tell us the section wise percentile of CAT exam?
Avidipto: My overall percentile is 100. The sectional percentiles are as below:
Verbal Ability - 100 percentile
 DI &LR- 99.96 percentile
 Quantitative Ability – 99.98 percentile
Careers360: Tell us something about your education background and how did it help you in your preparation?
Avidipto: I am doing a Dual Degree course in Economics and Computer science from BITS Pilani Goa campus. Engineering background gave me an edge in the Data Interpretation section.
Careers360: What strategy did you adopt for preparing for CAT 2016? How did the mock tests help you in CAT 2016? How many mock tests did you take?
Avidipto: CAT is all about accuracy. I used to take a lot of mock tests and used to pick them up randomly. Some of them were very difficult, while others were quite easy.  I used to take two to three mocks every week and used to analyse the scores over the weekend. I had taken the mock test series of most of the top coaching institutes. It is very important that you thoroughly analyse the score of the mock CATs. Find out which are your weak areas and what are your strengths and accordingly develop a strategy. Low scores in the mock tests should not depress you. Since I was interning with Japanese firm Nomura Services India Private Limited, it was slightly challenging to prepare for the exam as 10 to 12 hours were spent in the office. The most important thing is to manage your time for each section and do not lose your focus at any stage of the preparation.
Careers360: How are you preparing for next rounds of CAT 2016 selection process? Which IIM are you aiming for? Any possible reasons for the choice?
Avidipto:  It is now that I will start preparing for the next rounds.  My aim is to make it to either IIM- Ahmedabad, Bangalore or Calcutta.  If I do not make it through them, I would be going for the Young Leadership Programme at ISB Hyderabad. So presently, I am interested in Consulting.
Careers360: What are your hobbies? Which was the last movie that you watched before taking CAT 2016?
Avidipto: I like playing drums and had also taken part in the Goa half Marathon. Apart from this, I was the Chief Coordinator at Department of Sponsorship and Marketing, BITS Pilani Goa Campus - DOSM. As far as movies are concerned, I used to watch lots of them on regular basis. In fact, I watched all the movies in the month of November. I watched Ae Dil Hai Mushkil, that's what I could remember.
Careers360: Are you active on social media platforms? How do you think these websites would have helped you in CAT 2016 preparation?
Avidipto: Yes, I was pretty active on Facebook. It depends on how you use it. There are social media forums from where you can get a lot of help from people who have cleared the CAT exam or had taken it previously and still preparing to improve their scores.
Careers360: What are your future plans? Where do you wish to see yourself in next five years?
Avidipto: My immediate goal is to get into Consulting job. I have a job offer from Mc Kinsey. Five years down the line I would like to set up my own company.
Careers360: What is the message that you would like to give to CAT 2018 aspirants?
Avidipto: I would like to suggest the future CAT aspirants to take as many mock exams as possible and analyse the scores. Manage your time well. Identify your weak areas in every section and try to overcome them at the earliest. Less marks in the Mock Exam should not depress you.
Also Read
CAT 2016: Know the Topper Profiles of 99-100 percentilers
CAT 2016 Result - 20 candidates secure 100 percentile, says Convenor Prof. Bandi
CAT 2016 Results: 56000 candidates score less than zero in DI-LR section, 37000 get negative score in VA section
CAT result 2016 declared by IIM Bangalore on January 9
Stay tuned to bschool.careers360.com for more CAT 2016 Topper Interviews
Questions related to CAT
Showing 9092 out of 9092 Questions