XAT 2021 Student Reactions - Check Student Reviews from Exam Centres
XAT 2021 Exam Student Reactions - XAT exam will be held across more than 70 cities in India on January 3. The exam is being conducted amidst the prevailing Covid 19 situation and students are issued guidelines to follow the instructions when they come to the XAT test centre for the exam. Also, candidates at the XAT test centre share their experience about the preparation for the XAT 2021 exam, the books that they consulted for the exam if they are expecting any change in the XAT exam pattern. As part of the XAT student reaction, candidates also spoke about the colleges where they are aspiring to take admission. On the day of XAT 2021 exam, Careers360 will speak to the students' pre and post the XAT exam to get an insight of how they prepared for the exam and post the exam to get analysis with regard to the overall and sectional difficulty level of the test.
Stay up-to date with XAT News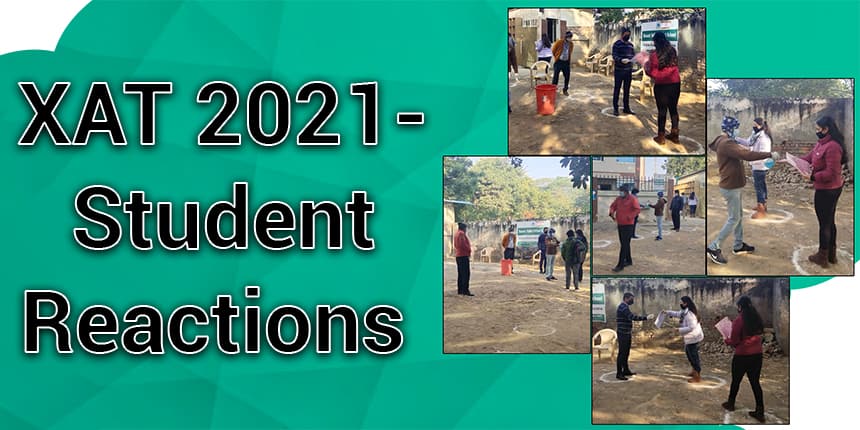 Ongoing MBA Admission 2021
XAT 2021- Post Exam Student Reactions
Shivani - The exam was fine and I personally felt that it was a bit easier than CAT 2020. The overall difficulty level of the exam was moderate. I found Quant easy to solve since it is my strong area. VA was a bit difficult for me. There were 26 questions in VA, 28 in Quant and LR, and the Decision-Making section had 30 questions. General Awareness had around 25-30 questions. The COVID-19 arrangements were good and taken care of.
Pranav - XAT 2021 was good, some of the sections were easier to understand and the other ones were moderate. As per me, the overall difficulty level was moderate to difficult. VA was the most difficult, Quant was moderate and Decision Making was the easiest. VA and Quant had 26 questions, Decision Making had 21-22 questions. No special arrangements regarding COVID-19 were there. There was only one spelling mistake in the question paper, nothing apart from that. The mouse was a bit difficult to operate, other than that, there wasn't any technical glitch.
Keshav Jain - The exam was fine and not very difficult. The difficulty level was easy to moderate. For me, VA was easy to moderate, Decision Making too, was easy to moderate and Quant was moderate to difficult. VA had 26 questions, Decision Making had 21 questions and 28 questions were there in Quant. The COVID-19 arrangements were fine.
Vineet - The exam was far better than I expected it to be. I have appeared for CAT, NMAT and SNAP. XAT 2021 was comparatively easier than last year. All the sections were easy to moderate, but I felt like Decision Making was a bit tougher than last year. VA was easier than last year. There were 26 questions in VA, 21 in Decision Making, and 28 in Quant. The COVID-19 arrangements were fine.
Pre- Exam Student Reactions
Dhairyabudhi Raja -My preparation is good, but I think I could've done better. My strategy is that I'll first solve the Decision Making and Verbal, and will head to the Quant section because it is a difficult section for me and will need more time to solve the same. If I score well, then I would definitely prefer XLRI Jamshedpur and XUMB Bhubaneshwar. I am expecting some changes in the exam since this is my second attempt. I will appear for SNAP after this.
Tanvi -I am from Dwarka. My preparation has been alright, just like CAT but had put extra efforts on Decision Making. I will first solve the easier sections, then onto the moderately difficult questions and in the last 45 minutes, I will solve the difficult questions. Like everyone, I am expecting to get into XLRI. XAT 2020 was difficult for me, so I have come prepared accordingly.
Pranav - I am from Delhi. I have prepared well for the exam since my CAT 2020 exam didn't go too well. I will first solve the once that can be solved quickly and then will move onto the difficult once. No, I don't think there will be any change in the exam pattern.
Divyansh Goyal - I am just giving XAT 2021 a try, I will appear for XAT exam again next year. I will first solve the easier questions and will then move on to the difficult ones. I am looking for XLRI Bhuwaneshwar, Jamshedpur and XIMB. I am not expecting any change since XAT 2018 was difficult and XAT 2019 and XAT 2020 were moderate, so I am thinking that XAT 2021 will be difficult too.
Mahima - Speaking about her preparation for the XAT exam, Mahima said, "I have been preparing for XAT from quite a few months so I think it will be a bit easier for me to crack the exam. Apart from that, I had joined coaching for the same, to ease out my way to crack the exam." On being asked what strategy she would adopt during the course of the exam, Mahima added, " It depends upon the nature and the type of questions which will be asked and accordingly I will answer the questions."
Ria Batra - "This is the first time I am appearing for XAT 2021. I have prepared well for the exam but I feel the difficulty level of the paper may be more this time matching up to the CAT 2020 exam level. Furthermore, I am a bit worried about the sectional cutoffs too. Though there is no sectional time limit some sections like Decision making require more time. My strategy for the XAT exam is to attempt the easiest questions first so that I do not get demotivated in the starting itself. I will start with VA and LR sections so that I can go on smoothly for other sections too."
Shelly - " Since I am working, there is a very limited time that I could get to prepare for the XAT 2021 exam. However, with whatever best possible resources that I had and limited time, I think I did prepare decently for the XAT 2021 exam. However, I had solved a lot of XAT mock tests and sample papers. Hence I believe that I will not face much problem.
Ayush Mehrotra - "I am from Ranchi. I have been preparing for the XAT exam for the last four months. As I have given the XAT mock tests too, I faced difficulty in the Quantitative Ability & Data Interpretation section. So same is what I expect in this year's XAT exam. I aim to get XLRI Jamshedpur and my preparation is up to the mark as I have appeared in NMAT and SNAP exams too. I am supposing the difficulty level to be moderate. In order to manage time efficiently, the main strategy that I have in mind is to start solving questions from the GK section.
Questions related to XAT
Showing 944 out of 944 Questions