XAT 2020 Student Reactions
XAT 2020 Student Reactions - XLRI Jamshedpur conducted XAT 2020 in online mode from 9.30 till 12.30. XAT 2020 was be held across 71 cities. Careers360 brings you the reactions of the students from the exam centre wherein the aspirants talk about their exam day strategy, preparation strategy, books they referred for preparation of XAT and colleges they are targeting for admission. Some candidates are very confident and aim to secure above 90 percent. Along with XAT 2020, many candidates have appeared in other B-School competitive exams as well. Candidates reacted on the difficulty level of the exam, topics asked in XAT 2020. Overall difficulty level of XAT 2020 was moderate according to most of the candidates.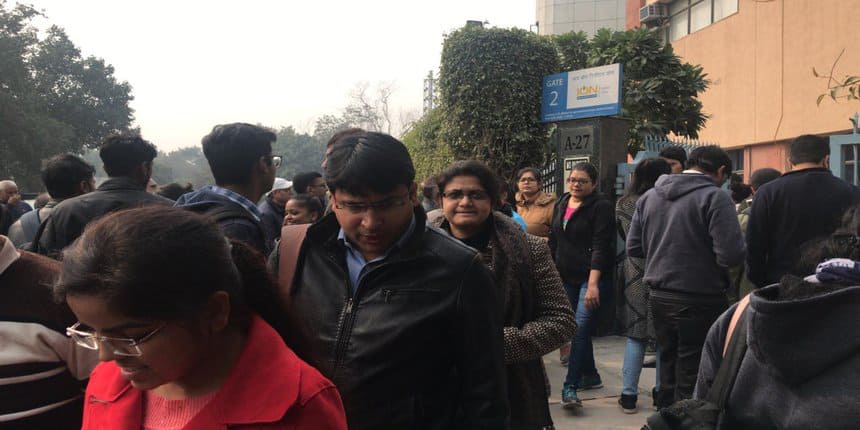 Latest: XAT 2020 Answer key is available now. Check all the details related to XAT 2020 cutoff
Important Links:
Watch XAT 2020: Post Exam Students Reaction -
Watch XAT 2020: Pre Exam Students Reaction -
Given below are Pre and Post reactions of candidates who will appear in XAT 2020.
XAT 2020 Student Reactions : PRE XAT 2020 Reactions
Kanhaiya - I have prepared for XAT and CAT both. Currently my target is to get admission to the top B-School. Top priority is XLRI, Jamshedpur. I am aiming to get atleast 80 to 90 percentile in this exam.
Pritam Goswami - I will appear for XAT 2020 for the very first time. My strategy is to attempt the strongest portions first which is English section, after which I will more to quantitative section. After which i will move to the data interpretation part. my preparations are good, so I am expecting a percentile above 95. Apart from XAT 2020, I have appeared for CAT 2020 as well.
Kanishk - I have prepared well in advance and planning to devote 50 minutes in each section and then in the remaining time i will re-check all answers. With my preparation, I am planning to get atleast 94-95 percent in XAT 2020. Apart from XLRI, I have got a call from SPJIMR, Mumbai. Let's hope for the best.
Nurul - This is my first attempt for XAT 2020, my major aim is to check the exam pattern. l am well prepared in advance and planning to clear XAT 2020 in one go only. I am hoping to get around 80 to 90 percent in XAT 2020. Apart from XLRI, i am trying to get into IIM's so i had given CAT as well.
Satvik Dhawan - My strong part is Mathematics, so I will focus on that first. Planning to secure a good position with above 95 percentile. I am targeting Delhi School of Economics, DFS, IIT Kharagpur. Along with XAT 2020, I have appeared in SNAP 2019 and TISSNET as well.
XAT 2020 Students Reactions: Post XAT 2020 Reactions
Shivam - XAT 2020 difficulty level was average. However, the question paper was very time consuming. Reading Comprehension (RC) section was very small. In total i have attempted 37 questions. Quantitative section was dominating as well as a bit difficult. A lot of technical glitches were faced by candidates. Hoping to get good marks.
Riya - I have attempted 35 questions out of 75 in total. Overall the paper was not very difficult. The Quantitative section was a bit difficult as compared to other sections of XAT 2020. Decision making section was dominating, and i did not feel any technical glitch.
Vitika - XAT 2020 paper had very much alike questions. I have attempted mostly of the questions. Quantitative and decision making sections had confusing answers so these two sections seemed difficult. Talking about the technical glitch, XAT 2020 started a bit late as per the scheduled timing.
Shivayay - I could not complete some of the questions of Quantitative section due to less time. Overall, the XAT 2020 was moderate. I attempted all the questions expect for three quantitative questions.
Rupika - I attempted 55 out of 75 questions in XAT 2020. Decision making was quite difficult as compared to other sections. I did not find any technical glitches during XAT 2020.
Latest: Candidates can also check the answer key of XAT 2020. Click here.
Also Read,
Questions related to XAT
Showing 879 out of 879 Questions