How to Select the Right B-school?
How to Select the Right B-School: Selecting the right MBA program is one of the major decisions of a B-school aspirant's life. With new management institutes coming up every other week, who doesn't need guidance? But how do you select the right B-school for you? If you are aspiring to take MBA admission on the basis of good CAT percentile, choosing a B-school is not quite tough.
Stay up-to date with CAT News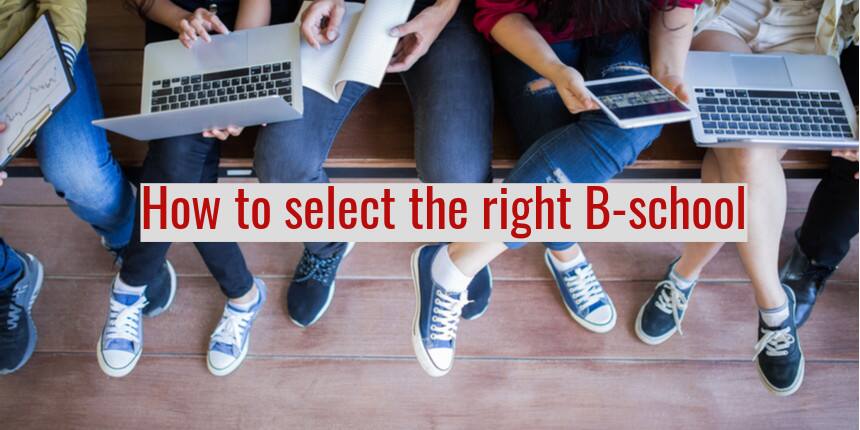 This is because there are plenty of promising institutions. However, how to choose a B-school on the basis of less or 60+ percentile in CAT or other national level management entrance exams. The answer lies on you and your future plans. It depends on multiple factors like college location, reputation, quality of students and faculty, job profiles and salary offered in placement, alumni network, course fees etc. Let us check the parameters to look into while choosing the right B-school.
Quick Links -
Why should you compare B-schools in India?
From picking a new dress to buying a new car, ultimately what aspirants invest depends on what factors are most important to them. So why should you compare MBA colleges in India? Check the factors below on why it is important to compare B-schools before taking admission into MBA or PGDM courses.
To achieve your post MBA goals

Whether a particular MBA college is a best fit based on your academic profile, work experience and own career interests

To make sure whether it is the right B-school where you are investing the huge amount of money

To be aware of fraudulent tactics and unscrupulous methods some of the institutes accept to fill their seats
How to choose the right B-school in India?
Most MBA aspirants would say that the selection of B-school depends on the salaries they get after placements. No wonder B-schools do report successful placement reports every year. However are you sure that the starting salaries reflect the key outcomes? So planning an MBA or how to choose the right MBA college is a very crucial step. Let us check below the parameters on the basis of which you can decide which business school is right for me.
1. MBA Vs PGDM: Choose Your Program
One of the most common questions among young MBA aspirants is whether to choose MBA or PGDM? Though choosing either MBA degree or PGDM diploma doesnt make any difference except for some of the factors, such as PGDM offers a dynamic course syllabus which gets updated as per needs of the industry. The syllabus is approved by AICTE. So you need to select what degree you want to pursue and accordingly select the right B-school.
Read here more about MBA vs PGDM.
2. Location of the B-school
When it comes to IIMs or other top B-schools, the location hardly matters. The impact of the location on an institute is less for top 20 MBA institutes. However, it becomes more pronounced when you move down the ratings list.
How does the location of B-school matter?
Some of the experts believe that the location of the B-school in any major city has its own perks. This is because the number of companies visiting the campus are much higher with a large number of opportunities. Also the good location helps students in practicing internships and thus being mentored easily. Companies often find it much easier to recruit management graduates from institutes located geographically closer to their own headquarters. This is why B-schools located in New Delhi, Mumbai and Bangalore score better than institutes based in other cities.
Also check-
Expert Tips on choosing a B-school in Delhi NCR
3. Return on Investment
This is the most important parameter while selecting any B-school. It must be considered how much money you can expect to make post an MBA from a given institute and how much money will be spent in acquiring the degree. ROI tries to directly measure the amount of return on a particular investment, relative to the investment's cost. To calculate ROI, the benefit (or return) of an investment is divided by the cost of the investment. The result is expressed as a percentage or a ratio which is :
ROI = (Current Value of Investment - Cost of Investment) / Cost of Investment.
You can also compare an MBA programme's ROI to others using the average salary-to-debt ratio. For example, if the average starting salary at a B-School is around Rs 17,50,000 and the average debt (bank loan) taken by the aspirant is Rs 12,00,000 then the salary-to-debt ratio of 1.45-to-1.
Read More-
Top MBA schools in India offering affordable MBA
Top Private MBA colleges in India
4. Programmes offered by an Institute
First and foremost you must be well aware of why you are doing an MBA ( and the answer must not be because of a good package). This is important because if you wish to pursue a specialization in MBA, then you need to choose an institute accordingly. The programmes offered can be classified into two categories:
General Management Programme (GMP)

Specialisation-based Programme (SP)
A General Management Programme gives a student the flexibility to join any sector and thus affords maximum diversification and placement opportunities as opposed to a specialisation-based programme. All the IIMs and most of the Ivy League schools offer this programme to students.
Some B-Schools offer programmes catering to a specific sector or specialising in a specific area. Institutes like XLRI (PGDHRM), MICA, IRMA, and TISS, are the best in their respective sectors and students should have no reservation while applying to them.
5. Alumni Network
A wide Alumni base is self-explanatory. However, the statistics of the number of alumni offered jobs in reputed companies is worth a consideration. Alumni are the mirror of any institute. Their profile defines the reputation of an institute and hence makes it stand tall. Aspirants must contact the alumni as they can give you invaluable information and suggestions that none can give.
6. International Exposure
An institute that has a global curriculum in terms of business, marketing, management, sales and operations, etc. is worth going for. You develop leadership from an international perspective that makes you understand business in a different way. You get the confidence to work in any organization in any part of the world. You can also soak yourself in a new culture and take in more rich and varied experiences. Hence you broaden your horizons by studying in an institute that provides you good international exposure.
7. Placement statistics
Almost every MBA college boasts of 100% placement which is a myth. Even IIMs may not provide 100% placements. The placements depend entirely on you and your worth. It is better to look at the detailed placement reports including both summer internships and final placements that every college releases in a year. A successful placement track can be inferred from the number of companies that visit the campus year after year, average salary offered and the number of students selected from the campus each year. However it should not be the sole criteria to select the right MBA college.
8. MBA Scholarships
While most business schools offer some form of financial assistance, it would be prudent to check and confirm with data available on the website, or by asking the admissions team. Prioritize this aspect based on the value you assign this criterion in selecting Business Schools.
9. Rankings and accreditation
A consistent rank and UGC, AICTE, NAAC or NBA accreditation speaks volumes about the credibility of the school. Make sure to refer to top international publications sto check the rankings of an institute. This is so because some Indian rankings suffer from the perception of being sponsored.
The top five MBA Rankings or B-school Rankings in India are:
NIRF Ranking Framework by HRD Ministry, Government of India

MBAUniverse.com Ranking

Business Today B-School Ranking

The Week Ranking of B-Schools

Outlook B-School Rankings.
Top 3 International Accreditations:
Association to Advance Collegiate Schools of Business (AACSB), USA

EFMD Quality Improvement System (EQUIS)

Association of MBAs (AMBA), UK
Top 2 National Accreditations:
National Board of Accreditation (NBA)

National Assessment & Accreditation Council (NAAC)
These rankings and accreditations can help you make an informed choice about how to choose the right B-school.
10. Quality of Faculty
The faculty have a massive role to play in your learning experience, and it is important that you read through their profiles and understand how they will shape your understanding of global business. While researching you could check for the following qualities below:
Professional Experience

Academic Qualification

Research Area and publications

Industry engagement
Every good college publishes the details of the faculty members on its official website. However if you don't find any, think twice before opting that particular college. The core faculty helps in providing adequate mentorship to the students. If there are fewer good faculty members and the ratio does not remain good enough, it may adversely affect the learning experience at the B-school.
Will the right Management Institute choose you?
Admission into top B-schools in India is a two way process and not one. You will choose the best management institute but will that institute want to choose you? All the top MBA colleges want the best brains because that is what enhances their college's reputation in the future. Sometimes these top institutes do not have enough seats to cater MBA admissions. Another factor that comes into play is higher the reputation of the institute, higher the applicants, then higher is the level of selection procedure in top B-schools. Hence choose your MBA college wisely considering all the above parameters mentioned.
All the best!
Questions related to CAT
Showing 9972 out of 9972 Questions