CAT 2017 Topper Interview: I focused on mock tests and modified my strategy accordingly, says Meet Agrawal, 100 percentile
Meet Agrawal, a final year B.Com student, managed to crack CAT 2017 along with his articleship for CA. Meet is one of the three non-Engineering students who secured 100 percentile. He not only maintained a balance between his CAT preparation with studies, Meet also helped his father in his business. With a passion for watching Christopher Nolan movies, he believed staying calm and focused helped him in securing 100 percentile in CAT.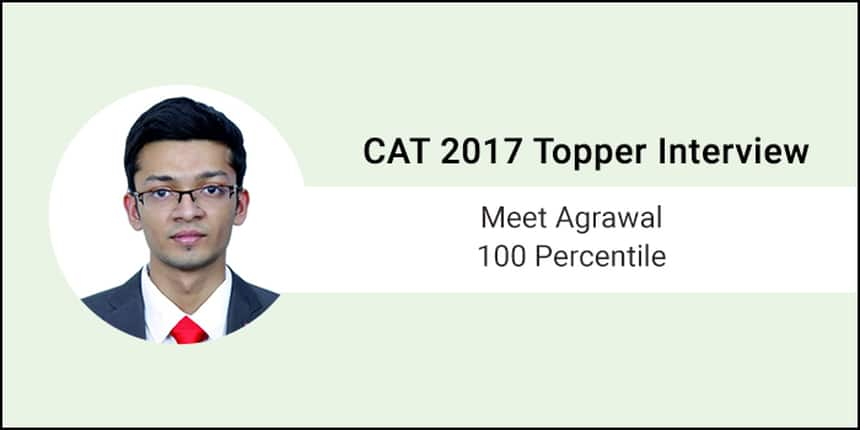 Meet believed that taking mock was really important in his journey of preparing for CAT 2017. CAT was different than CA exam because there is not much learning while you are preparing for the former. It is about making your own strategy and getting comfortable with the pattern of the exam. A student of SDJ International College, he is also appearing for GMAT scheduled on January 20, 2018. IIM Ahmedabad, IIM Bangalore and IIM Calcutta are his dream B-schools. In this interview with Careers360, he shares his preparation journey and success mantras for CAT 2017.
Recent Posts:
Excerpts from the interview:
Careers360: Congratulations on securing 100 percentile. What was your sectional percentile?
Meet: Thank you. I scored 99.93 percentile in Verbal and Reading Comprehension (VARC), 100 percentile in Data Interpretation and Logical Reasoning and 99.74 in Quantitative Ability.
Careers360: How was your experience of the exam day?
Meet: I tried to be as calm as possible. Reading Comprehension passages were short and legible. The topics were also interesting. The pattern has changed from last year. The questions from Quantitative Ability were easier which shows the bias towards Engineering background is reduced.
Careers360: How did you prepare for CAT 2017?
Meet: I joined Endeavor Institute which is located in Surat. I enrolled in test series conducted by T.I.M.E. and IMS Learning. I recommend test series to everyone because it helps you in forming your strategy. I took over 80 mocks. I started preparing for CAT a year ago. In the first six months, I just used to revise, clear my basics, and took regular mocks. In the last two months, I started taking two mocks every day.
Careers360: Which section was toughest and easiest according to you?
Meet: I found Data Interpretation and Logical Reasoning toughest. I worked hard for it and secured 100 percentile in this section. Verbal Ability is the easiest section for me.
Careers360: What are the factors that worked for you in securing 100 percentile? 
Meet: I prepared consistently with nothing less than 100 percentile as my target. I kept correcting my mistake. I took mock tests regularly and managed to secure 99.2 percentile in the very first mock. With regular mock tests I was so familiar with the question types that I had planned to attempt all 34 questions in the sections. Reading helped me a lot to prepare for DI & LR and VARC sections.
Careers360: How did you manage your time?
Meet: Articleship and CA were going on so I was unable to give all my time for CAT preparation. Rather than studying from books or study materials, I focused on taking mock tests and modified my strategy according to the analysis.
Careers360: How helpful was coaching for you? Is it possible to succeed through self-study?
Meet: The faculty members of my coaching institutes were really helpful. They suggested me to attempt all the questions in Verbal Ability. One of the faculty members at my Institute secured 100 percentile himself, so he was also an inspiration for me. If you don't want to take coaching classes, you can attend online sessions.
Careers360: For the first time IIMs released CAT question paper and answer key. What are your opinions on it?
Meet: I believe it is a good step as there is more transparency now.
Careers360: Which B-school that you will be targeting for? Any dream career? 
Meet: IIM Ahmedabad, IIM Bangalore and IIM Calcutta are the colleges that I will be targeting to pursue MBA. I want to become an entrepreneur.
Careers360: Do you have any hobbies or anything that you used to like when you were preparing for CAT?
Meet: I like to read novels related to business. It also helped me in improving Verbal Ability. Table tennis, Chess, watching documentaries and listening to music are some of the things that I like doing. I really like watching Christopher Nolan's movies.
Careers360: What will be your next step?
Meet: Well, I am preparing for the interviews and GMAT.
Also Read
Questions related to CAT
Showing 8489 out of 8489 Questions